Maurizio Severgnini, managing director at Bertazzoni UK, discusses the recent growth in demand for professional-style appliances and reveals how colour is playing an increasingly important role the homeowner's dream kitchen.
Whether it's MasterChef, Saturday Morning with James Martin, Ready Steady Cook or Nadiya's Time to Eat, cooking shows have captivated viewers for years, providing them with tantilising inspiration for their own meal plans.
Whilst the food is of course the main element of the programmes, the grand, large-scale sets or 'homes' of the presenters can often be the star of the show, providing food for thought for captivated audiences who want to inject some flavour into their own kitchens. And although these needs have shifted over recent times, what's remained is the onus on us, in the industry, to try and deliver on what inspired vision the customer wants to make a reality in their own home.
Much more, particularly of late, the general public have been keen to create a 'pro-style' kitchen, complete with the highest spec of products, large-scale appliances and gadgetry galore.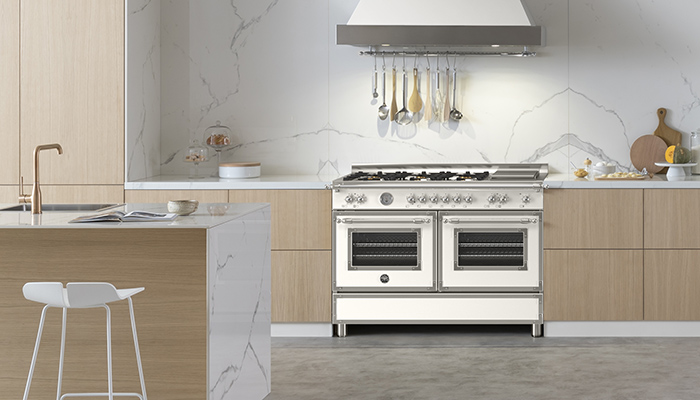 What remains central to requirements is capacity, and for pro-style cooks, the bigger the better! Whether it's maximum capacity 120cm range cookers with double ovens and an induction cooktop, an XL 76cm single oven or a bank of products complete with pyrolytic and steam ovens, warming drawers and matching microwave; large is leading the charge for design briefs.
However, capacity also incorporates storage and countertop and these areas can quickly fill up with small appliances and cookware, so consideration should be made in this regard. Pro-style cooks though will presumably have considered where the preparation and plating areas will be, for example, and will know what their must-have kit is, versus what could be foregone if needed.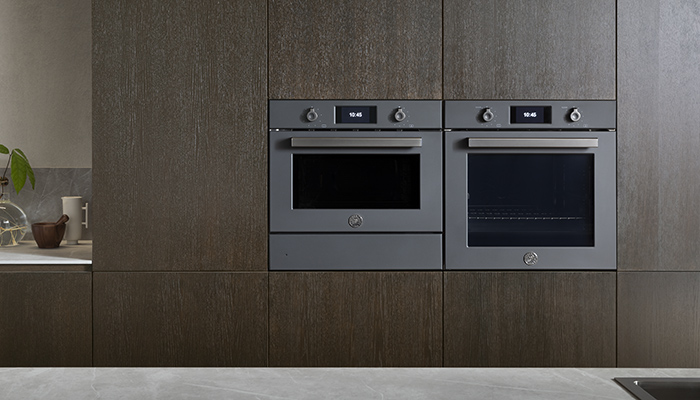 Islands always tend to be popular as a dedicated location for serving, however, if the consumer wants a cooker with integrated extraction, then that will of course remove a proportion of the worktop, so that area will need to be allocated elsewhere. Going down this route could subsequently free up space on the wall (as there's no need for mounting a hood when there's integrated extraction), so alternative plans could be made for that 'gap'.
Stainless steel is a staple of professional kitchens because of its durability and hygiene capabilities. Easy to clean and hard-wearing, it can maintain its clean aesthetic for a long time. Plus, it's recyclable too, which is a key selling point for eco-conscious consumers.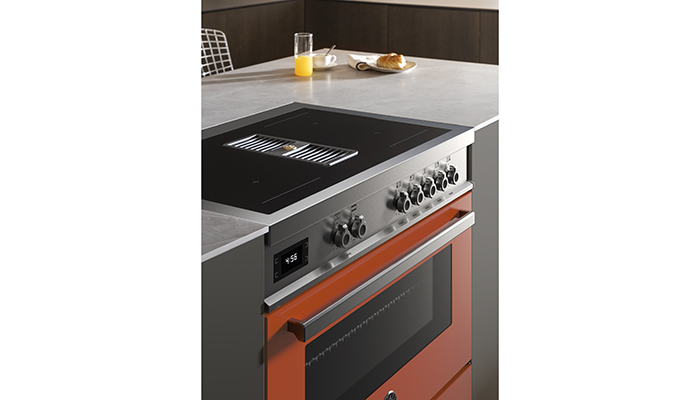 But what we've witnessed recently is the amount of consumers opting for coloured stainless, not just to inject a bit of personality into the room, but also to provide next-level protection for the products thanks to the performance of the paint applied.
Bertazzoni has manufactured coloured appliances for many years and, whilst the bright, glossy reds and yellows have always been popular for some because they are finished with the same paint as famous Italian sports cars, what's been in demand lately is black and white colourways. Utilised to either complement or contrast with the kitchen's colour scheme, the monochromic shades work well alongside the greys, blues and greens, which have been popular over the last couple of years.
When designing a new kitchen, the customer can literally be spoilt for choice, putting designers in the driving seat when it comes to realising a vision. And for pro-style kitchens, brands that offer a suite of large-format matching products are at the forefront as they can deliver the consistent aesthetics expected from discerning consumers.