The UK Whirlpool group is continuing to build trust through its commitment to sustainability – and plans to grow sales through kitchen studios, say MD James Goldsmith and communications director Ian Moverley.
Of all the major kitchen appliance manufacturers in the UK, the Whirlpool Corporation – with its brands Hotpoint, Indesit, Whirlpool and KitchenAid – is the only one to hold Planet Mark certification. "This demonstrates our pledge towards environmental sustainability," says Ian Moverley, director of UK communications and Government relations for the group.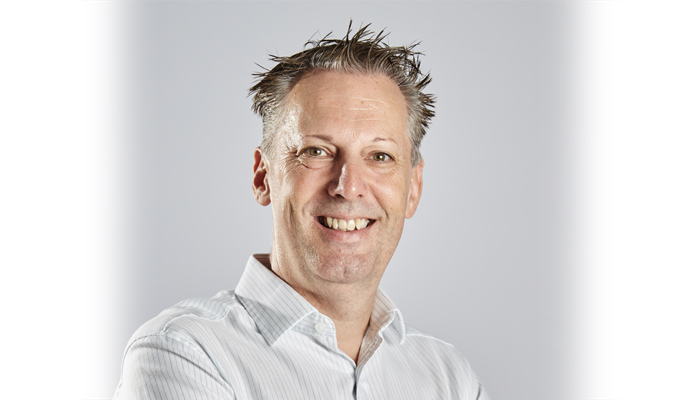 "The key goal is net zero emissions by 2030," he continues, "and that's across sustainable plants, products and practices." In addition to Planet Mark, the group has also been awarded the EcoVadis Gold medal for its commitment to sustainable practices and ethical conduct across its supply chain. "This means our score is in the top 5 percentile rank across all companies in all industries," adds Moverley. "These certifications are important because they are third party accreditation – our commitment is backed up with data, rather than just words."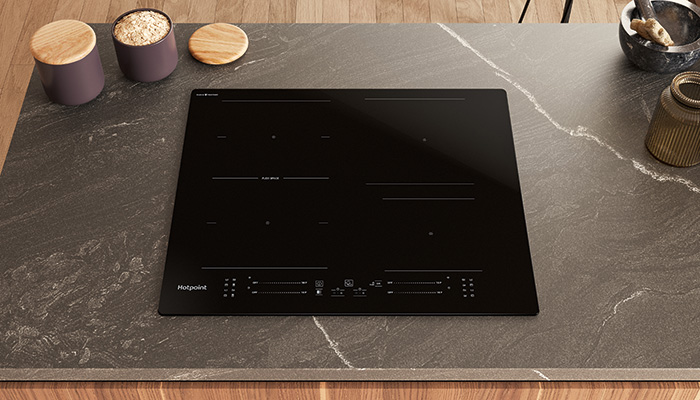 In the UK, the group's primary brand, Hotpoint, has been operating in this market for 111 years and remains the group's driver. "One of the statistics that we enjoy is that each household in the UK is more likely to have a Hotpoint product than a Harry Potter book," says UK MD James Goldsmith (main image), who was appointed to this role in June after working for the group for over 25 years. Other brands in the UK group include Whirlpool, which targets the mid to upper market, KitchenAid the 'super-premium' and Indesit below the mid-market, accessible to all. "We offer a solution to all types of consumer, whoever walks into the studio," says Goldsmith. Hotpoint accounts for some 55% of Whirlpool UK's sales, Indesit around 30% to 35%, with the rest made up of Whirlpool and KitchenAid.
"Hotpoint offers practical innovation with a brand that people trust," explains Goldsmith of the reason for the group's focus – and its ongoing commitment to building trust through its sustainability endeavours. "Consumers at this moment are looking for brands that are durable and that they know." As examples of innovation, he cites Hotpoint's induction hobs with CleanProtect, a 'nano-coating shield' that makes it chip resistant and easy to clean with just water, and dishwashers with Hydroforce 3rd rack with integrated spray jets for 100% coverage. "They are supported by an infrastructure around the business – we have 1,150 service engineers and the ability to do home delivery – so we can really offer a trustworthy solution to the kitchen studio," he says.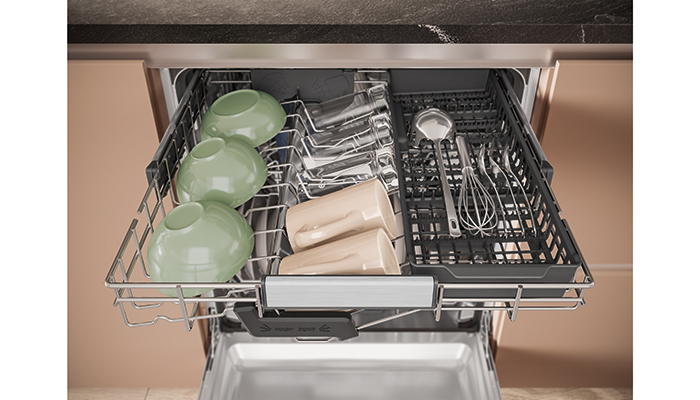 The UK group is headquartered in Peterborough with appliances made in Europe and tumble dryers in Yate, near Bristol. More impressive statistics include zero waste to landfill since 2019, 125 appliances refurbished daily at its onsite centre in Peterborough, and 6.6million parts held in stock to enable the refurbishments. "We are the only manufacturer in the UK that sells, delivers, installs, repairs, recycles and refurbishes," notes Moverley.
Currently about 10% of sales are made through kitchen studios. "We want to show that we are offering a brand that you can trust, supported by an infrastructure that will work – and that we are there to help you," says Goldsmith. "We expect over the next three years to improve by 50% in that space – so we are making sure that we have plans in place to deliver that growth."