Ledbury Studio founder and director Charlie Smallbone believes that homeowners should be encouraged to choose kitchen styles that align with the need for durability and sustainability – here he identifies 6 long-term trends.
1. Transitional design: When old meets new
Transitional design, a perfect blend of classic and contemporary styles, is a great example of a long-term trend. This design aesthetic combines the warmth and elegance of traditional materials with the clean simplicity of modern design. The result is a timeless and versatile style that appeals to a wide range of tastes and preferences. Ledbury Studio's Hampstead kitchen perfectly embodies the spirit of transitional design, with its modern interpretation of a classic Shaker kitchen and stunning marble worktops.

2. Magic metallics: Harnessing the beauty of metals
Metals have always played a key role in transitional kitchens, although primarily in smaller details such as handles or taps. At Ledbury Studio, we were ahead of the curve in expanding the use of metals beyond hardware and giving them a starring role in our kitchen designs. For instance, our signature copper-fronted kitchen cabinets are made by individually ageing and patinating sheet copper to achieve a beautiful Verdigris effect. This approach combines the traditional warmth of copper with an on-trend aesthetic resulting in an entirely new look, which nonetheless won't go out of style for years to come.

3. Feel factor: Exploring texture and tactility
The rise of tactility in kitchens is not just a passing fad but a reflection of our desire for a more sensory and immersive experience in our homes. This has resulted in the popularity of tactile elements like fluting and reeding, which also add movement to surfaces and, when used sparingly, bring a subtle level of interest without overpowering the overall design. This technique is particularly useful for giving a contemporary kitchen a softer look and can be applied to various materials and surfaces. Our Camden kitchen boasts showstopping features and also subtle additions – check out the delicate reeded oak on the ends of the island. It adds texture and depth to the otherwise flat surface.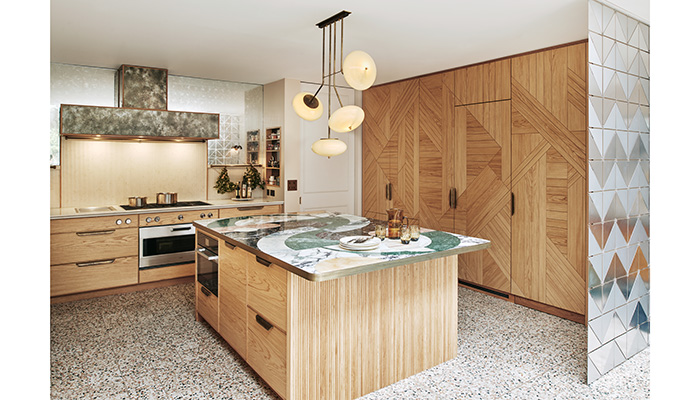 4. House party: Bring the bar home
What could be better than coming home after a long day and heading to your own home bar to make your favourite drink? Or hosting friends and offering them a variety of perfectly chilled beverages? That's why many people are now opting to include a home bar as part of their new kitchen and I'm increasingly being sought after to incorporate them in my designs. The Hackney kitchen features a generously proportioned home bar with a Stone Italiana Ambra countertop that provides ample prep space. There's even room underneath for a pull-out wine rack and compact wine cooler. However, the true highlight of this bar is the glass cabinet. It can be illuminated from within, adding fantastic mood lighting in the evenings.

5. Breakfast cupboards: The best way to start the day
Whether it's freestanding or built-in a breakfast cupboard is designed to provide space for storing breakfast essentials, and is becoming a must-have in every Ledbury Studio kitchen. For this kitchen in an Edwardian home in the New Forest, the design brief was for a contemporary aesthetic. I achieved this by combining beautiful book-matched walnut veneer and hand-patinated zinc panels edged in walnut. The breakfast cupboard pays homage to Edwardian homes while incorporating a modern edge. Inside there are shelves for a microwave and breakfast items, with pan drawers below and fluted glass cupboards on either side, illuminated from within.

6. Back kitchens: Double the fun
A second kitchen is gaining popularity because it serves multiple purposes. It can offer additional prep or cooking space, double as a laundry or utility room, or provide storage for various items. Its versatility depends on its size, but its primary function is to relieve pressure from the main kitchen and provide a place to hide everyday clutter. This is particularly beneficial in open-plan kitchens where the main kitchen is always visible.