Even if the project you're working on isn't particularly minimalist in style, a bulky chimney hood or pendant extractor can interrupt the streamlined aesthetic of your design. However, the number of high-powered products that work well and can blend seamlessly out of sight is growing.
Ceiling extractors offer an ideal solution, and for clients who aren't keen on the idea of a stainless steel plate bearing down on them from above there are an increasing number of options to customise colour. "Pando offers 15 different flat-to-ceiling units in sizes from 540mm to 1900mm so there is something to suit every kitchen," says Inaki Iturbe of Pando. "And blending the extractor into the overall decor makes a choice of colours essential – ours are available in stainless steel, white glass or any RAL colour so the unit will totally match the overall design." The panels come with an epoxy prime coat so they can be painted.
"A Westin ceiling hood painted white provides the perfect blend of effective extraction combined with discretion," says Westin's James Raynor. "The Stratus Air can also be colour matched to any exact shade to ensure pinpoint accuracy to its surroundings."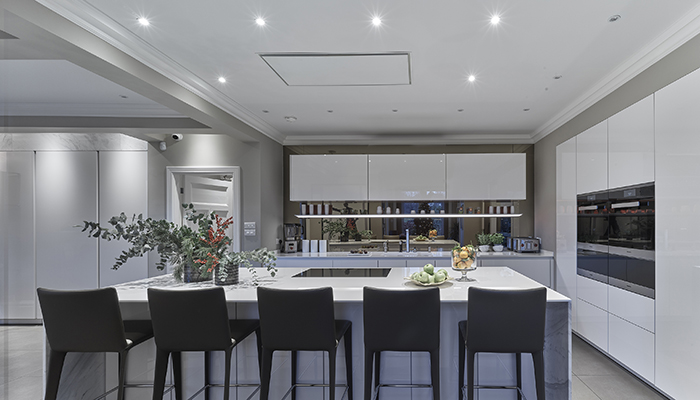 Disguise is another design option, and multifunctional ceiling hoods that double as convenient lighting can be equally discreet. When not in use the Siemens iQ700 LR18HLT25 VarioLift in white blends unobtrusively into the scheme, but can be lowered via remote control to the desired height when activated. The ClimateControl sensor monitors steam and odours and adjust the power setting accordingly.
Where upper cabinetry allows, a built-in over-hob unit is highly effective. "Under cabinet hoods are an ideal choice where a stylish and streamlined look is desired, or where space is more limited," says Franke communications manager Jeanette Ward.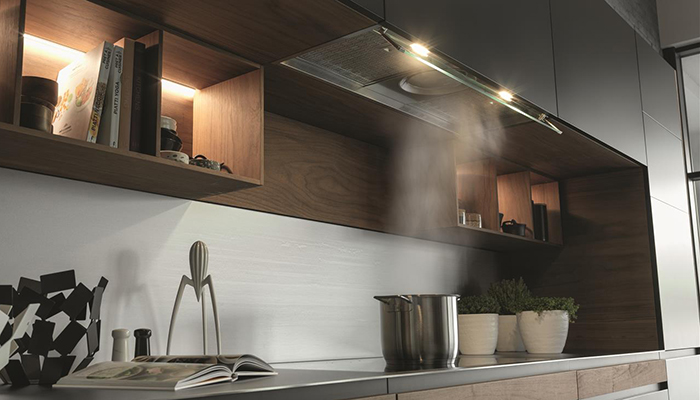 "Built-under canopy models are ideal in a galley kitchen and there are a number of options for installation within slim cabinetry," says Novy country manager Owain Harrison. Novy's 900mm Mini Pure'line is integrated within the ceiling of the recess and out of all sightlines.
Of course downdraft extraction integrated into the hob is also ideal for a sleek look. The Novy One PRO is a Plus X award-winning 780mm vented downdraft hob, with a central ventilation tower within a powerful induction hob that has a range of cooking options including a grill function. When cooking has ended, the ventilation tower retracts back flush in to the surface. It also features a compact motor that takes up limited cabinetry space beneath the hob.
The 900mm Whirlpool W Collection downdraft hood (WDO 93F B K) is finished in black glass with a brushed, black stainless steel trim and has a built-in panel cover that automatically rises during operation to remove steam, grease and odours.
With the Viento extractor from Gutmann, which is distributed in the UK via Euroline, steam is extracted in the centre space of the hob and clean air is expelled by the removable side wings within the hob.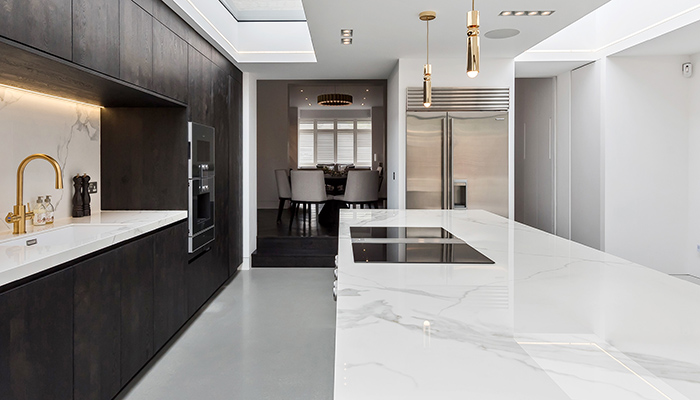 The centred downdraft extractor in the Miele KMDA 7634 FL induction hob is framed by two PowerFlex Zones, allowing the two individual rings on either side to be combined to form one single large ring or a rectangular zone. Conn@ctivity technology enables wireless hob-to-hood communication that automatically adjusts the extraction power of the hood.