Keeping up with the latest kitchen interior trends shouldn't be exclusive to an expensive high-end kitchen. Masterclass Kitchens are consistently developing their range to ensure beautiful design can be incorporated into the home without breaking the budget.
Key trends to look out for this year:
Warm colours and Earthy tones
One of the biggest kitchen trends for 2021 will be the shift from crisp, cool greys to warmer, neutral shades.
Choosing a warm colour palette for a kitchen design doesn't mean it will be a dull beige kitchen, instead it will be a homely space that exudes warmth and comfort. Warm colours complement natural wood and stone finishes or can be mixed with bold rich colours.
Calming colours
The home should be space for calm and serenity, so it comes as no surprise that calming colours have become an instant hit within kitchen design.
Masterclass Kitchens have an array of comforting paint colours, from pastel blues, purples or pinks and soothing colours from a neutral palette. Calming colours can be mixed and matched to create charming and gentle colour palettes within a kitchen design.
Wood finishes
Wood finishes pack a powerful punch when used as open shelving or internal storage solutions. The tones add instant warmth to a kitchen, ideal for when the kitchen needs to integrate with living areas seamlessly.
Storage solutions can look like beautiful pieces of furniture. Masterclass Kitchens offer a unique range of beautiful storage solutions that are available in wood effect finishes, ensuring the features can be incorporated throughout the home.
Green kitchens
A favoured trend of 2021 kitchen design is the green kitchen. Whether opting for a jewel toned painted colour for a classic kitchen design, or earthy shades for a modern or handleless design, a green scheme can be one of the most versatile accents there is. Add touches of metallics for a truly glamourous feel.
Dark blue kitchens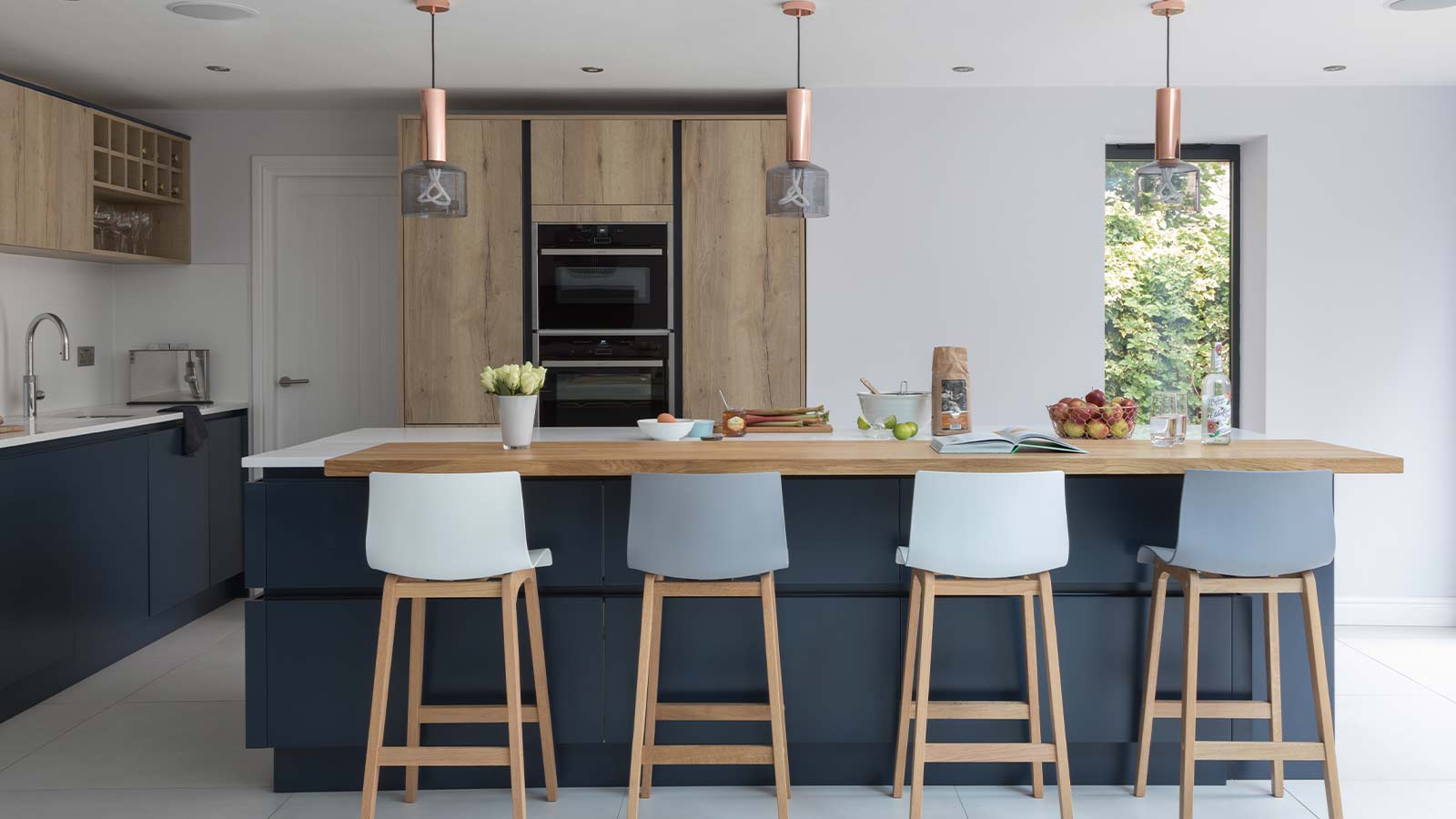 Like it or loathe it, dark blue kitchens dominate kitchen design, from modern dark blue kitchens to traditional navy kitchens.
Blue is tremendously flexible. Use as an accent in a kitchen island or select a dark blue as the dominant colour. Dark blue complements cool greys or warm greys and looks luxurious when mixed with wood and stone finishes.
Metallic finishes
Metallic finishes are perhaps the most glamorous kitchen trend for 2021. With a rise in popularity of metallic accessories, it's no surprise that they have become a must-have accent in kitchen design.
Masterclass Kitchens' brand-new range, Metalix, comprises of five luxurious metallic finishes which can be used as accents throughout the design - from splashbacks, doors, plinths or even handle rails.
If you are interested in finding out more about Masterclass Kitchens and being a part of their success, visit: www.masterclasskitchens.co.uk/standout