When Brandt Design embarked on the design and installation project for a family based in London's Mill Hill, the brief was to create a beautiful but practical kitchen with a modern feel, and one that could work just as easily for dinner parties and social gatherings, as it could for everyday family life. "The kitchen is the hardest working room in the home, needing to cater for cooking, leisure and entertaining all in one. For us, it was about establishing how we could fulfil our client's brief and still bring an element of fun and high design into the space," explains Scott Davis, director of Brandt Design.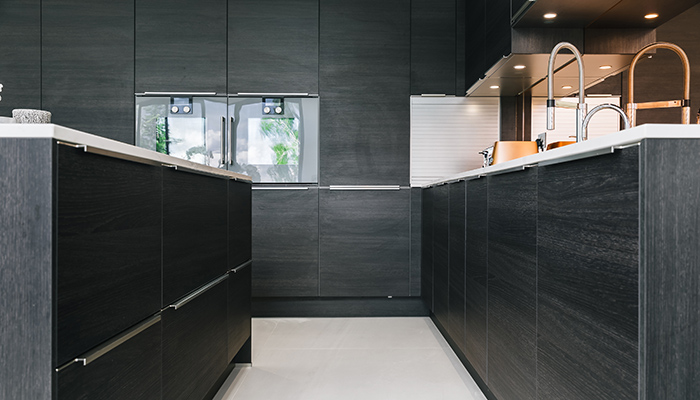 The homeowners were keen to keep the scheme highly functional above all else, and chose Häcker Classic Atlanta Terra Oak with a rich textured finish for the units, and combined the dark wood veneer with off-white Brandt Carrara quartz worktops for visual impact. Adding a touch of warmth is the mirrored rose gold spashback, which also works reflect light back into the space.
The layout is centred around an L-shaped cook zone on the island unit, with a Siemens induction hob along with overhead ceiling extractor. The focus of the design is an elegant dining table along with a plush grey banquette upholstered in ribbed leather, which is able to seat up to eight people – as it takes centerstage, it has the effect of making the overall space an essentially sociable one.
"The banquette was a great marker to work the rest of the design around," explains Scott. "It allowed us to create dedicated areas by zoning the room and ensuring an efficient use of space."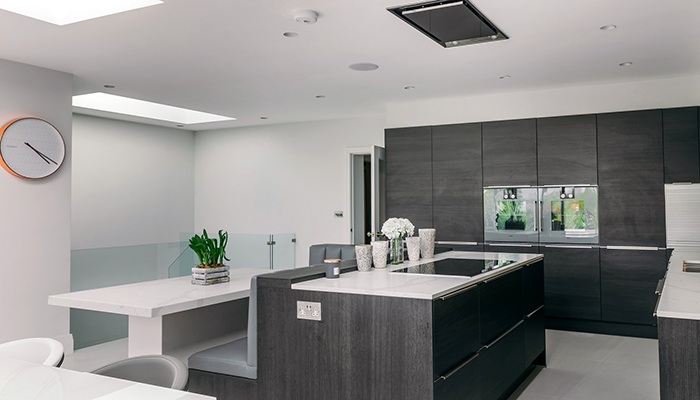 Ample storage was incorporated into the back wall to enable the family to keep the space clutter-free with ease, with the generous tall units also housing a pair of Gaggenau 200 ovens.
The wet zone is located on the adjacent wall, with a Blanco Culina Tap, Blanco Supra Sink and Quooker hot water tap all adding to the functionality of the area in front of the rose gold splashback.
A further dining option was introduced alongside the doors to the garden so the family and their friends are able to enjoy uninterrupted views as they share a meal together. Doubling up on table space also ensures that the kitchen can cater for all eventualities, whether it is required for leisure, entertaining or even working from home.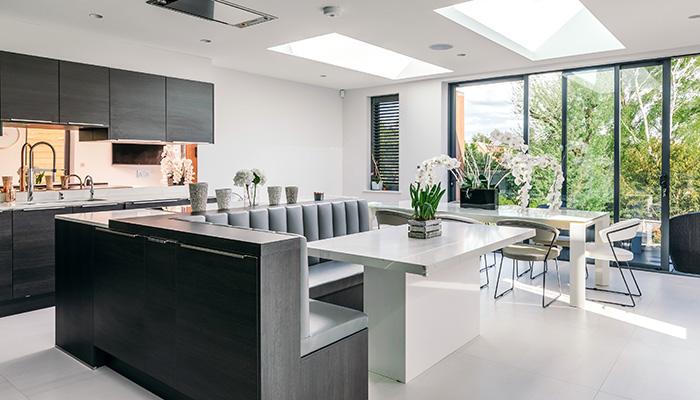 For Brandt Design's clients the finished kitchen ticks all the boxes, and is both hard working and ultra-practical, as well as a pleasure for the whole family to come together and spend time in. "The beauty of this kitchen lies in its simplicity," concludes Scott. "It promises a comprehensive range of interior storage solutions, clutter-free work surfaces, floor-to-ceiling fitted furniture, along with ample seating and dining space."