The trend for darker materials in kitchen design is strong, and Ceralsio Umbria, a ceramic surface from CRL Stone, ensures that this colourway can be added to classic and contemporary settings with ease.
The rich, dark tones of Umbria are offset by a lighter fleck running throughout the surface that accounts for its visual qualities, while its textured finish is wonderfully tactile and creates an air of luxury in its setting.
Suitable for all areas of the kitchen including worktops and splashbacks, Ceralsio is a ceramic surface that is not only beautiful to look at but also a highly practical choice. Totally impermeable, Ceralsio is completely stain and scratch resistant, very thermally stable and shock resistant. It is also very strong and simple to care for.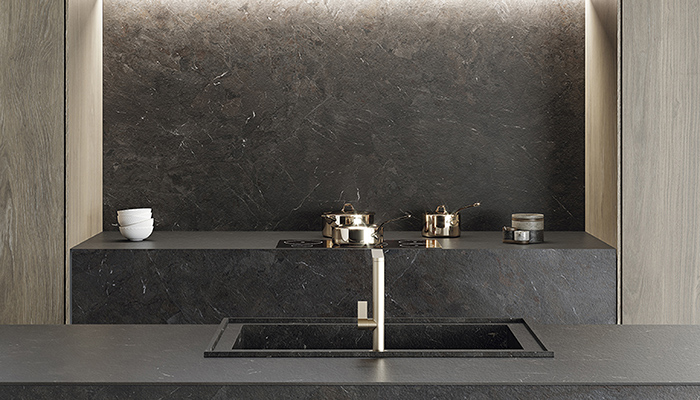 At 12mm thick, Umbria taps into the trend for kitchen worktops with sleek and slim profiles and is supplied in slabs measuring 1500 x 3200 mm. As it is UV stable the colour of the surface won't fade over time, even when subject to direct sunlight, perfect for indoor outdoor kitchens, while its textured finish gives the surface a tactile appearance.
Straight-forward to install and simple to maintain, Ceralsio Umbria creates an elegant, clean and, above all, trendsetting design that is versatile as well as practical, more than meeting the demands of today's modern living.
For more details call CRL Stone on 01706 863 600, or visit www.crlstone.co.uk