Whether they're located in a separate utility room, or within a kitchen design, it makes sense to have laundry products that share both looks and technical innovation.
Laundry appliances that share an aesthetic are always going to have greater visual appeal than a mismatched duo. Smeg's WHT1114UK1 washing machine is designed to go with its DHT81LUK tumble drying counterpart, and the brand also offers stacking kits as an option for homeowners that prefer that look, or wish to save space.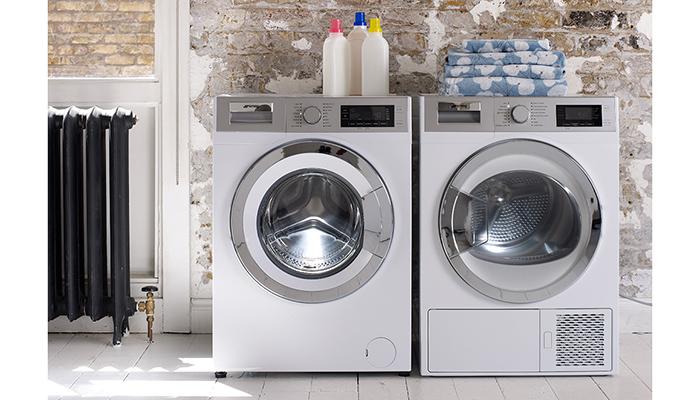 V-Zug's AdoraWash and AdoraDry models also share co-ordinated styling with both featuring a uniform, full-colour touch display. The appliances are also equipped with a WiFi module as standard, and connect to the brand's V-Zug-Home for status and software updates.
Next month, Fisher & Paykel is set to introduce a brand-new pair of matching laundry products to the UK. The brand's ActiveIntelligence WH1260F2 washing machine and 9kg Heat Pump Condensing Dryer are designed to be a complete package, with co-ordinating aesthetics but also complementary wash and dry cycles to provide consumers with complete fabric care. The washing machine uses auto-dosing and soil sensing, while the dryer uses similar technology to assess the correct drying time, and both appliances feature a particular focus on hygiene to sanitise clothing. Fisher & Paykel has also introduced WiFi capability for regular software updates.
Many brands are taking connectivity between laundry appliances even further. "Our innovative W1 Washing Machines and T1 Tumble Dryers are equipped with WiFi connectivity, allowing users to control both appliances from the convenience of a smartphone or tablet," explains Richard Treffler, category manager for laundry at Miele GB. "Designed to be easily connected to an existing WLAN network, consumers can make use of the Miele@Mobile app and its various functionalities, including automatic programme selection, to provide a complete laundry care system." Added to that, connectivity between the modes enables the dryer to automatically set the right programme for the wash load before the wash cycle has even finished.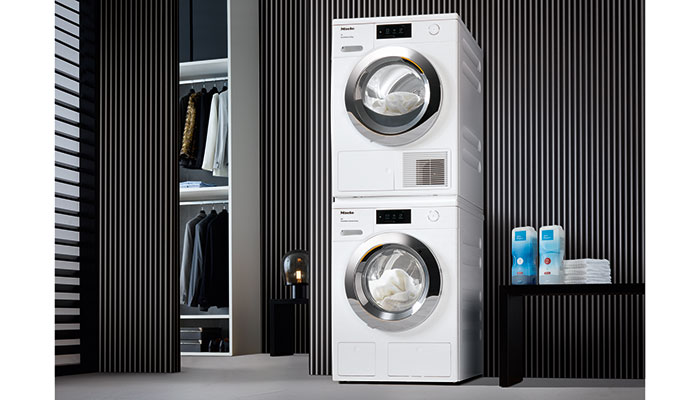 BSH has also made advances in this area. "We're seeing increased interest from consumers in laundry and utility rooms. And because the machines are out of sight in the laundry room, it means that washers and dryers that can communicate with each other and that can notify users remotely of their status will increase in popularity," explains Alex Lucas, category manager dishwashing and laundry for BSH Home appliances. With the brand's Home Connect connectivity, Bosch tumble dryers can wirelessly receive information from the washing machine on the programme, fill level and remaining moisture content of the last laundry cycle and then automatically selects the best drying programme.
For added user convenience, LG has developed similar technology that can be set up on all its most recently launched washers and dryers. Smart Pairing capability means that the appliances can be connected to the WiFi through the brand's ThinQ app, and can then communicate to each other to deliver optimum drying based on information that the dryer has received about the wash cycle.