Marble-effect surfaces continue to be a huge trend in kitchen design, creating an air of luxury and opulence, drawing the eye and bringing a sense of nature indoors. CRL Quartz Calacatta Dorado is a recent addition to the Marble collection from CRL Stone, featuring a beautiful gold veining on a white background that ensure the surface stands out.
The perfect choice for turning an island unit into a stunning focal point, particularly when used to create a waterfall end, or for use as a splashback, Calacatta Dorado makes a statement. Full of character, the pattern is subtle enough to ensure the surface will blend with any colour scheme and style of setting, the gold running throughout also combines incredibly well with the trend for metallic finishes being seen elsewhere in the kitchen, including on brassware and appliances.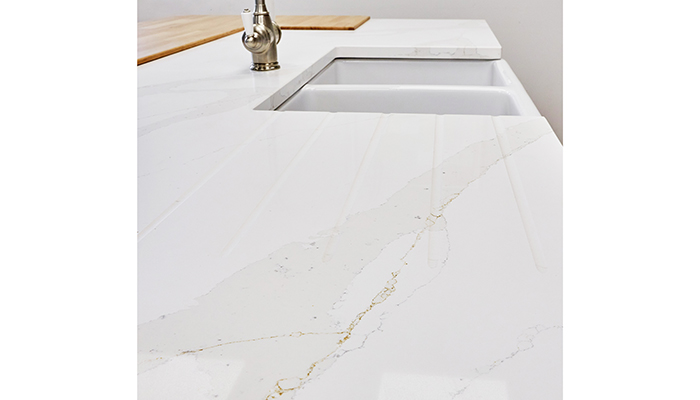 Undeniably full of style, CRL Quartz is also a highly practical surface choice for the kitchen, being scratch, heat and stain resistant. Unlike the natural material it emulates, Calacatta Dorado does not require sealing and actually takes very little effort to care for. As it is a non porous material, all that is needed to keep it looking clean and as good as new is a mild detergent mixed with warm water and a soft sponge or cloth. This also means that any spillages can be wiped away quickly and easily, good news in the family kitchen or a space that is used for lots of entertaining. CRL Quartz comes with a 25-year warranty for added peace of mind.
Calacatta Dorado has a polished finish and can be chosen in thicknesses of 20 or 30mm, supplied in slabs measuring 1600 x 3200mm
For more details call CRL Stone on 01706 863600, or visit www.crlstone.co.uk