During the pandemic, homeowners have increased their household waste by 20% to 50%. A combination of working at home and the increasing demand for sanitation and cleaning products, has resulted in kitchen waste being more difficult to store in the home. Local councils operate with different recycling policies, but all request homeowners to separate their waste into various categories.
Steve Tough, Commercial Sales Director at Masterclass Kitchens, tells us about the success and popularity of their waste management systems and how orders have increased dramatically since the start of the pandemic.
"Planning waste management into a new kitchen design has often been an afterthought for the customer. Not allocating space within the project has resulted in several bins becoming an eyesore and source of irritation for the customer later down the line."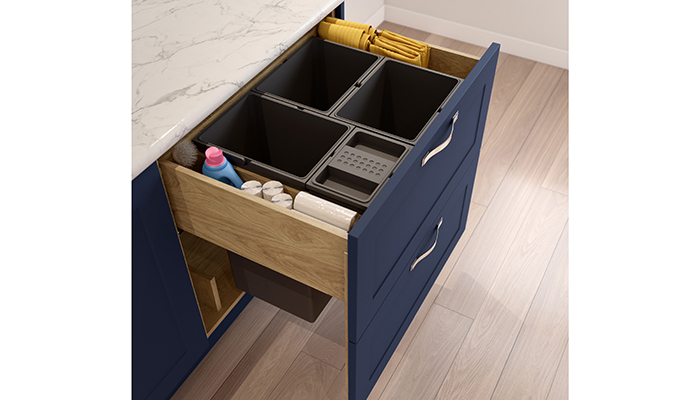 "Our own research outlined the customer's needs, which include multiple bins for recycling, easy removal of the bins and waste storage capacity. Storage for multiple bin bags was another frustration for customers, which we answered by incorporating storage within our wate systems to house these key items.
"The VelaBin is part of Masterclass Kitchens 'Signature Collection'. Every single item in the Signature Collection beautifully matches the chosen drawer box and cabinet creating a bespoke, handmade look at an affordable price point. Our comprehensive bin systems boast a first in waste management, our 800mm wide options features a whopping 104L waste storage plus an additional 42L of storage within the cabinet. The largest capacity on the market! In addition to this, our bin systems beautifully coordinate with the rest of the kitchen drawers and cabinetry."