Founded barely 18 months ago, bespoke hand-painted kitchen and interiors manufacturer Arbor Lane Interiors, which sells exclusively to trade customers, has already had to double the size of its Rochester-based workshop. Amelia Thorpe talks to business development manager Sean O'Malley to find out more.
After taking over adjacent premises, the Arbor Lane factory now tops 10,000sq ft. "We are putting in place processes and capacity for future orders," explains business development manager, Sean O'Malley, pictured.
Founded by managing director Danny Wood, Arbor Lane grew out of Wood's experience as a kitchen retailer (he founded Burlanes Interiors in 2010). "I could see there was an opportunity to offer a totally bespoke made-to-measure service just for the trade," explains Wood. "More than 10 years' experience of dealing with the general public makes me recognise how important it is to give retailers an excellent level of service."
About 90% of Arbor Lane's customers are independent retailers with some 10% interior designers. O'Malley says that the firm currently has in excess of 20 customers and is – from a standing start in September 2019 – now currently manufacturing about 200 orders a year. Sales are split roughly 70% kitchens, 20% bedrooms and 10% bathrooms. "In the time since we started trading, we have been growing our company awareness in the industry and are looking for more retailers," he adds. "To be clear, we are not selling a brand, we are selling a UK manufactured bespoke product, which customers sell under their own brand."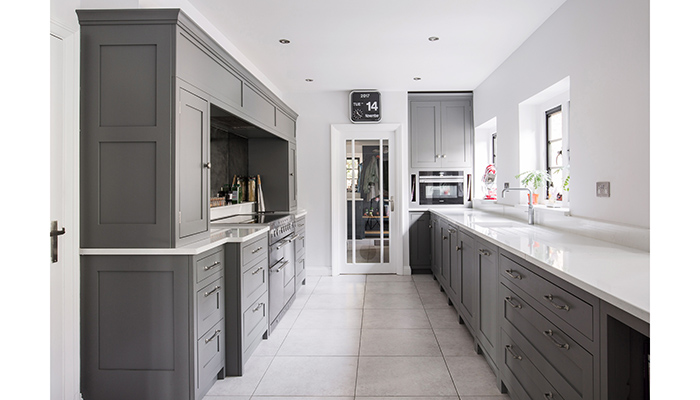 "We saw a place for our USP of cabinetry hand painted in the factory, which negates the need for painting by a decorator on site, making the whole process quicker," he explains. Arbor Lane ('Arbor' from the Latin for 'tree') uses a water-based paint made by London company Mylands, applied by hand in the factory to achieve "more consistent brush strokes". Orders are supplied with extra paint for touching up on site, which he says make a better match than remedials to spray-painted doors.
The solid wood cabinetry is custom made in a range of styles and to any size "within the realms of production". It is supplied to partners across London and Home Counties, and now across England if approached. Lead time is six weeks and the increased capacity in the factory will ensure "that we can continue to stick to that", says O'Malley.
"Currently, retailers are not making investment in their showrooms, because they aren't open, but we foresee them needing new displays as we come out of lockdown," he continues. "The majority of our new enquiries are coming from retailers who want to add a bespoke product to their offer." Prices are "mid to top-end", with kitchen retail prices including VAT starting from about £25,000.
"Because customers have not been able to go into showrooms, we anticipate a very busy period after we come out of lockdown for our retailers – and we are ready for that," says O'Malley. "All being well, if we stay out of lockdown, we hope to see sales increase by 25% in 2021."