For those planning a kitchen renovation, a year at home has transformed the wine cooler from a luxe extra to an essential piece of kit. Emma Hedges investigates this new trend and rounds up all the latest launches.
While the full impact of the various lockdowns on consumer behaviour is in many ways yet to be established, there have been some immediate effects that have been somewhat surprising. One development has been the desirability of the wine cooler. According to research undertaken by Hoover via YouGov in 2020, wine coolers were not only used more during lockdown, a significant proportion of respondents said they wished they had one while the first round of national restrictions were in place.
"This has been reflected in sales for the year, which saw an increase of 8.7% in 2020, with December 2020 being particularly strong," says Nick Platt, business director Hoover built-in appliances UK & ROI. "By nature, wine coolers make a statement and they bring an element of a fine dining experience into the home – something that has clearly been in demand over the last 12 months."
"People are spending more time cooking at home and as a result, they have become more invested in their kitchen appliances, including wine conditioning units which have increased in popularity," agrees Max McCormick, product manager for Miele GB.
"We've definitely seen an increase in sales, with wine storage becoming even more popular than in recent years," says Ricky Davies, director at Sub-Zero & Wolf. "This may well be led by the restrictions we've seen around the pandemic, with bars, restaurants and pubs being closed much of the year. Homeowners are choosing to invest in wine storage to provide them with the convenience, correct preservation and wider selection of wines which they would normally find outside of their homes." The brand has launched several new wine coolers as a result.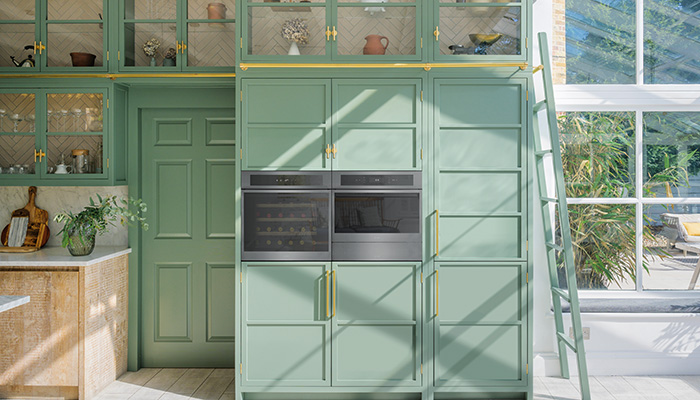 At the start of the year, Smeg also expanded its offer and introduced two new sizes to its Dolce Still Novo, Linea and Classic collections, with sommelier drawers available complete with corkscrews, Spumante pincers and thermometers.
So where is wine cooler innovation heading next? "The latest functionality includes exacting control for ageing, and fine-tuned modes for perfect serving temperatures. Manufacturers should cater to both those who are deeply passionate about wine, and those who love to entertain and showcase their collection," says Alex van Vliet, product manager for Fisher & Paykel.
As the latest trend shows no sign of abating it represents a key opportunity for retailers. "We have seen an increase in sales of our built-in wine coolers during the pandemic and expect this to continue as people spend more time at home," says Bodie Kelay, MD of Küppersbusch Sales UK. "Wine connoisseurs are looking to retailers for a high-quality multi-zoned wine storage centrepiece rather than just a standard wine fridge."
He adds: "It's essential to highlight to customers the key technology and how it adds value to preserve, store and enhance the longevity of their favourite wines. In a showroom setting, retailers can incorporate the latest models and showcase the importance of form and function, while upselling based on the customers' lifestyle needs."