Renowned as it is for behind-the-wall installation systems and its AquaClean shower toilets, Geberit is becoming increasingly well known for in-front-of-the-wall products, as Mark Larden, MD for UK and Ireland, tells Amelia Thorpe.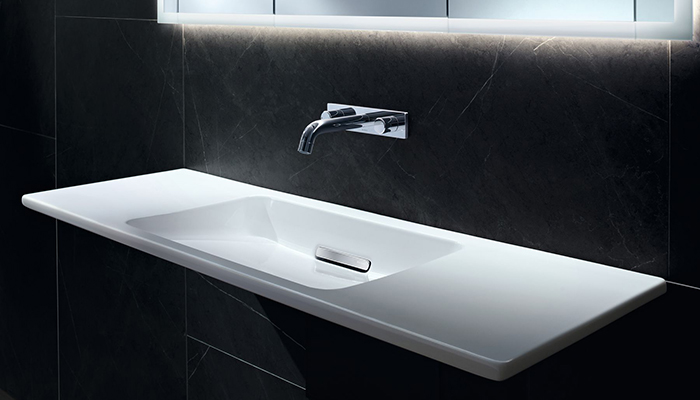 "When Geberit acquired the Sanitec Group in 2015, there was the potential to join Geberit's strength in concealed systems, frames, piping and drainage systems with Sanitec's expertise in bathroom ceramics," explains Geberit UK MD Mark Larden of the company's current strategy. "With our latest launches, we've completed something that we started in 2015."
Shortly after the acquisition, Geberit launched a range of ceramics to sell in the premium retail sector, where it was already well established with its frames, flush plates and shower toilets. That premium collection of ceramics and furniture is now called Geberit Aspire, and the latest launch in that range is Geberit One. "This is a brand-new, very upper-end suite and it is one of the first designs that really takes advantage of our position – owning what is behind the wall and also what is in front of the wall," says Larden. By integrating many components behind the wall, the range is designed to "ensure more cleanliness, more space and more flexibility in the bathroom". For example, the mirror cabinet is designed to disappear into the wall and basin traps are positioned in a function box in the prewall to offer more storage space. "It's fantastic looking design but also with great functionality," he adds.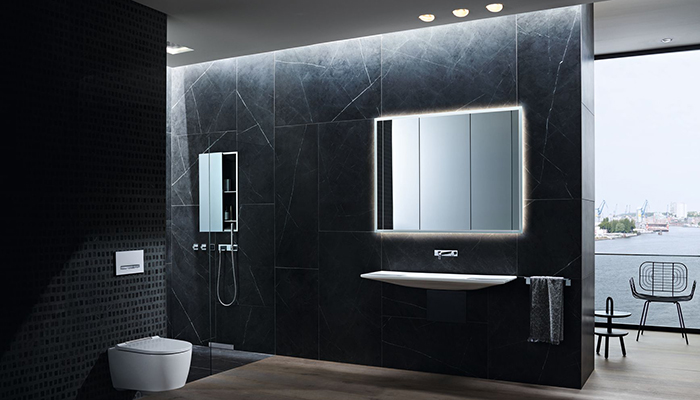 Twyford Bathrooms, formerly owned by Sanitec, continues as part of Geberit, with its strong presence in the volume housebuilding eco sector, and now accounts for about one-third of the UK group's sales. To ensure it has a complete offering, the company has now launched Geberit Select, designed to sit above Twyford and below Geberit Aspire. "This is a range of about 11 suites that are aimed at mid-market retailers and national merchants' showrooms," explains Larden. "They are good value for money products, still for consumers wanting really good designs, with furniture, slim-rim basins and shower toilets, but at a more affordable price."
2019 turnover was about £90million. "The bulk of our sales are of behind-the-wall products in the UK because that's what we've been doing here for the last 20 years, since Geberit has been in the UK," says Larden. "But that is changing fast, with the launch of Geberit Select, which will give us more sales in the volume area."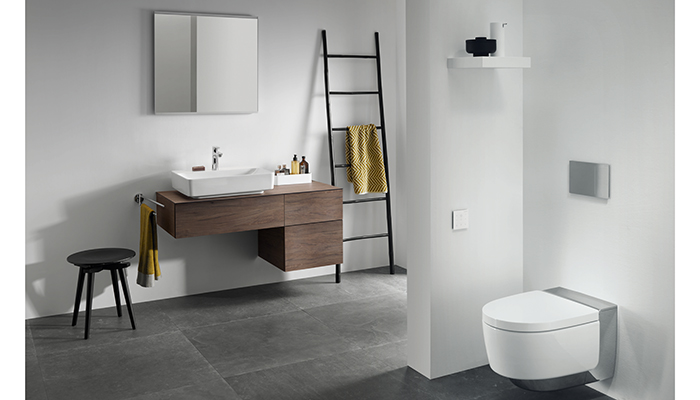 This year, there will also be some new flush plates and range enhancements to the AquaClean collection. "We've now got [shower toilet] products that retail from £6,000 to about £1,000," he says. "It is still a very, very niche market – probably less than 1% of toilets sold a year – but if you look at our own sales and the amount of products now in the market, I would say it's one of the fastest growing in today's bathroom market – our sales [of shower toilets] are growing at double-digit rate per year."
Headquartered in Switzerland, with some 29 production facilities, the Geberit Group is a European leader in the field of sanitary products. And how has business been through the pandemic? "Having the support of a powerful parent company means we haven't had to make redundancies or make any cuts or make any changes to our marketing and advertising campaigns,"says Larden. "Our focus has still been very much on developing new products and looking to the future."