Spanish brand Acquabella has recently launched a succession of striking new products in the UK – CEO Juan José Benavent talks to Amelia Thorpe about what sets the company apart, its new support plans for retailers, and how sales are currently going from strength to strength.
It was 2008 when Spanish manufacturer Acquabella reinvented itself. The company moved away from acrylic whirlpool baths, shower trays and shower cubicles and started selling made-to-measure shower trays. "It was something that no other company was really doing," says CEO Juan José Benavent. The hunch, it seems, has paid off. "In the last six years, we have tripled our turnover and the number of our employees," he says of his 240-strong team based at Acquabella's HQ in Castellón, Spain, the site of its 7,500sq m factory.
Today Acquabella sells in 40 countries and offers shower trays in a variety of standard sizes, plus bespoke options that can be made to suit walls with odd angles or to go around pillars, for example. Made from Acquabella's Akron material (a compound of polyurethane and mineral fillers), the company also now manufactures shower panels and countertops made from the same surface. "Akron allows us to create a wide variety of products with high-definition textures, which are completely customisable for the user," says Benavent, "and, at the same time, offer the highest technical properties, such as an anti-slip finish that is warm to the touch, resistance to water damage and impact, with the added benefit of being antibacterial, which is something that is really pertinent to the 2021 consumer."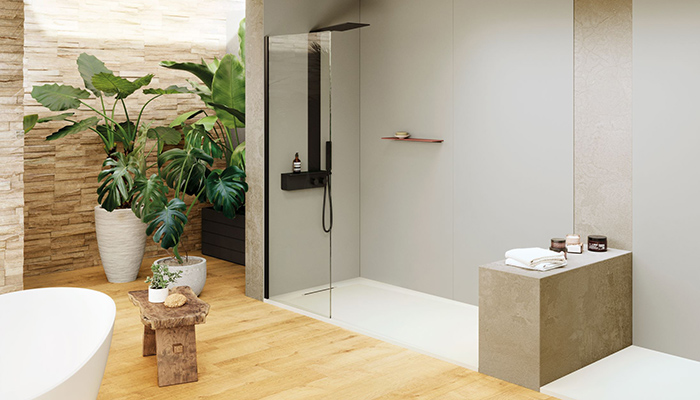 Textures include cement-like Beton, slate-like Ardesia, and the new Arabba woven-textile finish, which is designed to combine 'the softness of natural linen with a stone finish', while products are available in 10 Standard Colours, six Naturally Made colours, and the whole RAL/NCS palette (more than 2,000 colours). Also new for 2021 are the Tempo shower tray with perimeter drainage and the smooth matt Flow Zero shower tray, and Mini deep-yet-compact basins with a slate-textured exterior and silky-smooth interior. The company has also just launched its first bath made of Akron, called Opal Quiz.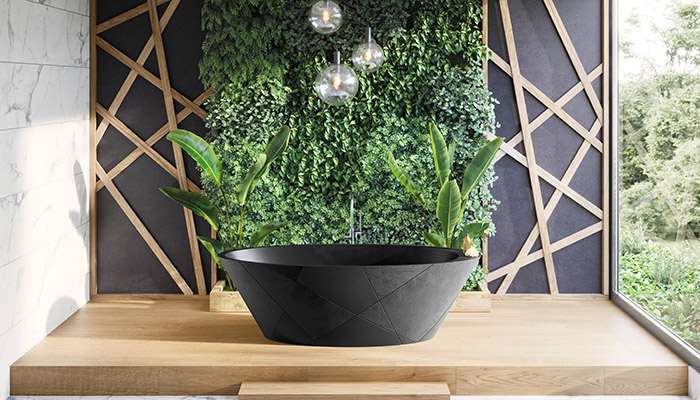 In 2020, the Cranemere Group acquired Acquabella. "We have been able to take advantage of the synergies generated between the brands by the introduction of a new material, Dolotek, with a totally silky and smooth texture in pure white," continues Benavent. Dolotek is an engineered stone made of resin and dolomite stone, used by Acquabella for the baths and basins included in the Aquawhite collection.
"As well as launching new products to the UK market, we are also delivering new ways to support the retailer, procurement managers and end user," he explains. "During this exceptional period of time, we have been working hard on the development of powerful digital tools." Acquabella offers an interactive catalogue and 3D virtual rooms called '360° Spaces', and will be adding a 3D planner to allow customers to design and customise their bathrooms – and soon, a fully interactive platform to allow users to take a journey through different collection scenes and customise the colours.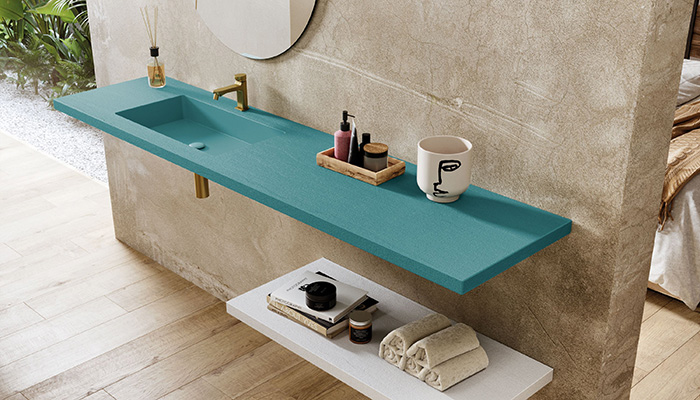 The company started selling its products in the UK about 10 years ago and now sells through some 150 retailers here. Roberto Heredia is in charge of UK sales, running a network of sales agents across England, Wales, Scotland and Ireland. Says Benavent: "The UK is currently one of our top five markets, where we are growing every year."