Ed Vause, founder of natural stone and porcelain tile supplier John Samuel, set up a mobile tile and flooring showroom in a former library van in 2019 – it was the best thing he ever did. He tells Amelia Thorpe how business is now roaring along.
After several years working as a sales rep for a natural stone importer, Ed Vause had visited most of the tile showrooms in the south of England. "I was struck by their sameness," he says. "I'd go into four or five showrooms in one day and see the same products in all of them."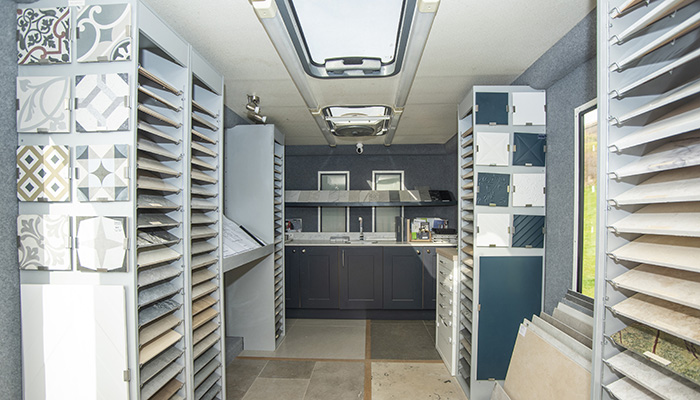 A regular visitor to the international tile shows, Vause, now 50, was aware of the latest innovations and says he was inspired to show more of them by setting up his own business, John Samuel (named after his sons, John and Samuel) in January 2019. "I thought that a mobile showroom solved a lot of the problems of the tile business and gave me a competitive advantage," he explains of his purchase of Matilda, a 12-ton former mobile library, which once belonged to Falkirk Council. After passing his HGV test, Vause found himself loading Matilda with 5 tons of carefully selected material samples and setting off to visit potential clients.
"In a bricks-and-mortar showroom, there's the problem of the imagination gap: clients find it difficult to see how the tiles will look in their own homes," explains Vause. "There's also the problem of tile blindness – by the time they've been to half a dozen showrooms, everything starts to look the same." He says his approach allows him to visit the site, see the project – be it a house, hotel or restaurant – and meet the customer to tailor his offer and show them how the materials will look in situ.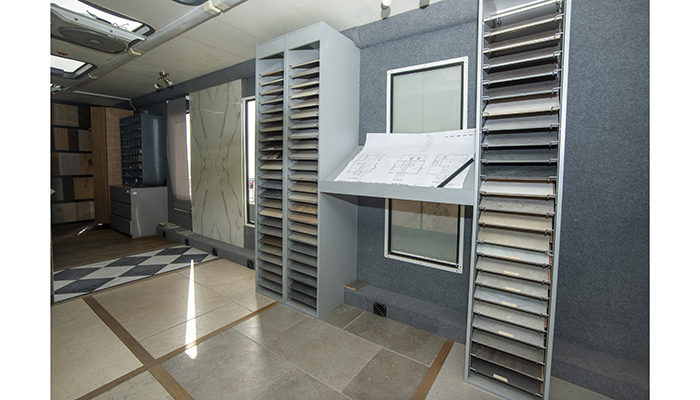 The tile, flooring and paving product range comprises natural stone, including marble, limestone, granite, slate and travertine (though not Indian sandstone "because I am concerned about the human rights violations going on in that industry"), porcelain from Italian factories such as Marca Corona, Unicom Starker, and Fiornese ("50% of what we sell is porcelain from Italian factories," he notes), plus quartz worktops from brands including Classic Quartz, Caesarstone and Silestone, engineered oak and walnut flooring, Karndean and Clicklux LVT, and Little Greene paints.
He does not hold stock because it allows him to "propose the best material for the project", and helps keeps costs down and his prices competitive. "Take 20mm porcelain, for example, we are offering a keener price – about 25% less - than even the largest retail park outlets ."
Turnover was £350,000 last year. "I'm projecting £1/2million this year," he says. There's typically a lorry arriving each week from Italy, and every couple of weeks from Spain, allowing him to offer a usual delivery time of three weeks.
The "official" operating area is within a 50-mile radius of Warninglid, West Sussex, and Vause says he'll take Matilda to visit, whatever the size of job. "I have the start-up mentality that no job is too small – I've always been of the opinion that you never know where the conversation will go until you have it." He also works closely with interior designers and kitchen and bathroom retailers, offering surface materials to their clients.
By early 2022, he anticipates launching Matilda Two to cover north west London and the M40 corridor. "If that's successful, long term, I'd like 10 vehicles covering the whole of the UK," he says.