Designers Edward Barber, right, and Jay Osgerby, left, talk to Amelia Thorpe about innovation and simplification as they launch Axor One – their new brassware collection for premium Hansgrohe brand Axor. Portrait by Mark Cocksedge.
In the year that marks the 120th anniversary since Hans Grohe founded his company in Germany, it seems especially fitting that Hansgrohe, under its premium-level Axor brand, launches a major – and innovative – new brassware collection, Axor One. Says Hansgrohe UK & Ireland MD, Jay Phillips: "As a business, we strive to deliver unsurpassed and sustainable experiences with water – that's what drives us forward."
Created by British design luminaries, Edward Barber and Jay Osgerby of London-based studio Barber Osgerby, the new shower, bath and basin fittings add to the Axor One shower control, launched in 2015. The 'all-in-one' paddle design of the thermostatic module is widely considered a stand-out piece for its elegant simplicity and intuitive ease of use: all functions are concentrated in one unit, which can operate up to three outlets using a finger, hand or elbow. Keen to avoid the experience of operating multiple buttons and dials of an unfamiliar shower, which he likens to "controlling a submarine", Osgerby explains, "We wanted to simplify complexity, which sounds a bit dry, but actually is one of the hardest, but most rewarding, things to do."
Another innovation comes into play in the design of the new collection: the taps feature a simple mode of use, thanks to Hansgrohe's Select technology. Press down on the tap's lever to start or stop the water at a pre-determined flow rate, swivel it clockwise to increase the temperature. "The actual workings of the tap are underneath the basin surface, instead of above, which has allowed us to create an elegant, tapered cast spout," explains Osgerby. "We have been able to exploit the manufacturing skills that we saw in Schiltach in the Black Forest [at the Hansgrohe HQ] to the maximum." The taps also feature Cool Start technology to help save energy in unused water, are designed to used less raw material in their production, and help with water conservation, since the taps cannot be left half on, known to be a problem particularly in hotels where taps are often not properly closed.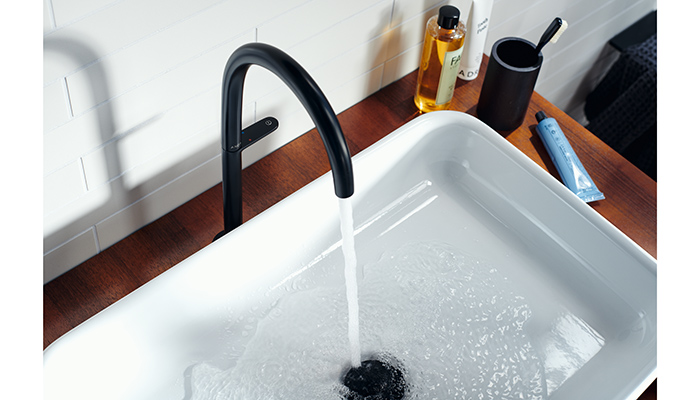 The shower head discs feature distinctive five circles of sprays, arranged like a flower, to concentrate the water, which then falls and comes together on the body for a powerful experience. The range also includes a showerpipe and shower set that offer a clean appearance thanks to their integrated wall outlet. In the autumn, we can expect a range of Axor One accessories.
Barber Osgerby, founded 25 years ago, is known for many award-winning designs, including the Tip Ton chair for Vitra, the London 2012 Olympic Torch and a £2 coin commissioned to commemorate the 150th anniversary of the London Underground. What unites their work, particularly when it comes to bathroom design? "Simplifying the complexity without rinsing the soul out of it," says Osgerby. "The last thing you want to do as a designer is to re-style existing objects – you've got to find something new, some sort of innovation that makes it relevant and worthwhile."