No longer regarded as accents to be added sparingly to a subtle backdrop, black, anthracite and other moody tones have become popular choices for consumers looking to make a bold yet sophisticated style statement in the kitchen. Lisa Hibberd takes a look at some of the latest launches and talks to the experts about how to ensure dark elements don't overwhelm a design.
"Darker, concrete-inspired colours have stemmed from the popularity of industrial interiors – a trend that's here to stay," says Cosentino UK's marketing manager, Laura Davie. She believes that the increase in demand for darker tones is in part due to the ever-present hint of industrial that homeowners are surrounded by in their homes. "When first moving into a new place, consumers are often keen to reveal the building's original architectural features, and this subtle industrialism is an extension of that," she explains.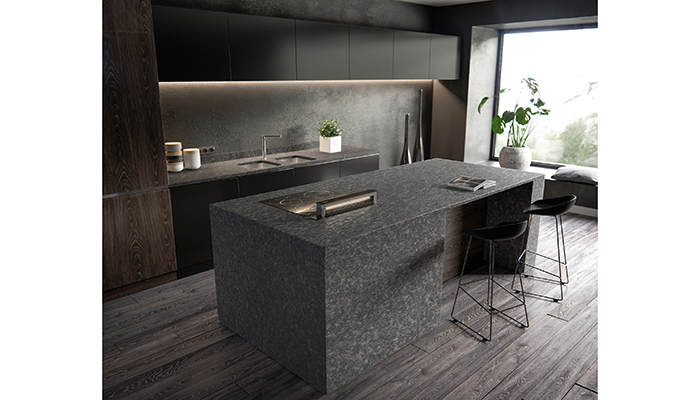 In addition to creating an industrial vibe, dark-coloured surfaces are also popular with those looking to achieve a more natural look, inspired by stone and marble materials. Caroline Elliott, head of product – worktops, for Bushboard, Wilsonart UK, comments: "The trend for biophilic design with people wanting to bring elements of nature into their homes and disconnect from the everyday digital world, has created yet more demand for surfaces that replicate the effect of these natural materials." The broad range of dark-coloured laminates from brands such as Bushboard prove that there is no need for budget-conscious consumers to sacrifice on style.
And it's not just consumers who are taking note of this impactful trend. "We're noticing housebuilders becoming braver with their choices; steering away from traditional whites, woods and greys and experimenting with bolder options, such as as deep colours and much darker greys," reveals Jonathan Stanley, VP marketing at Caesarstone UK & EMEA.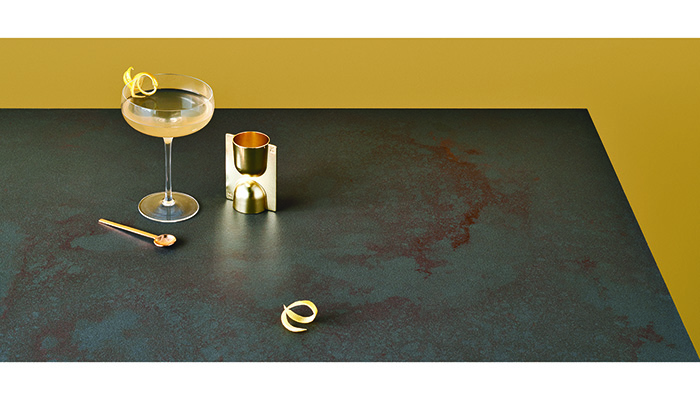 Simon Boocock, MD for CRL Stone, believes that dark colours are not just a passing fad but instead represent a timeless choice. "Shades such as black and dark grey, when used on surfaces such as worktops, floors and splashbacks, can be used to make a room feel very inviting, particularly when combined with textured woods to add a rustic, homely charm," he says. CRL Stone's Ceralsio collection is made from sintered stone, and offers a selection of dark tones including Black, Croma Black, Nero, Umbria and Marquina.
With a wealth of dark surface materials, textures and finishes on the market, is there anything that kitchen designers need to be aware of when using these dramatic hues? "Unless a client is looking for a tonally matched kitchen, it's best to balance your shades," says PWS' head of strategic design, Lizzie Beesley. "So when using a very dark worktop a designer needs to consider the finishes in the rest of the kitchen. Balancing with colour and pattern will harmonise the design."
Ben Bryden, head of sales at RAK Ceramics UK, recommends that designers avoid the overuse of dark surfaces. "This applies to any size space, although the larger the space, the more dark shades it will be able to comfortably carry," he adds. "Remember to consider how much natural light the room enjoys and incorporate materials and finishes that help reflect this so that the dark tones of the worksurfaces do not appear too imposing."