British brand Rutland London is expanding from towel radiators, to now offer a complete bathroom collection. Director Gordon Riddoch tells Amelia Thorpe why.
In 2012, when Gordon Riddoch set up Rutland Radiators to import standard size towel warmers and radiators from Europe and the Far East, he had a big surprise. "From day one, I realised it was all about bespoke," he recalls. "As a small business starting from scratch, we soon saw that people didn't want to buy standard sizes – they wanted super long or super tall or all sorts of sizes to fit particular spaces."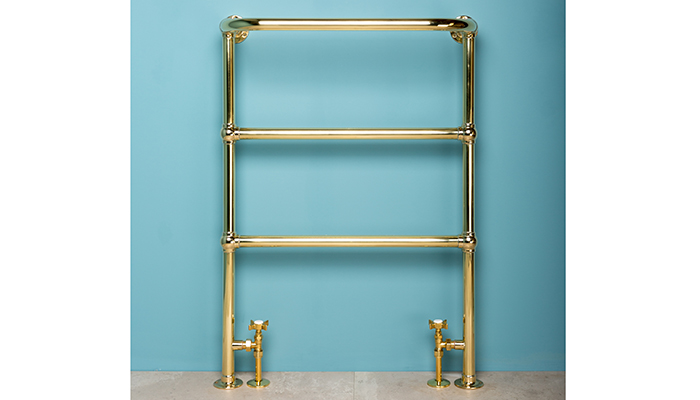 To make the towel rails, he turned to long-established metal fabricator H Keeling on the South Coast, eventually going on to buy the company in 2016 when it ran into difficulties. "That really gave us focus," explains Riddoch, 54, who moved the premises from Gosport, Hampshire, to Fareham, and united his brands under Rutland London. "That move enabled us to put effort and endeavour behind Rutland London," he explains, as the firm began to expand its portfolio from towel rails and vanity basin stands to start producing shower enclosures, mirrors, and tap fittings.
In January, the company expanded its brassware collection, and this month launches seven cast iron freestanding baths, with WCs and ancillary fittings to come shortly. "We will have a complete bathroom offer by July," says Riddoch. Certain components, including radiator valves and steel columns, are made in Europe, and ceramics come from a UK manufacturer, but most of the manufacturing takes place in the Fareham factory with all products made to order. "I believe the quality of our hand-finished towel rails is the best in the UK, because of the time we take on the polishing and finishing," says Riddoch, who also emphasises his company's compliance with the legal requirements of EN442 certification (the harmonised standard covering radiators, including heated towel rails) – something that he suggests may not be the case with all manufacturers.
The customer base is largely architects, designers and specifiers, attracted by the option to buy bespoke products for their projects. The company now offers more than 20 finishes, plus a matching service. "While a percentage of our business has been manufacturing to match or near match another manufacturer's product, specified for the same project, now we will be able to step into their shoes and supply complete ranges," he says of the newly widened product portfolio.
Operating with a website but no showroom, will he change that set-up? "Currently we're busy as a small team rolling out a lot of product, but there will be a need for an appointment only showroom, close to or in London, probably next year," he says. Like others in the top-end traditional sector – Catchpole & Rye, Drummonds and Waterworks spring to mind – there are no plans to sell through independent retailers.
And how will a relative newcomer compete in a mature market? "We offer good value for British-made quality and about 300 'raw' products in multiple sizes and multiple finishes, including, for example, 36 different styles of towel rails in any size you want – others don't make towel rails or offer a very limited range," he says.