As he reports strong sales and launches a new showroom in Tunbridge Wells, West One Bathrooms MD Duncan Waters tells Amelia Thorpe why he urges manufacturers to launch new products to drive the market forward.
Fresh from announcing the opening of West One Bathrooms' new showroom in Tunbridge Wells, MD Duncan Waters says sales are "flying along". Keen to make the most of the pandemic-related upturn in home improvements, Waters says that the new showroom will open in September and will be, at 4,000sq m, "three or four times bigger" than his previous showroom just along the road.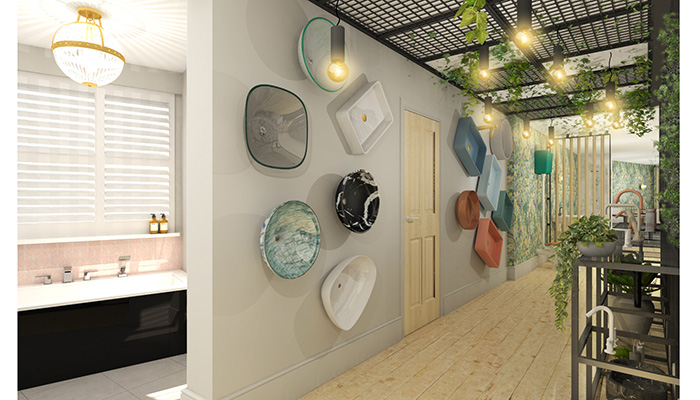 "We have a good market down there and have outgrown the old shop," he says. "Clients want to see, touch and feel the products." In addition to showcasing collections from luxury brands including Devon & Devon, Antonio Lupi, Inbani, Agape, Lefroy Brooks and Thomas Crapper, the showroom also incorporates its 'Studio' concept, first introduced at the Clerkenwell showroom last year, which uses mood boards to combine mixed finishes and textures.
80% of sales through the Tunbridge Wells showrooms come through its design service, hence the upper floor of the two-storey showroom will be home to a Virtual Worlds 4D Virtual Reality theatre, so that customers can be 'immersed' in their room designs prior to purchase. There will also be an area dedicated to tile samples, paint from Mylands and a waterproof wallpaper gallery from Wall & Deco, plus a hospitality bar and kitchen designed by local company Rencraft.
West One Bathrooms is a family-owned retailer, run by Duncan Waters and his brother Kevin, originally founded in 1978 by their father Anthony. While Waters explains that their business has also enjoyed "big growth in our online store", he insists that "there is no substitute for touching and feeling the products". He explains: "Our online store is there for people who don't want to travel – and people will buy at a distance if they are comfortable with our brand and the quality being supplied." Changing the name from Bathwaters, its online operation launched in 2019, to West One Bathrooms Online in March 2020 was done for this reason, he says. "When we knew lockdown was imminent, we swapped the name, because we felt that the power of the West One brand was mightier than Bathwaters."
"Retail sales are up 10% this year on 2020," continues Waters, "while online has probably gone up tenfold." Accessories and sales of West One Bathrooms Fifth Avenue brassware have been particularly strong sellers.
"Lockdown has diverted people's spending," he says. "They are looking at their tired sitting rooms, kitchens and bathrooms and thinking it's time to update – and they've got disposable income to do so because they can't go on holiday. Their imagination has been relit because they are at home so much, so they are considering spending more."
But will the upswing continue? "It is inevitable that there will be some slowing down, but the interest will still be there, I think, because the pandemic has highlighted [the interest in] the whole interiors sector," he says.
The Mayfair showroom is currently being refurbished, with plans to complete the project by the end of the year, but he says he's worried about the opportunities to update his other six showrooms. "Most manufacturers have been in a time warp for the last 12 months, so there's now a shortage of new product," he says. "We need a bit of enthusiasm coming back from the bottom up – we have to move on and progress."