Outdoor kitchens have always been seen as the height of extravagant luxury, but with socialising and entertaining outside now by far the safest option, there's no doubt they've climbed far higher up the consumer wish list. We talk to Cosentino marketing manager Laura Davie about how to create the perfect outdoor space, and what to bear in mind to avoid making any obvious mistakes.
Q: Why do you think the current trend for outdoor kitchens has come about?
A: This year, many of us will forgo our annual holiday abroad or a trip away in the UK and staycations are this summer's big thing. The last 18 months have had a huge impact on interior and exterior design and architecture with a large number of homeowners looking to improve their property rather than sell up and move on. Both of these are huge factors in the increased interest for creating a beautiful outdoor kitchen that can be used to entertain family and friends, without having to leave the house.
Q: Do you think it's a passing fad or one that's set to last?
A: The trend for outdoor kitchens originated in America thanks to their warmer climate and large open spaces. Stateside trends usually mean they will have some legs and be more than a passing fad across the pond, especially now our lifestyles have changed so dramatically. Also, as designing, manufacturing and installing an outdoor kitchen is a serious investment, they are now seen as an aspirational element of garden design alongside stunning landscaping and high quality garden furniture.
Q: What are the key elements to bear in mind when designing an outdoor kitchen?
A: Think carefully about the practicalities. What will it primarily be used for and who will it cater for? Does it need to have zones for food prep, cooking, serving and dining? What about a drinks station? Consider the appliances that you will want to use as well as storage requirements and a sink and tap. Think about services such as electrics and plumbing as well as ensuring it is weatherproof and low maintenance. Another important aspect is what environmental elements will be directly or indirectly involved. Gaze Burvill Furniture created a stunning outdoor kitchen at The Chelsea Flower Show in 2017 using Dekton by Cosentino surfaces, which are carbon neutral. Designed by Katie Walker, the kitchen was the perfect partner to Gaze Burvill's contemporary furniture collection with Sirius and Trilium colours creating a striking contrast to the oak craftsmanship.
Q: What are the possible pitfalls and mistakes to avoid?
A: Practicality of design to ensure that the outdoor kitchen serves its purpose is the number one consideration. If homeowners enjoy entertaining on a large scale then they will need a good sized kitchen to make cooking and food prep simple and sociable. If, on the other hand, it will mainly be used for small family dinners, then the design could be scaled back. The size of the space available is also of utmost importance and homeowners need to consider carefully how much of their garden, patio or terrace they want to give over to alfresco cooking. Material choice is also key. For best results and longevity, surfaces should be weatherproof and easy to maintain. Dekton by Cosentino is the perfect choice, as this ultra-compact surface is highly scratch resistant, stain resistant, abrasion, fire and heat resistant as well as having colour stability so it will never fade in sunlight.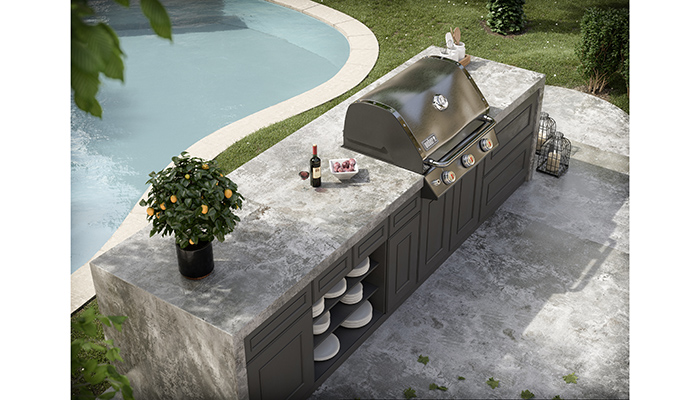 Q: Are there any particular design flourishes that work well or elements to include in an outdoor kitchen that designers should know about?
A: Dekton is the perfect material for multiple applications around the home, both inside and out. Ideal for outdoor kitchens, it combines unparalleled functional and aesthetic properties with a natural stone, wood or metallic look. Highly resistant to UV rays, Dekton's colour and texture will last and last as it can be scorched, scratched, stained and frozen but will always remain intact and mark-free. It's also a highly sustainable option, as it's a carbon neutral product for its entire life cycle as well as being part of the circular economy.