When Diane Berry first visited Gary and Dawn's new bungalow, which was stuck style-wise somewhere in the 1970s, she realised that only a fearless approach would do. She reveals how some careful planning – and a sleek Eggersmann kitchen – have resulted in a stunning contemporary space.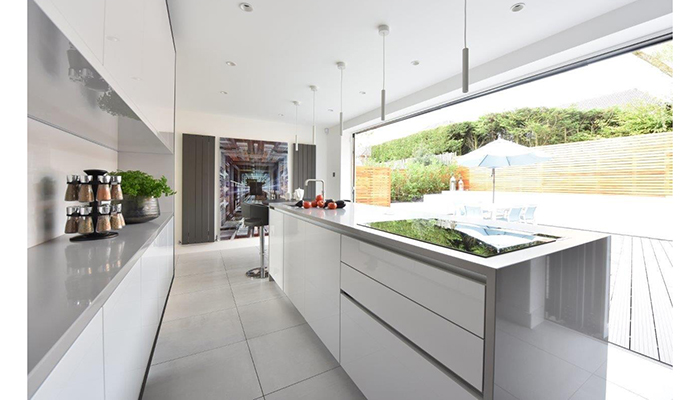 Q: Tell us about your clients for this project, and what they wanted from their new kitchen space
A: Gary and Dawn are in the mid forties with a grown-up daughter and a grandchild. They own and run a large joinery business specialising in fitting kitchens for the contract market. They work long hard days and see their home as their relaxation and social space too, loving the outdoor space as well. Gary is a huge cook, and it was fun working with them as it was Gary that had all the questions on storage, equipment ergonomics, while Dawn was all about styling and dining spaces!
Q: What type of property was it in?
A: The property is a 1970's dorma bungalow, but the work we did together has transformed it into a modern open-plan home with a large front-to-back lounge. The removal of the old conservatory has allowed more light to flood into the centre of the home and given a larger outdoor space – even enough room for a hot tub.
Q: What was the brief?
A: Gary and Dawn wanted a fresh pair of eyes as they wanted to create some wow factor. They hoped that this tiny space would be able to house a snug, a dining table a breakfast bar and – if at all doable – an island (something they had decided wasn't possible). It was clear on my first visit that it really would suit a radical approach and as soon as he said what his business was, I realised that taking down stud walls and reconstructing the space was easy for him as he was in the trade. What surprised me was that he worked with a well-known kitchen specialist, and he said their design team just couldn't come up with anything. He needed someone that wasn't frightened to be brave and see a bigger picture.
Q: How did you go about meeting the brief?
A: I recommended demolishing a dated conservatory, moving the kitchen to the back of the house, and adding a wall of glass doors. I moved the position of two doors and knocked down two walls! It is a challenge to be so radical that I didn't frighten them away, but I knew if this was my home all these changes should happen. I try not to be safe in my ideas as this usually means huge compromise. The kitchen was trapped in a small space at the front of the house, but now at the back it interacts with the garden, and the glass gives the room a feeling of space and light. Gary and Dawn created a fabulous social area that works so well now with indoor and outdoor entertaining.
Q: What design flourishes did you use?
A: As this property is small, I used lots of tricks to help create the feeling of space – the storage wall behind the island is shallow to add a feeling of width, but also off the floor with lights shining down onto the floor. This helps create a feeling of openness and adds to the wow factor they wanted too. We used dining benches – again these help, as one bench is against the wall and the other tucks in easily, and is a lot less fussy than walking in and seeing the backs of three chairs.
Q: What cabinetry did you choose and why?
A: Eggersmann furniture just worked perfectly – their Polygloss grey units reflect light and add to that feeling of space. It also reflects the garden so helps make the room feel brighter and wider. Then a contrasting Eggersmann dark oak rough sawn finish gives the contrast and texture to bring luxury and a more unique piece of styling. Both these are crowned with Silestone Kensho quartz worktops – a stunning simple colour without any fuss, adding luxury and calm.
Q: What was your favourite part of the project?
A: My favourite part was showing them their design – they just hadn't thought they could have an island, let alone a kitchen onto the garden with bi-folding doors! It also makes me super proud that this couple own a company specialising in fitting kitchens and that they came to me and allowed us to install it too. A real feather in my cap as my father would always say!