It's easy to see why the dramatic aesthetic of a black grid shower screen or enclosure is a big hit with consumers looking to give their bathroom a bit of an industrial edge. Lisa Hibberd takes a look at some of the latest designs and speaks to the experts about why this trend shows no sign of abating.
The bold, industrial lines inspired by Crittall doors and windows have been influencing interiors for some time now, and this combination of simple but strong lines and understated elegance lends itself perfectly to the modern bathroom. Tapping into the trend for all things utilitarian, the black grid shower enclosure has become a must for those looking to add a touch of industrial chic to their space. The striking contrast that can be created with a black-framed design has proved so popular that there is now a wide range of brands offering the striking good looks of a grid-style screen or enclosure. "While the minimalist, frameless, plain glass screen look is still popular, it seems that less is no longer more. The desire for personalisation is causing designs to evolve, for example the black framed or panelled look that we've seen recently – which is great for industrial-inspired and monochrome interior themes," says Richard Eaton, product manager for RefleXion Enclosures by PJH.
Jon Walker, head of marketing at The Roxor Group's Hudson Reed brand, believes that this trend is due to the fact that many homeowners are beginning to experiment with texture and opting for alternative finishes. "Matt black fixtures and fittings continue to be a hugely popular trend in bathroom design for 2021, offering a unique accent and fit with a variety of bathroom styles. The brazen, dark features of a black-framed screen or enclosure contrast beautifully with a light, bright bathroom to create the ultimate style statement."
Although a simple, frameless shower screen offers designers the chance to make the shower area blend seamlessly into the rest of the room, those looking to create more of a contrast can use a black grid style to successfully retain an element of separation. "Depending on the look they're aiming to achieve, designers can let the black grid shower be the star of the show, teaming the black grid screen with a co-ordinating shower head, black brassware and a monochrome colour palette," says Nicholas Cunild, MD for Matki. "Black can easily overpower a room, so choosing black grout on white tiles could provide a distraction from the statement shower screen, whereas white or neutral grout will really let it pop."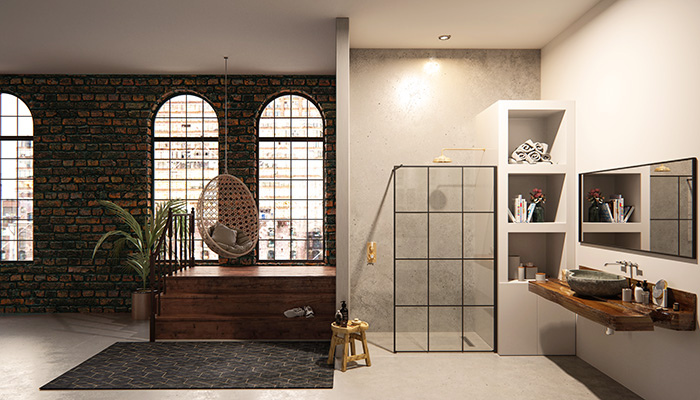 Shower Lab sales director, Alex Cooper, suggests that consumers opting for a black grid design are often looking for a bold, iconic look that complements the latest colours in the bathroom furniture world. "It can either be used to match black brassware or complement other brassware colours such as brushed gold and copper. Designers are now starting to think of the shower as something to design the room around, rather than merely a necessity in the space."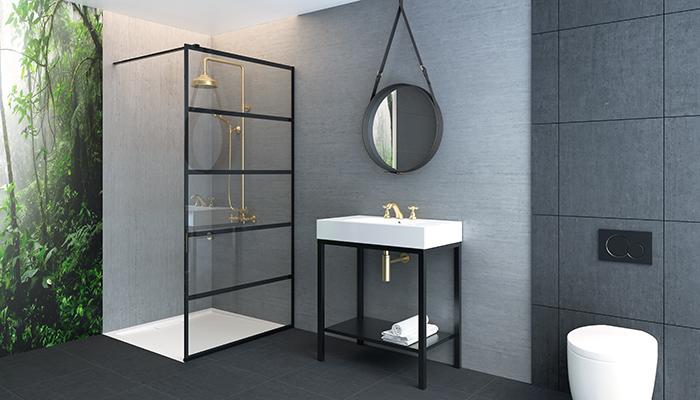 Eileen Slattery, marketing manager for Merlyn, recommends that designers should be conscious, however, of the bold nature of black shower screens and use them as a statement piece within the bathroom. "Incorporating complementary matching black accessories and simple tile designs will help to ensure a cohesive design aesthetic is achieved, while pairing with minimalist décor will create a relaxing atmosphere. When specifying the shower screen, it is also important to do your research on the material finish and make-up. Painted or powdered black finishes can easily chip or peel away over time and use. Seek out long-lasting and durable coatings such as the anodised matt black on the Merlyn Black collection which is fully integrated with the underlying aluminium substrate. With concealed fixings and toughened safety glass, this will ensure that the design lasts the lifetime of the bathroom."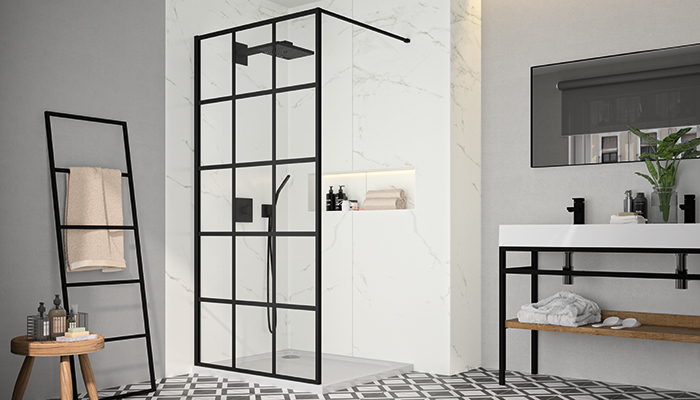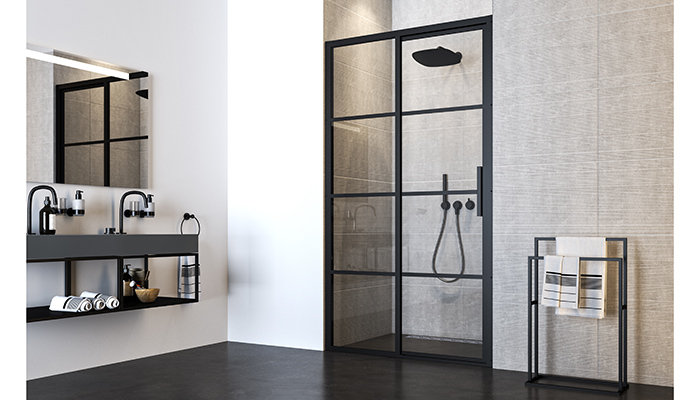 Manufacturers and retailers are clearly keen to maximise this opportunity, with many now offering a range of different options, from simple wetroom panels to full enclosures with sleek sliding doors. "We expect the black grid trend to continue for the retail and domestic markets – and we also see it retaining popularity in the hospitality market where it came from, as designer requirements are moving away from chrome and clear glass and increasingly into textured and printed glass," says David Osborne, CEO of Roman.