While there may have been fewer exhibitor stands than in some previous years, this year's KBB Birmingham did not disappoint when it came to sheer quality. Emma Hedges was out and about doing some trend spotting, and was bowled over by some of the fantastic displays she saw.
1. Acquabella
The winner of KBB Birmingham's Best Bathroom Stand over 30sqm, the 100sqm Acquabella stand, brought a ray of sunshine – quite literally – and was guaranteed to raise the spirits. Inspired by a Balinese-style tropical paradise, the brand's shower tray collection was presented in a witty 'poolside' arrangement as a row of sun loungers.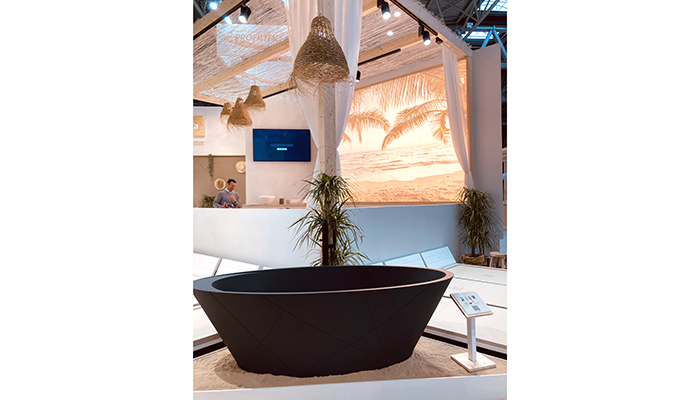 Taking centre stage was the stunning Opal Quiz bathtub, above, whose geometric design has now won the company a clutch of impressive awards. Other displays in the 'Acquabella Resort' highlighted its Arabba texture, which feels like a fabric made from hand-woven fibres, and basins such as the Mini Bathroom Worktop basin, shown as part of a 'Spa Treatment Room' roomset, below.
2. Showerwall
Showerwall showcased some of the 38 new designs the brand is launching in a series of vibrantly styled roomsets that won it the Best Surfaces Stand award at the show. Among the bold and playful designs was the new Bromelia acrylic print, pictured below, that takes its inspiration from nature.
Also on show were four new designs that look and feel like real marble, as well as the new Compact Collection, which is made from a solid composite material. Other highlights included the Escape, Flower Wall, Foliage and Plant Wall designs, as well as some modern 'vintage' ones for both traditional and contemporary settings.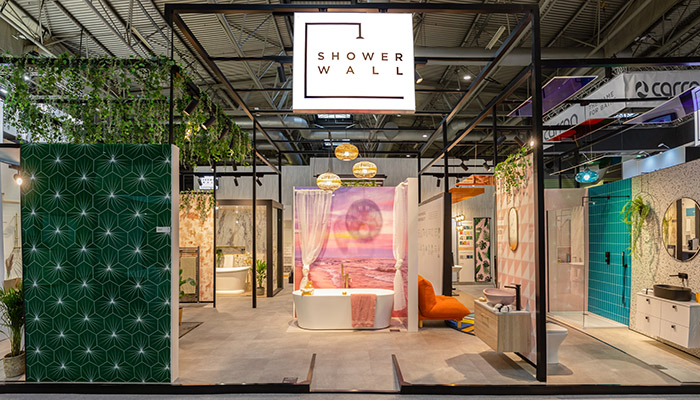 3. Origins Living
The well-deserved winner of the KBB Birmingham Best Bathroom Stand under 30sqm was Origins Living, with its bijoux booth designed by Harry Charalambous, pictured here with parents and Origins Living co-founders Sofia and Frixos.
The company showcased a carefully curated selection of its new illuminated and non-illuminated mirrors, shelving and accessory collections, topped with a living wall for dynamic appeal. Models such as the City mirror with shelf and new Ludgate mirror were displayed in a 'shelf care' corner, along with a range of shelves suitable for inside the shower, and some prototypes the company is working on. Finally, the 'hook up' section included some on-trend brushed brass and black hooks.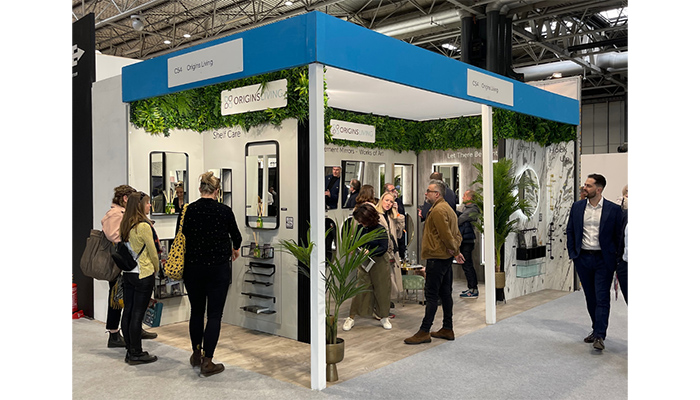 4. House of Rohl
On an epic stand measuring 180sqm, House of Rohl brought its four distinct brands together under one banner in a series of exquisitely styled displays that made use of products from each one. Elements from Perrin & Rowe, Shaws of Darwen, Victoria + Albert Baths, and Riobel were all showcased side by side and blended together to highlight how complementary they can be, with the Riobel contemporary brassware brand being presented to a UK audience for the first time.
Also being launched at the show was Victoria + Albert's second exclusive collaboration with Wallpaper* Magazine to create three architecturally inspired RAL colour palettes in three different architectural styles of the 20th century – Belgian Minimalism, Brazilian Modernism and American Postmodernism.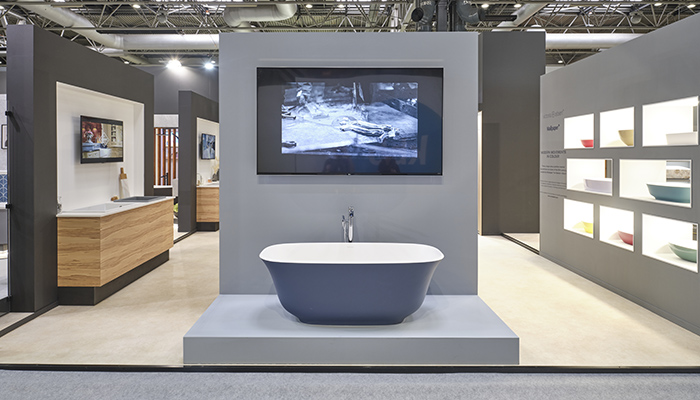 5. Frontline Bathrooms
The aim of the Frontline Bathrooms stand was to inspire retailers as to how they can create high-end trends for their customers but at budget-friendly prices. All the products were presented within 6sqm cubes (the standard size for a large family bathroom), with each retailing below £6,000, showing that it's possible to achieve both style and affordability without needing to compromise.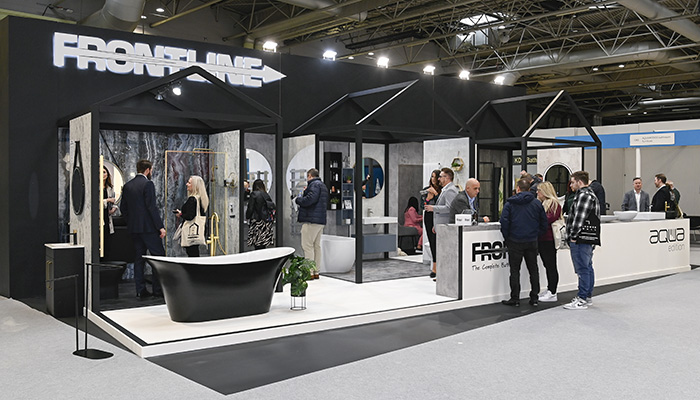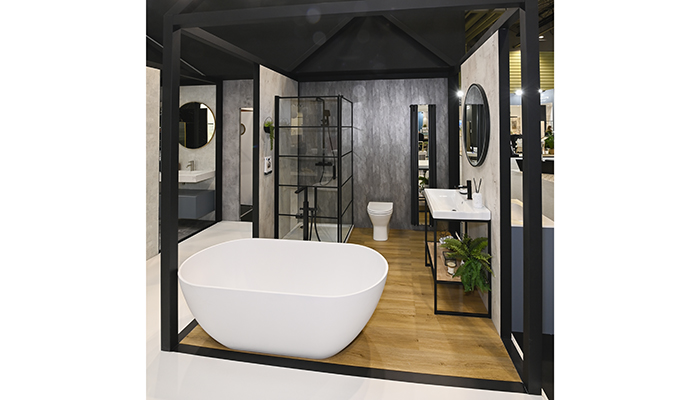 The 'Eclectic Cube', above, showcased an evolution of the Matt Black trend, moving away from stark minimalism, and towards softer curves and earthy woodgrains.
6. Ca' Pietra
The centrepiece of the Ca' Pietra stand was an immersive 'mermaid's garden' display showcasing the company's Mermaid's Garden Porcelain Hexagon tiles among some hanging silk jellyfish. The collection was shortlisted for the KBB Birmingham Innovation Awards, and was one of 13 new ranges being launched at the show.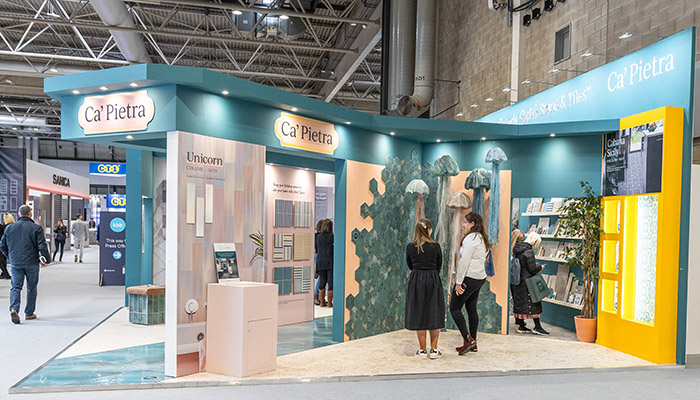 The new iridescent Unicorn tile was also on display, as were the latest additions to the National Trust Collection, and the Magnifique marble lookalike range.