When it comes to kitchen cabinetry it seems that grey is having a moment, with some homeowners attracted to its soothing, neutral qualities and others just keen to play it safe. Nicola Hanley finds out more from the experts, and checks out some beautiful grey kitchen designs.
Trends may come and go but there are some colours and styles that really stand the test of time, and grey, it seems, is one colour that remains a firm favourite with kitchen designers and consumers alike, year after year. "Grey has held an enduring appeal for consumers in kitchen design and home decor over the last decade," says Crown Imperial's commercial director Tony McCarthy. "It's a timeless neutral tone that's perfect to create both contemporary and classic design schemes."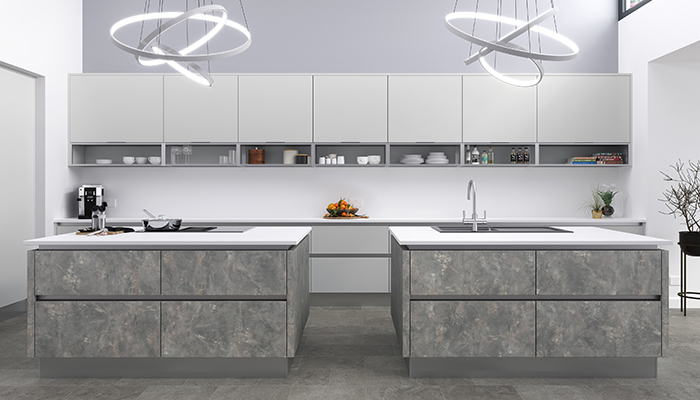 Darren Taylor, managing director of Searle & Taylor, agrees. "The beauty of grey is that it is the perfect neutral colour. It looks very stylish and unlike brighter shades, which may not be to all tastes, grey is a safe option and one that can be dressed up or down."
Its universal appeal makes a grey kitchen a wise investment for homeowners, particularly in these uncertain times. "A timeless colour like grey is unlikely to put off potential buyers," says Brani Hadzhi, showroom manager, Multiliving Scavolini Store, West Hampstead.
"Grey is calming and softens a room. In psychology it represents peace and balance which is so important within a home. It's practical, simple and reliable," adds Suzanne Francis, kitchen designer at Tom Howley.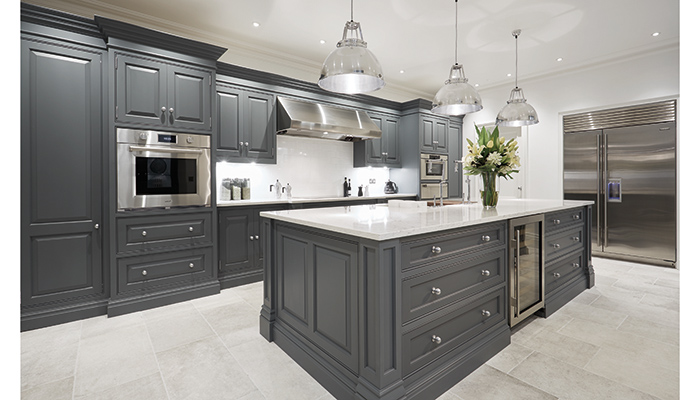 Searle & Taylor MD Darren Taylor notes how the current popularity of marble-style quartz worktops taps into the trend for grey cabinetry. "There are many variations of the white top with grey veins, or grey with white veins running through them," he says.
While Richard Turner, Pronorm's national sales manager for the UK and Ireland, is quick to point out that white is the big seller when it comes to kitchens, accounting for the largest volume of sales, he agrees that grey ticks all the right boxes. "Grey is more universally liked than many other shades due to its unrivalled range and depth and ability to pair well with a variety of other colours. Lighter shades are ideal for creating chic and fresh interiors, while darker charcoals and graphites create warmer, more atmospheric kitchens. We're seeing stronger demand for organic soft grey-brown tones as consumers look for ways to connect with nature and bring a feeling of comfort and homeliness into their kitchen design."
To really make the most of grey cabinetry, manufacturers agree that contrast is key. "If used in isolation without a contrasting colour or shade, grey can sometimes look drab so a colourful balance is always required," warns Searle & Taylor MD Darren Taylor.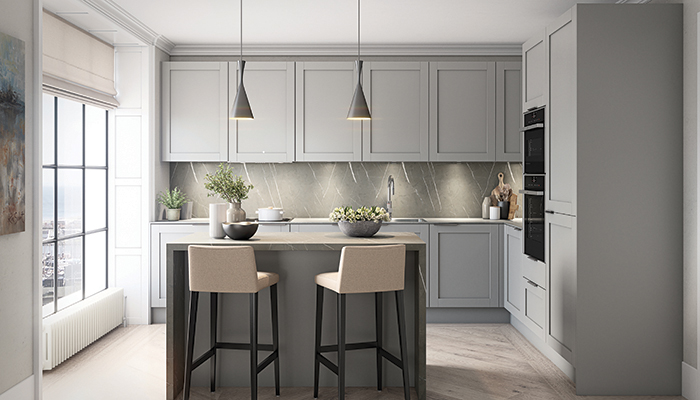 "Creating a stand-out kitchen with grey cabinetry is all about contrast and layering in warmer materials so that the space doesn't feel cold and unwelcoming," says Scavolini's Brani Hadzhi.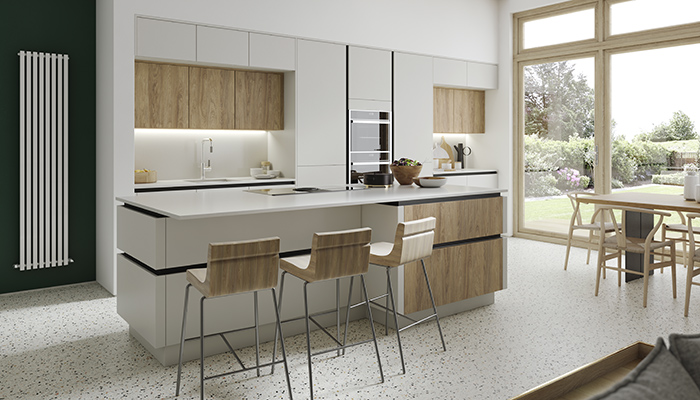 Matt Phillips, head of UK operations at Rotpunkt, also believes in the importance of mixing materials. "The benefit of choosing a paler grey is that it can make for a softer contrast with blonder woods, while a deeper shade can have more of an affinity with both light and dark wood effects. Faux marble finishes and tactile timber effects are a great choice to complement the simplicity of grey," he says.
How else can designers create an eye-catching kitchen with grey cabinetry? "Mixing dark and light greys together is a clever look," says Emma Stuart Stephens, head of marketing at Mereway Kitchens. "Glazed units will help make grey cabinetry stand out. Pair with open wall units that really showcase the cabinetry at its best and a contrasting colour such as blue or navy for a very on-trend look."