A kitchen in the garden has become a must-have for clients wishing to extend their living space, and have a permanent outdoor entertaining area that works in all weathers. Lisa Hibberd discovers some stunning designs and talks to the experts about the elements to bear in mind when creating an outdoor kitchen that will stand the test of time.
"As a result of the pandemic, we've developed a new-found appreciation for entertaining at home," says Jonathan Stanley, VP marketing at Caesarstone UK & EMEA. "As such our outdoor spaces have been completely reframed to no longer simply be a garden for the summer but an extension of our living areas to be used all year round. This has turned our attention to elevating these outdoor spaces with longevity in mind. With food and shared meals being such an important element of home entertaining, it stands to reason that the popularity of the outdoor kitchen will continue to rise."
Planning an outdoor kitchen or entertaining space, however, can be a daunting task for designers. Stanley suggests that the first consideration should be how the outdoor kitchen will fit into the existing garden. "Location is key – we have seen certain examples where the outdoor kitchen is an extension of the indoor one, quite literally, thanks to a glass wall that acts as a dividing panel between the two. Most will be next to, or close to the house, but if the client is planning to implement theirs at the other end to maximise sunlight, for example, then it's worth thinking about creating additional storage for kitchen essentials."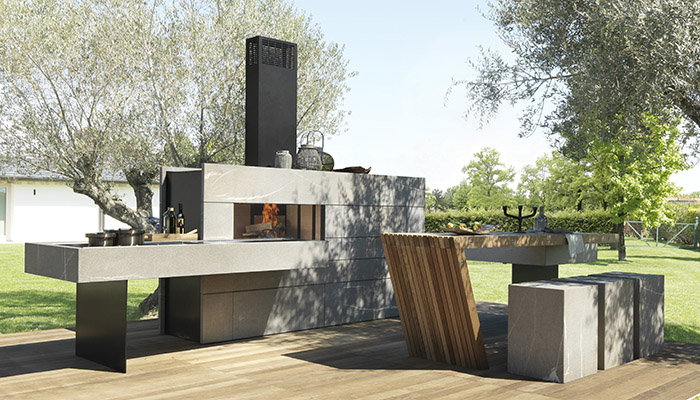 Joanne Bull, marketing manager for Königstone, believes that how the design and feel of a home flows from inside to outside is paramount. "Designers shouldn't underestimate the level of finish that discerning customers will demand for an outdoor kitchen in terms of both looks and performance. This is why we came up with the concept for KönigOutdoor; combining luxurious stone clad cabinetry and market leading appliances to provide the aesthetics and functionality of an indoor kitchen, outdoors."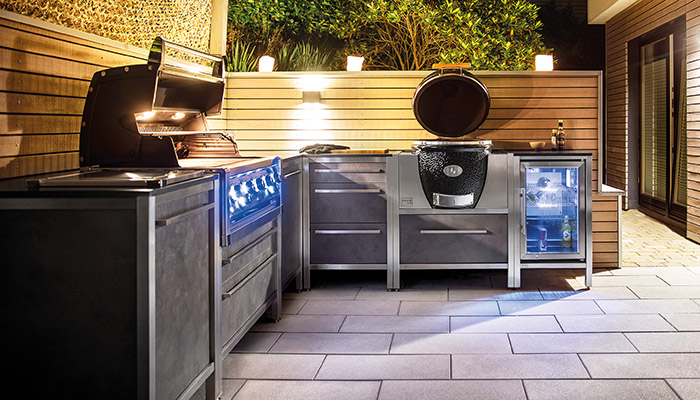 From pizza ovens to all-singing, all-dancing barbecues, there are plenty of outdoor cooking methods for designers to choose from, depending on the client's preference. The largest of the family of outdoor grills from Wolf, for example, will satisfy even the most demanding chefs. The 1372mmm wide ICBOG54 has a 483mm x 1270 cooking surface area, four 7.5kW gas grill burners, a 7.5kW infra-red sear zone and two 4.1kW infra-red rotisserie burners. Teamed with Wolf's stainless steel storage cabinets, doors and drawers, it creates the ultimate all-weather solution.
Peter Humphrey, design director and founder of Humphrey Munson, suggests that, just like the indoor kitchen, the key to a successful outdoor kitchen design is the zoning of the space. "Think about all the usual things like food prep, cooking and clearing away and make provision for those activities accordingly. In terms of the actual positioning of the kitchen think about the sun and where it is during the afternoons and early evening, which will be the time this outdoor kitchen is most in use. A timber gazebo will provide shelter from the direct sunlight and protection from the elements during the winter months. Stone flooring that can withstand a few spills here and there is essential, and always incorporate a seating area than can be scaled up or down according to the customer's entertaining needs. Our focus is on future-proofing and more than ever clients appreciate the value in investing in cabinetry and appliances that are going to really stand the test of time in terms of design and materials. And that's the key to future-proofing – something that is going to look as fantastic in 10 years' time as it does now."
"When it comes to materials, and in particular worktop surface choice for an outdoor kitchen, the most important consideration is the weather and the climate," explains Hege Lundh, marketing and business development director at Lundhs Real Stone. "Make sure you choose materials that will withstand changes in temperatures, exposure to the sun's UV rays and also to the moisture of rain and dampness.
"Aesthetically, opting for a surface that will glisten in the sunlight will always work well, the crystals within natural stone catch the light beautifully and make for the perfect outdoor surface choice. Other features to look out for are a material that has low porosity, low absorption and a resistance to UV, as well as being easy to clean and low-maintenance. A completely natural stone will be used to the elements and notoriously only requires very little upkeep and so as a result, is an ideal fit for the outdoors. From colder temperatures and damp to high heat and UV rays, it can withstand it all, setting it apart from many other materials."