He may have big shoes to fill, but new Roca MD Rashpal Sidhu is undaunted by the task at hand. He tells Amelia Thorpe how Roca has been strengthening its position, and is now well placed to navigate supply chain issues and rising energy costs.
Ask the new MD of Roca UK, Rashpal Sidhu, for his strategy in taking over from respected industry figure Alan Dodds – who ran the company here for 22 years – and Sidhu is straight to the point. "I've been with Roca for 15 years and the strategy is to keep going in a pragmatic way with sensible, strong growth, which has always been our plan," he says.
Former Roca UK finance and service director Sidhu says his focus is on four key areas. They include maintaining the strength of the brand: the family-owned, Barcelona-headquartered Roca group, founded in 1917, describes itself as a world leader in its business. Today, it operates in 170 countries, has 85 factories and employs 24,000 people, with around 130 in the UK. "We are fortunate because one of the aims of the Group is to develop competence centres in different categories in the bathroom market," says Sidhu. "In the last year or so, the Group has made a couple of fabulous acquisitions." The first is a 75% stake in leading European bathroom furniture company Royo Group, the second is the acquisition of Germany company Sanit, which makes sanitaryware installation systems. "By these acquisitions, we are strengthening the product portfolio that we can offer – in terms of offering full bathroom solutions," he says.
Secondly, Sidhu emphasises the substantial size of Roca's product offering and its new product development programme. Recent launches include the Ona collection. "It is a great example of Roca offering contemporary design, crisp aesthetics and a really luxurious look, available at a price point attractive to all," he says. There are also new brassware ranges, including Insignia, and "great examples of Roca leading the trend for coloured brassware" with its Rose Gold and Titanium Black finishes. "They reinforce the message that we are a complete bathroom solution provider,' he notes, something that also applies to Laufen – Roca's higher end brand, which makes up some 15% of the UK turnover – pointing to the recent launch of the Lua collection.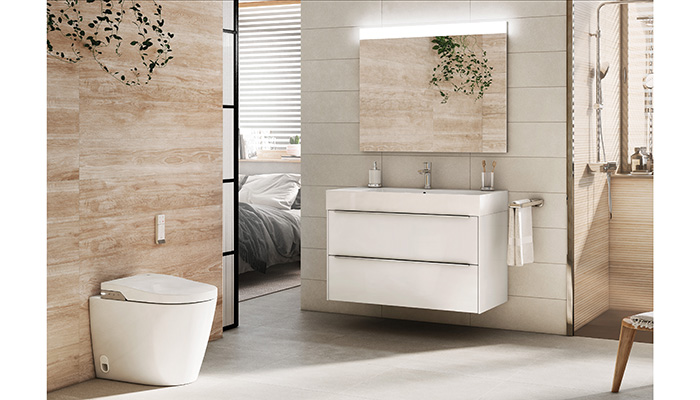 The two other key areas are the focus on maintaining the strength of its "experienced, likeable" sales team, as well as the focus on the robustness of its supply chain and relationships with logistics partners. "This is really important given some of the challenges in the world at the moment," he says. The UK operation brough in an extra £3million worth of stock at the beginning of 2020, initially brought in as protection against potential problems with Brexit. "We've kept that level high, because of supply issues, to make sure we've got stock available here," he says. "Secondly, as we're growing, we are going to need more stock to service the higher level of sales."
In the UK, sales are split approximately 50% retail, 25% developer (new builds), 25% hotels, offices and non-housing. "Our strategy is to grow all three sectors," he says. With a reported record UK turnover of £66million in 2021, Sidhu says, "We are going for strong growth this year and are confident we can take significant market share."
Are there stronger categories than others? "Even before the acquisition of Royo, we've had really strong growth in furniture," he says. "But it's not just furniture, but also vitreous china as our historical base, as well as brassware, smart toilets, baths – we've had strong growth in every category."
Despite ongoing global supply chain disruptions and issues such as rising energy costs, Sidhu sees increased demand for Roca's offering in the UK bathroom market. "We've got to keep doing what we've always done really well," he says.