Channel marketing manager for Geberit, Sophie Weston, reveals why she believes the bathroom is the room in the home that can benefit most from smart tech innovation.
Currently, smart technology is present throughout our homes, from operating lights or music with our phones, to creating a shopping list or reading a recipe via our voice-activated AI assistants. Smart devices have become 'must haves' for today's connected consumer and now aid much of our everyday lives.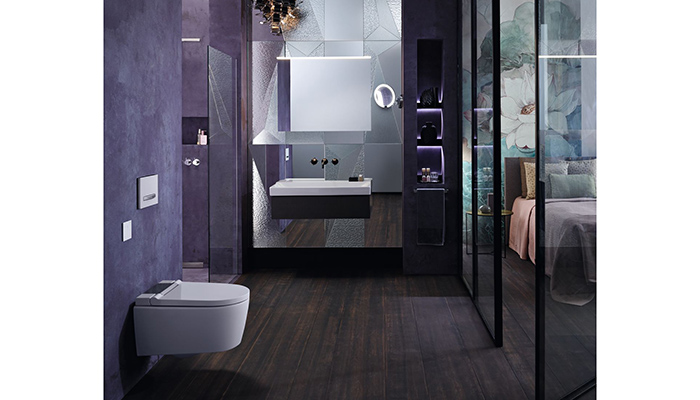 Smart technology provides the user with complete control and customisation over their experiences, and when it comes to the bathroom it's no different. We can expect to see the technology we use elsewhere in the home seep through and become more of a prominent function in the bathroom. It's foreseeable that with further integration in the bathroom, users could calibrate their everyday routine from smart device to bathroom, from lights scheduled to come on when they rise in the morning, to the bubble bath being programmed to fill to a timer in the cool evenings.
Smart bathroom innovation can offer many benefits – convenience, safety, wellbeing and improved health. As these aspects become more of a priority in the household, we can expect smart technology become increasingly prevalent in the bathroom of the future, from touchless technology to intuitive lighting and innovative bathroom solutions such as the shower toilet. In fact, the technology we're seeing become increasingly popular today, will no doubt be benchmark standard practice by 2030.
Hygiene in particular is quickly climbing the ranks as a homeowner's top priority. Retailers should be aware of the wide range of innovation available to the modern consumer, from infra-red and touchless tech to sensor-activated flush plates, automatic taps, toilet lids and sophisticated hand-drying technology, all designed to elevate hygiene and increase cleanliness in a way that housework and cleaning routines just can't achieve.
Hygienically optimised products are becoming more accessible for all homeowners as the need for hygienic bathroom tech becomes more crucial. At Geberit, this accessibility to quality products for all customers is something we are already dedicated to, with our Select and Aspire Collections offering a host of cutting-edge innovations for both premium and mid-market retail partners.
In addition, the experience of smart technology is unparalleled – for example the Geberit AquaClean Mera Shower Toilet comes complete with a host of clever cutting-edge features. From odour extraction and built-in orientation lighting in various atmospheric colours, to a warm-air dryer and user recognition, each feature has been carefully designed to improve the user's experience and ultimately increase personal wellbeing.
Finally, there is the advantage of convenience. The intuitive nature of smart products makes the consumer's bathroom experience a relaxing one. Smart innovations are going to revolutionise the way we see the bathroom from a forgotten space in the household, to one that creates nothing but peaceful, positive emotions.