Kevin Buchanan, retail sales director at Kitchens International, talks to Nicola Hanley about the brand's venture into bathrooms and plans to become a one-stop interiors shop.
Next year sees Kitchens International (KI) mark its 30th year in business and there's much to celebrate. Since launching in 1994, the multi award-winning retailer has grown to become one of the UK's most respected kitchen specialists with showrooms in Aberdeen, Broxburn, Edinburgh, Glasgow and Tillicoultry. It's here, within Sterling Furniture's flagship store, that KI took a leap of faith and opened KI Bathroom Interiors, its first dedicated bathroom showroom, in 2021. So how did the move come about?
"We have an existing kitchen studio here and Sterling Furniture had their own bathroom department," says Kevin Buchanan, Kitchens International's retail sales director. "When Covid came along, they realised it wasn't making any money for them and they'd have to close the place. They'd approached us before about taking it on and they approached us again and the timing was just perfect. We didn't know what was going to happen when we came out of Covid, so we thought we'd give it a bash."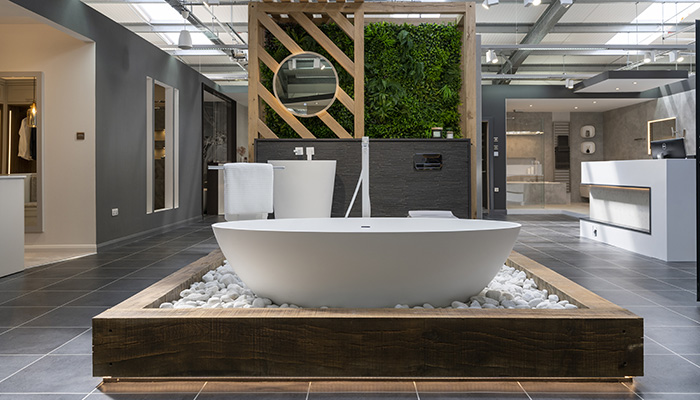 After agreeing a rental price, KI bought the stock and all 28 existing displays, and employed experienced bathroom sales designer Nicola Whyte, who quickly got to work revamping the showroom. There are now nine innovatively designed displays, with products from brands such as Villeroy & Boch, Hansgrohe, Matki, Abacus, Cosentino and Corian all on display.
The roomsets include a steam room and dressing room with vanity units and furniture from kitchen manufacturers Callerton and Leicht. "The way Nicola designed the showroom was at a level I didn't think was possible," says Buchanan.
Bathrooms have long been on KI's radar and the company had previously dipped its toes in the market but a lack of installers created too many obstacles. "We could see there was business to be had and the people that we deal with were saying we could do a great job on bathrooms. But from an installation side, it was horrendous. We didn't have the tradesmen who were capable or able to cope with it. So I think we did four or five bathrooms about 20 years ago and then said 'we need to get out of this'," says Buchanan.
This time round, KI Bathrooms has taken a different approach. As well as employing a project manager and dedicated warehouse staff, it has also taken on its own plumber. "We've never employed a plumber before and now we have one on the books, it's making a huge difference to the clients," says Buchanan. "We're offering the full service. There's a lot of people out there that do bathrooms who will do a design and sell it, but then everything else is sub-contracted. We're keeping everything in-house. We will do supply only if people want but we really see the strength in taking projects from start to finish."
At the moment the company is doing about three or four bathrooms a month but Buchanan says the staff are working flat out in the showroom. "We've shown that with the right staff and infrastructure we can do bathrooms and we can do them really, really well. I'd say we're busier on bathrooms than we are on kitchens at the moment. We could be in for bumper end to the year that's for sure."
More bathroom studios are definitely on the cards, says Buchanan, and although kitchens will always be KI's main business, the company is looking to diversify even further. "I think what we're really looking to be is a one-stop store that's got kitchens, bedrooms and bathrooms all contained within one roof. It's part of Donaldson's plans and KI's plans."
Glasgow is KI's smallest retail branch so it's first on the renovation list. "We know we need to have a bigger showroom in Glasgow so in the next 18 months, we'll be looking to open a bigger, one-stop show in Glasgow that will have kitchens, bedrooms and bathrooms. Kitchens International will always be the brand but we're potentially talking about calling it KI Interiors because interiors gives us access to all three areas of the business."