Bathroom furniture in vibrant tones and interesting textures is a growing trend – Nicola Hanley talks to manufacturers about the latest launches and the future of the market.
While homeowners' love affair with greys and whites in the bathroom is far from over, in recent years colour has most definitely been making its mark. A look at the latest bathroom furniture launches reveals units in a plethora of shades, with manufacturers across the board reporting an increasing demand for colourful cabinets that embrace the texture trend.
Ben Bryden, sales & marketing director at RAK Ceramics UK, says: "The move towards colourful bathroom design has had a really big influence on the furniture sector. This is where designers can get playful with colour, introducing bold touches along the way with tactile textured finishes that make the bathroom an individual space. Styles have become more diverse over the past couple of years – in terms of doors, finishes and colours and reflects the trend in bathroom design overall for more diversity and personality."
So which hues are currently topping the colour charts when it comes to bathroom furniture? "While shades of white and grey are an enduringly popular choice for bathrooms, we are seeing this being contrasted with deep, rich tones for a look that is enticing. Shades of blue and green are popular, creating a tranquil, ocean-inspired vibe," continues RAK Ceramics UK's Bryden.
Helen Clark, head of marketing at Utopia, agrees: "Consumers are very happy to experiment with combinations of colour and texture now and they are certainly not afraid to incorporate strong, vibrant colours into their overall design scheme. Greys are still very popular but we've also seen the continuing rise of and demand for blues, greens and pinks. While these colours have been in our palette for a number of years, we are constantly adding to them."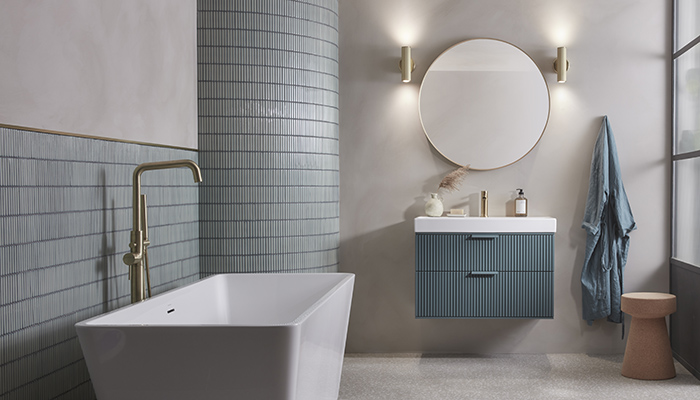 Roper Rhodes is another manufacturer that has been introducing more vibrant colours to its furniture portfolio. "Moving closely in line with the demand for more daring kitchen finishes such as green, pink, black and terracotta, many consumers are opting to continue this colour trend throughout their homes, and the bathroom is no exception," says category manager Keith Alcock. "Over the past three years or so, green has emerged as one of the most popular and enduring finishes for bathrooms and we have incorporated the finish into many of our fitted and modular furniture ranges. This ranges from contemporary, lighter toned greens to our classic heritage-inspired Juniper Green."
For Jorge Hernandez, group product and design manager at Bathroom Brands Group, it's not just colour that is making waves in bathroom furniture design at the moment. "Texture is popular right now, particularly fluted finishes, which are a subtle way to add texture."
Roper Rhodes' Alcock agrees: "Much in the same way as colour in the bathroom has evolved, so too has the demand for surfaces that add depth and interest. The fluted design, once primarily seen on walls and columns is now being embraced in furniture design, kitchen cabinetry, lighting and even bathroom vanities."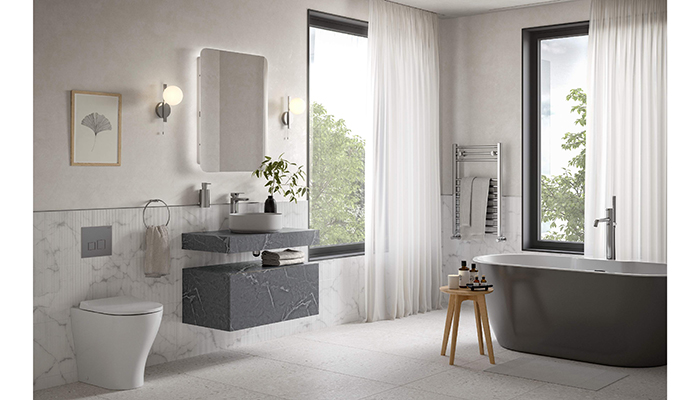 Julie Lockwood, furniture product manager at Bathrooms to Love by PJH, adds: "The use of contrasting materials within furniture details, such as frosted black glass or woodgrain-effect inserts on handless doors are USPs to look out for. Marble-effect furniture is another growing category and the latest finishes are very authentic."
Kate Hirst, commercial director at Lecico Bathrooms, says while texture is being embraced, it's not exclusively in a tactile sense. "Matt, woodgrain and stone finishes have gained traction, catering to those who want character or a more luxurious aesthetic in their furnishings, without the accompanying expense or maintenance."
The popularity of wooden furniture is also highlighted by RAK Ceramics UK's Ben Bryden: "Wooden bathroom furniture creates a tactile, nature-inspired look that works in harmony with lots of other materials and colours and won't look out of place in a very modern or traditional setting."
The growing demand for a more bespoke approach to bathroom design seems to be driving the colour and texture trend according to Lecico's Kate Hirst: "Homeowners and designers are using furniture to introduce visual interest and personalisation to bathroom spaces. The mix-and-match mindset promotes flexibility, efficient use of space and tailored bathroom solutions."
Julie Lockwood from Bathrooms to Love by PJH, agrees: "From flawless super matt finishes to high glosses and textured effects, the consumer wants a wide choice of options to consider. The ability to personalise bathroom spaces through colours, finishes and the use of different materials all play their role in influencing product design. Equally important is flexible storage space. Clever storage solutions and high-quality fixtures and fittings, are central to design."
And what's next for the bathroom furniture market? "There will continue to be inspired and exciting new product launches, new on-trend colours and a host of complementary products, stimulating and expanding the sector," says Utopia's Helen Clark. "Colour, texture and material innovation is moving faster than ever before, so retailers and consumers can expect a full-frontal assault on all the senses."