Following Hausmesse 2023, Rotpunkt UK head of operations Matt Phillips reveals the key kitchen design trends he believes are set to dominate the interiors market in 2024.
Creative interior design solutions are the lifeblood of our industry, and as sustainable furniture evolves to meet the needs of the multigenerational home and lifestyle, we are finding the most progressive brands are leaning into a greener mindset. Helping to anchor the desire for luxurious, individual spaces in the mainstream, we have noted several emerging trends following our highly successful Hausmesse 2023. These key themes are focusing on wellness, ethical construction, user comfort, and emotional connection through a difference in colour, material, light and texture.
The latest innovations by Rotpunkt are designed to reflect the growing needs of the UK interiors market, and following in-depth market research and feedback from Hausmesse 2023, here are the 3 Key Kitchen Trends ready to top the charts next year: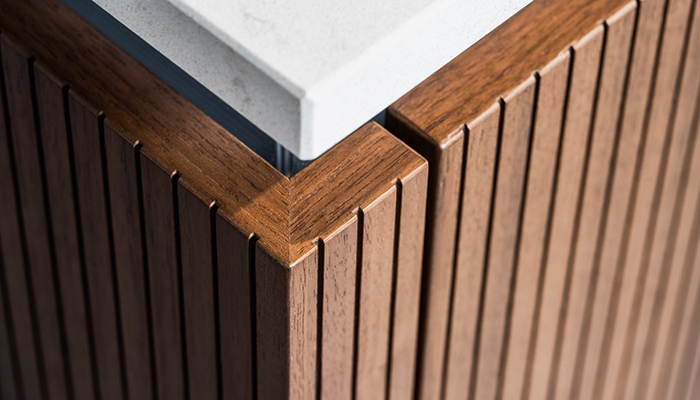 1. STYLE – Experimental
Consumers want the freedom to make original product choices and zero-in on an eclectic mix of contemporary materials and custom design elements. Personal expression has never been more important, as homebuyers seek to make their own mark with beautifully curated homes. In 2024, sleek kitchen furniture will become less predictable thanks to a new affinity for quality raw materials that contrast or balance an overall scheme.
Rotpunkt has added 11 new colours to the range in 2024, with a focus on natural tones like Olive Green and Midnight Blue, as well as sophisticated earthy shades of grey and taupe. Our bestselling Fenix colours are also being expanded across all cabinet fronts and worktops in the same décor, and we are introducing a new glass laminate front with striking metallic finish. Due to popular demand, our Wood Unlimited Collection will be updated to include a new anti-fingerprint matte finish and new options will also be available for the popular Memory RI furniture with modern vertical grooves. In addition, rich veneers in walnut and black timber will bring contemporary style to modular furniture in the kitchen as the wooden kitchen enjoys a modern revival. Look out for a deluxe range of textured stone finishes to deliver contrast, especially when paired with character hardware.
2. FINISH – Refined luxe
With calm, feel-good interiors setting the tone for 2024, fixtures and fittings are doing the heavy lifting to evoke quiet luxury. There will be a strong emphasis on high-quality handles, sophisticated integrated lighting and democratic sizing to accommodate our changing needs for storage as flexible living encompasses work, rest, study and play.
2024 will see Rotpunkt partner with edgy lifestyle brand, Buster + Punch, to offer a top-tier collection of 20 new handles to add extra glamour to doors and drawers. Added to this, the smart-enabled lighting by Rotpunkt, will also be extended to include new vertical and horizontal variants with integrated LED light options for its space-saving Wall Panelling System, and increased cabinet widths for increased ergonomics. Personalised storage options will enhance space planning with new Drawer Solutions in solid oak to ensure every drawer is well-organised. Glass cabinets will support greater versality when supplying display storage with a new option in high fashion grey for extra urban appeal. A range of designer push-to-open handleless profiles will elevate the contemporary vibe and inspire end users to mix and match their door and drawer technology throughout the ground floor.
3. CONSTRUCTION – Sustainable shopping
As global awareness of topical issues continues to impact elements of daily life; climate protection has become a key policy as ethical consumers demand greater transparency on how manufacturers' policies and procedures are impacting on the planet. Learning more about everything from raw materials to logistics has now become part of the customer journey, as we all choose to invest in our home and lifestyle with a clear conscience.
The Rotpunkt furniture range has become even more environmentally friendly, replacing the MDF components with 'BioBoard Gen2' particle board, which is made of 90% recycled wood and fulfils the '4Star' standard for air quality. It is awarded to products that are particularly low in emissions, making them healthier for you and your home.