Bathroom Brands Group's Katie Cope and Andy Oakman talk to Amelia Thorpe about the launch of Clearwater Interiors, the first complete luxury bathroom collection in the UK to be fully accredited carbon neutral.
Selecting the leading interior design show, Decorex, in October for the launch of Clearwater Interiors was a highly targeted move, as Katie Cope, business development director for Bathroom Brands Group, explains. "It's a collection that is created for interior designers, as well as for a small and exclusive network of luxury bathroom retailers across the UK," she says.
While the Clearwater brand has been around for some fifteen years, initially as Clearwater Baths, the new incarnation is not a relaunch of existing product. "Clearwater Interiors is the creation of a completely new brand – every product is new," continues Cope, adding that there are some 3,000 SKUs in the collection, which is designed as a full bathroom offer. "We want to explore the luxury sector, developing a new collection that sits above our other brands in the Group, bringing something desirable and different to the market," she says. Under the Bathroom Brands Group umbrella sit 'power' brands Crosswater, known for its contemporary products, and traditional Burlington, positioned above the affordable Britton range.
Described as 'the first complete luxury bathroom collection in the UK to be fully accredited carbon neutral', Clearwater Interiors is working with ClimatePartner on a mission to reduce its carbon emissions. "It's the start of the journey," explains Cope. "Our aim is a year-on-year reduction." Current initiatives include the use of sustainably engineered stone for its baths, basins, shower trays and shower walls, some of which also use less material than standard (the shower tray, says Cope, uses 30% less material, making it lighter and reducing its overall carbon footprint). Some taps are made with 'endlessly recyclable' stainless steel and furniture with timber from sustainable sources, while all packaging is recycled. Each product comes with a QR code providing sustainability information.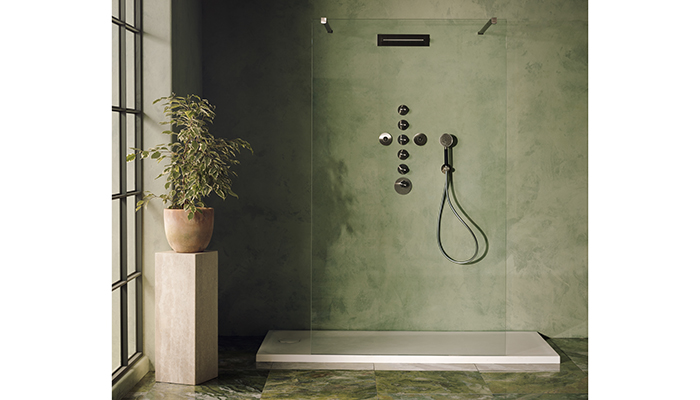 The brand offsets its carbon use by investing financially in ClimatePartner's climate action projects, with an aim to reduce that investment as reduction efforts continue. Is it possible to get to carbon zero? "I'd really like to [achieve that], but I don't know if that is possible in a mature industry, with the materials that are used – and considering other factors like the safe delivery of water," says Cope. "But what is important is that we are driving forward, to find the answers to those things."
Sustainability aside, why do we need another bathroom offer? "In this area of the market, there are a lot of individual specialists," says Cope. "Yes, they have some beautiful products, but ours are not only beautiful – they also work together really well. I believe that it is the linkages between our products that makes us unique."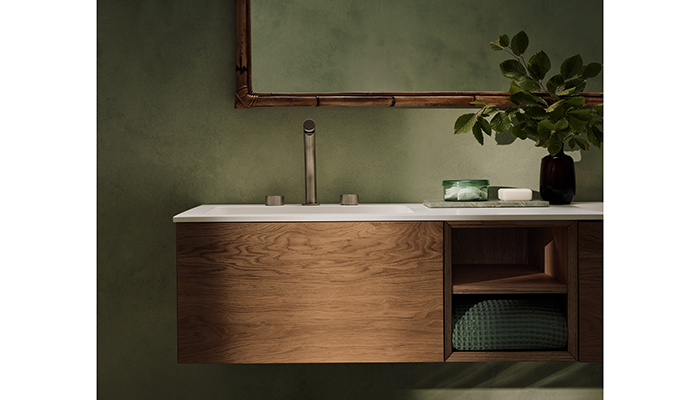 Andy Oakman, head of Clearwater Interiors, highlights the new design service on offer by the brand. "In this sector, designers are notoriously time-poor, so the aim is to help by producing designs for them, saving their time and costs," he says. After an initial meeting to look at the floor plans and obtain a brief, Clearwater Interiors' designers will produce a quotation, imagery, renders and mood boards if required, as well as a sample box of finishes. At present, there are two dedicated designers in the team. "We are just starting!" he says. "Then we will work out quite quickly how many more we need to recruit."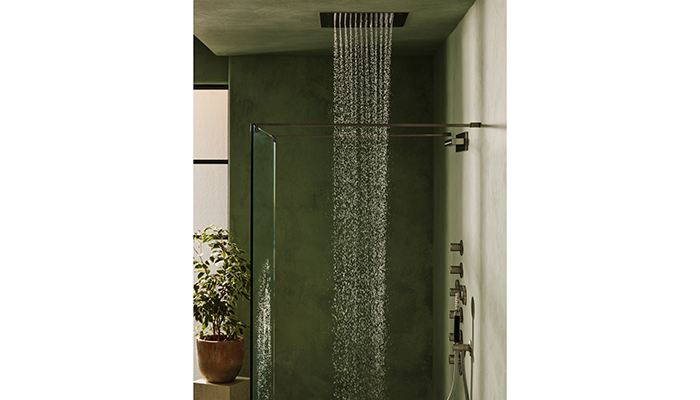 Pieces in the collection are all made to order with an 8-week timeframe and "highly customisable", says Oakman. "Our design service is not just a quick sketch," he says. "We want to develop a deeper understanding of their projects and build relationships with architects and designers to collaboratively work with them in the future."