Kevin Gates, MD of Neoperl UK, has long been promoting the water-saving benefits of his company's products. Now with retrofit solutions available, he believes it's a great service opportunity for the installer or retailer to provide for their clients.
"As water pressure fluctuates throughout the country, it's impossible to produce a tap or valve shower to work the same in every situation. Manufacturers therefore produce new taps and showerheads with optimal performance to work their best across all pressure situations. However, this often results in masses of water wastage – but now there's a solution.
"Aerators and flow regulators can be easily retrofitted to tailor a tap or shower performance to a given situation and dependent on usage. There is no point in having a strong flow rate if the tap is only used for washing teeth where a bowl does not need to be quickly filled. Or to have a shower that literally splashes out of the enclosure. These retrofit products now allow the retailer or installer to check performance on site and adjust accordingly, ensuring a comfortable and suitable flow is reached with the additional benefit of saving lots of unused water being washed down the plug hole.
"It's an opportunity for a retailer/installer to offer a great water-saving service, saving the homeowner money on both water and energy bills, and ensuring we are all doing our bit to help the environment.
"We are all guilty of using too much water and as 34% of the water used in the home is from showering and bathing, it's one of the most effective areas to address. A standard European showerhead will produce around 18 litres of water per minute at three bars of pressure. A flow regulator like these could reduce this to a comfortable flow and dependant on the specified flow rate, could save around 100,000 litres of water per year in an average family home of four people.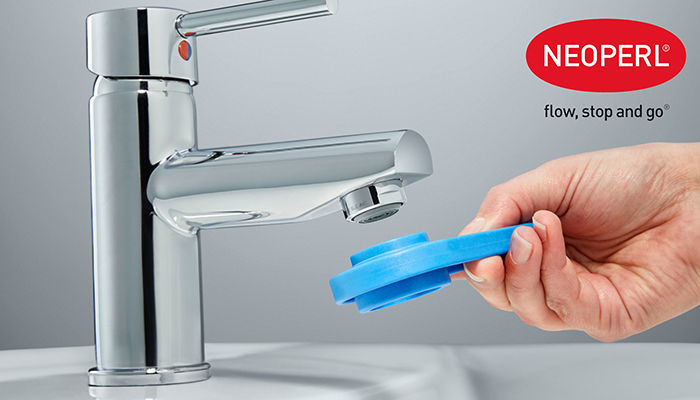 "A tap aerator adds air to the water flow creating a soft comfortable stream that feels plentiful and prevents splashing. A choice of flow shapes can be selected, and numerous models are available to tailor to a tap to help save water. The obvious rooms to reduce the flow of a tap is in the cloakroom or bathroom, and it's literally a 5-minute job to replace the incumbent anti-clogging or stream control device in place with a flow regulator. They are also available with 'smart limescale clean' nozzles to prevent future limescale build up, which occurs in large parts of the UK.
"It's always been a little harder to encourage water saving in the kitchen, understandably as we all want to be able to quickly fill our pans for cooking or kitchen sinks for washing up. However, there are retrofittable aerators that can be switched from a standard water-saving flow to full capacity in an instant, allowing the tap to be on eco-mode for general use but boosted to a fuller flow when required.
"It takes just a few minutes to fit an aerator in a tap or flow regulator in a valve shower, and yet it can literally save thousands of litres of water each year. For the taps, the first job is to work out which product is required and which tool to remove the existing stream control. Then you simply pop in a new pressure compensating aerator and re-screw back into the spout end. To make the shower runs more efficiently is a similar exercise by fitting a flow regulator upstream of the outlet. We do not recommend fitting an electric shower with these flow regulators as they will already be in place at the point of manufacture."