Futureproofing a bathroom is increasingly relevant for all, and there are many ways to address what is fast becoming a huge retail opportunity, says Elina Enqvist-Twomey, leader – product management for Lixil EMENA and Grohe UK.
Until recently, the term 'future proof' had a very clear-cut meaning in the bathroom industry. Make smart decisions now by investing in practical designs. Think flush edges, easy-to-use handles, anti-slip tiles, and opting for a larger shower enclosure instead of a bath if space is limited. Buy right, buy once. With an ageing population in mind, these design elements are of course important. But futureproofing can mean so much more. Design, technology, and sustainability are the three futureproof pillars that will help a bathroom stand the test of time.
If the kitchen is the heart of the home, then the bathroom is the sanctuary, offering both a fundamental service and a space for wellness and relaxation. In our YouGov commissioned research in 2020, we found that 58% of respondents use the shower as a method to relieve tension and stress, with another 40% noting that they use the bathroom as their 'me-time' to escape external hustle and bustle. The bathroom is the number one room in which all individuals seek independence and privacy, with personal dignity and freedom a significant player in our day-to-day happiness. With considered design choices, personal independence can be prolonged, while sustainability and resource efficiency provide a positive by-product.
There is an immense opportunity to futureproof homes when designing bathrooms. With considerations, customer can save resources, time, and costs further down the line. Whether we are considering long-term solutions for ourselves or creating a space on behalf of an elderly family member, there are clever ways to add additional comfort and safety without relinquishing a sense of independence or personal style.
Thanks to technology advancements, there are many bathroom fixtures with features that offer additional safety and functionality measures to support with independence. For example, many of our thermostats can balance temperature fluctuations within fractions of a second and also provide technology that ensures the outer surface of the mixer stays cool to the touch, helping to prevent the risk of scalding.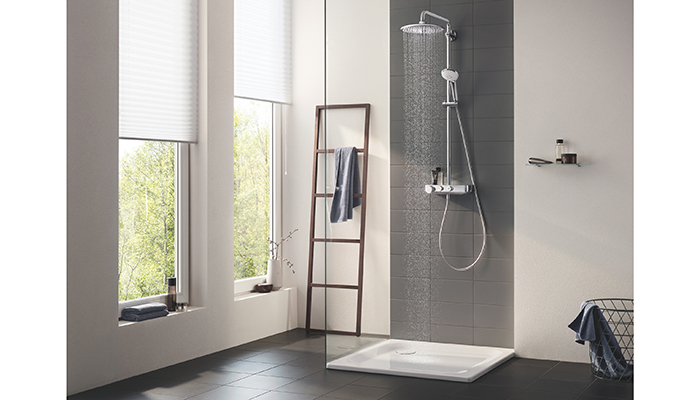 In September 2021, we launched our Grohe Eurosmart Hybrid 2-in-1 tap which was developed with modern, multigenerational living in mind, combining style, accessibility, and practicality in one unique design. The tap combines the advantages of a one-hand mixer with the comfort of a functional touchless sensor, while elsewhere in the Eurosmart range there are a variety of styles to cater to each user's need, from longer lever variants to levers with cutout designs to support with gripping.
Whilst many may look immediately to sanitary and brassware fittings as a first point of call, the precedence needs to be on first-fix solutions that futureproof a property, allowing homeowners to be flexible to change in years to come. Shower toilets are incredibly important when thinking about inclusivity and accessibility, and the installation frames that sit behind the wall are also being viewed as key investments for improving longevity of a bathroom. The latest installation systems for wall-hung toilets are designed with future changes and adjustments in mind, taking into consideration how family homes might need to adapt in years to come. An example is the Grohe SLX installation system for wall-hung toilets, featuring an integrated flow manager allowing for simple adjustment of water flow to avoid splashing in rimless toilets; and integrated electric sockets and water connections that facilitate easy plug-and-play installation for shower toilets.