Swift Electrical's owner and MD Chris Honer tells Nicola Hanley about the company's new partnership with De Dietrich, his plans to grow New World and bring back the Creda brand, and how he's looking to grow the distributor's market share.
If you ask Chris Honer to sum up his first three years in charge of Swift Electrical, the £20m-turnover appliance, sink and tap distribution business he bought in March 2019, "challenging" and "rollercoaster of emotions" are the words that initially spring to mind. "I made a schoolboy error and didn't include a global pandemic in my business plan," he jokes.
When Honer purchased the business from Andrew Swift, it had been trading successfully for 42 years. "It had a really great, loyal and trusting customer base, which was one of its attractions," he says. "And the average length of service from our employees is 16 years so it has a great longevity of employees with experience."
Brexit was looming but "we didn't expect a general election, supply chain issues linked to Covid and then coming into 2022, extended supply chain issues linked to the Ukrainian crisis as well," Honer says. "It's been a challenge but I've been through a few recessions and a market crisis in the mid 2000s, so at times like this you've got to concentrate on what you're good at and focus on your core competencies."
After taking over Swift, Honer was quick to implement a soft rebranding exercise, something he felt was crucial as "for the first time in 40 odd years, there wasn't a member of the Swift family involved in the business, meaning that the 'Swift' brand had to transition from a family name to a customer propostion – the definition of 'swift' being something that happens quickly".
Honer says he's morphing the business into more of a logistics provider, focussing on ensuring orders are taken, processed and delivered as quickly and efficiently as possible, whether that be through Swift's own fleet of 12 vehicles, which travels everywhere in the UK twice a week, or via a courier such as DPD. He's analysed Swift's inventory and is concentrating on core products to improve availability. "With Franke – and we're now the largest Franke Group distributor – we very quickly established a 98% availability across all their key lines," Honer says. He's also partnered with a new software provider that allows Swift to get the best efficiencies and route planning for its fleet of vehicles.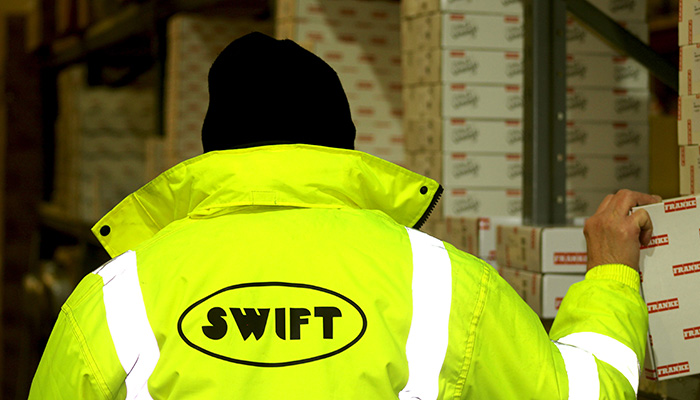 "We've started communicating with our customers in a slightly different way, too," Honer explains. Regular SMSs or emails are now sent pre and post delivery, with multiple updates sent on the day of delivery. The new process was initially implemented during lockdown to make it easier for customers working remotely, but they like the extra communication so Honer has kept it going. "We're moving to a far better delivery proposition, and we're communicating with our customers throughout that journey."
Honer has also refreshed the Swift Store – its online B2B portal. "We've doubled the amount of our customers processing orders online in the last six months because we make it really, really easy for them."
The well documented supply chain issues have also forced Honer to make changes to his business. "We have challenges across our premium supply base and we've had to go out and try to mitigate the losses," he says. Honer has partnered with AB Distributors and is now supplying De Dietrich. "We're working very closely with Michael Boland [sales director at AB Distributors] and we have availability across ovens and combination microwaves where some others haven't. We've also worked closely with Jo Sargent [sales and marketing director at Franke UK] and we've taken the Franke Mythos built-in range. And we've got stock first and we've got availability across all the major product lines on this brand too. So what we're trying to do is mitigate some of the extended lead times from our existing suppliers with some new suppliers to safeguard our business."
On the entry-level side, Honer has also partnered with New World, becoming its national distributor. "Excitingly, we've also partnered with the new owners of the Creda brand. So Creda is being relaunched with product being delivered into Swift during Q4 and available from 2023. Swift are the exclusive warehouse and distribution partner for Creda across all MDA categories. So this is an exciting game changer, not just for us but for the appliance market. Between 1979 and 1992, Creda had 40% of the MDA market in the UK."
Operating from a 67,000sq ft warehouse in Stoke on Trent, Swift currently employs 58 people and has a turnover of around £20m. "The market is huge and there are other distributors but I'm clearly focussed on growing our market share with a net effect to our competitors," says Honer. He's adamant, however, that Swift won't diversify, and he's not setting any major expectations about growing turnover due to macro events. "I want to continue delivering great service and on the back of that, you grow market share. It's about being doggedly determined on your customer value proposition," Honer says. "Because the moment you take your eye off the ball, you start getting distracted. And I'm not somebody that gets distracted easily. We'll keep on delivering great customer service and improving as we go along."