When Scott Davis, MD of kitchen and interior design studio Brandt Design, and his family moved into their forever home, he set about creating the ultimate kitchen and living space – and made sure not to miss anything off his wish list.
Q: Tell us a bit about how you approached your new kitchen design – what were the key things on your wish list?
A: I was designing for me and my wife and our two young adult sons in our new build, 5-bed home in rural Hertfordshire. The kitchen has always been my family's favourite room in previous houses, so it was vital for me create the ultimate kitchen living space in our forever home. We needed to accommodate four key functions across the ground floor: cooking in the kitchen, food management in the pantry, laundry in the utility room, and all-weather home access with a dedicated bootroom area. In addition, we wanted to have a contemporary living room with custom storage, and a discreet home bar. We all enjoy cooking and entertaining, so we needed enough space for us to relax with our friends and family. In fact, one of my friends is a keen chef and currently works in a local gastropub, so it's great to be able to provide a space where we can all meet up and even sample some great food in the comfort of my own home!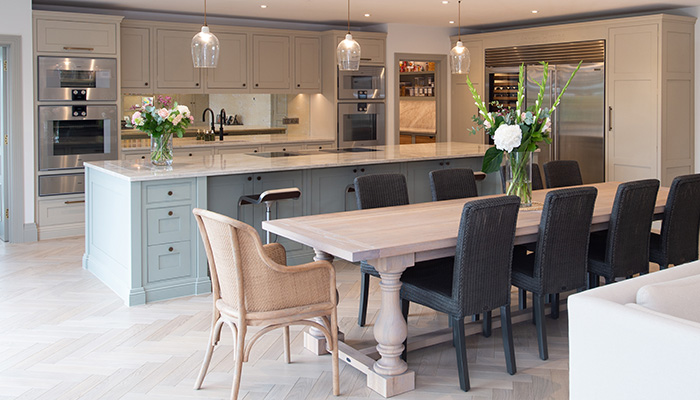 Q: How did you approach the project – was it different working on your own home?
A: Essentially, I was project managing alongside designing the blueprint, and supervising the installation and snagging process so it was a very hands-on all-encompassing project. I was determined to think of everything and create a flexible kitchen design that would encompass trends, which every family can relate to, such as younger adults now living at home for longer and the rise of hybrid work patterns. For me, it was all about delivering practicality, luxury and efficiency for my family.
Q: What were the challenges that you faced and what did you do to overcome them?
A: I thought long and hard about how best to maintain flow throughout the ground floor in line with my family's lifestyle and their everyday needs. For a start, anyone with a growing family knows that young people can create a lot of laundry so it makes sense to pre-empt wash day blues with twin sets of integrated appliances so that we could get ahead of the game. By installing two Miele washing machines and two matching tumble dryers, it's much easier to keep on top of the laundry and deal with any spills immediately by putting garments, bed linen or a pet bed into a washer straight away. There's also a generous ceramic Belfast sink for handwashing and soaking so that the kitchen sink is dedicated to food prep, preventing cross-contamination and ensuring that there's always have a space to clean up after a dog walk or some gardening before coming into the rest of the house.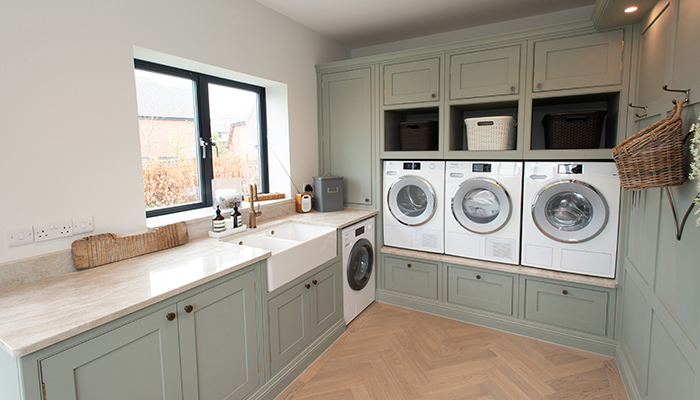 Our miniature schnauzer, Bertie, loves his walks and we are a busy household, so I knew our bootroom needed to be a user-friendly buffer between the outside world and the inner sanctum. By providing a space for shoes, coats, winterwear and pet requirements, this space instantly upgrades the back of the house and ensures that there is dedicated storage space for essential items, promoting a calm and ordered environment. It's also easy to find what we need, so we can 'grab and go' when leaving the house.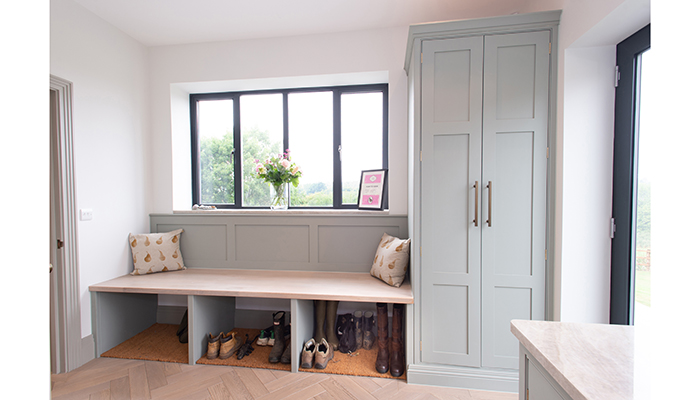 Q: How did you go about zoning such an expansive ground floor?
A: By establishing a clear separation of functions, I could give my full attention to ensuring that the kitchen would be our family's happy place with an open plan design to the living area. We wanted a generous prep zone with luxurious quartz surfaces as well as an island unit with an integrated breakfast bar so that we can socialise and cook. We've got prepping down to a fine art over the years, but I truly believe that bespoke storage is the key so that's why there is a dedicated back wall framed with Brandt Heritage furniture to meet all our needs, in close proximity to a giant American-style fridge freezer and wine cooler also housed in style.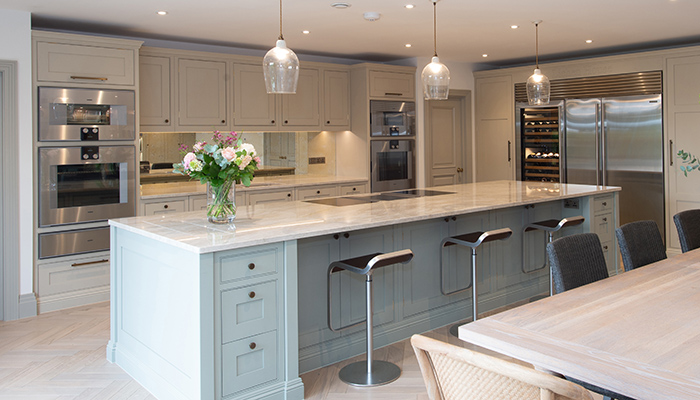 Q: How did you create a cohesive space?
A: Establishing a signature style is something that is becoming increasingly popular in premium properties and large family homes, and I was very keen to make our new place feel welcoming and characterful. In fact, more and more homeowners are taking a long-term, holistic approach to design with contemporary classic colours and materials coming to the fore in terms of rich timber effects, muted greys and bespoke in frame fitted furniture to provide resilient, structured zoning for family life in rapidly changing times.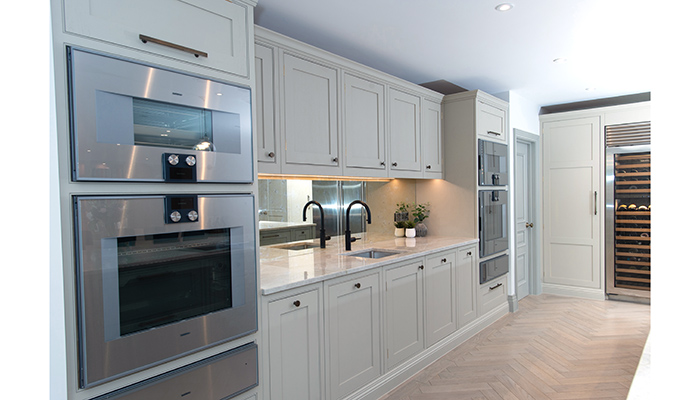 I drew on design elements that had worked in our previous home and upgraded them to suit our new space. For example, Farrow & Ball's Pigeon is the ideal complement to the soothing and harmonious vibe I wanted to create and was chosen for its soft, blue undertones. The blonde wood dining table was chosen to complement the parquet-style flooring throughout and provides plenty of room for working from home, or gathering around for an informal Sunday brunch or special occasion. I also incorporated designer details, such as integrated controls for our induction hob for extra aesthetic appeal and greater cooking comfort.
Q: What is your favourite part of the finished project?
A: I'm pleased that the whole blended space has come together and is even more liveable than I anticipated. As a keen coffee drinker one of my favourite spots is our pantry and walk-in larder as our coffee maker is located there and we have a dedicated place to keep all the coffee pods.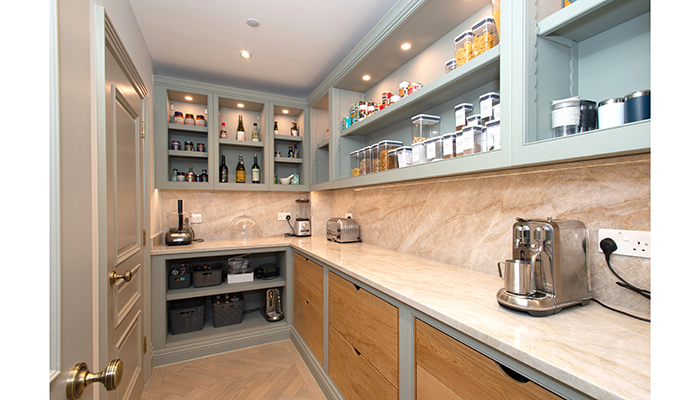 When I consider the whole project, from top to bottom, it truly feels like it's been our home for years as there is a place for everything in the fitted furniture and a contemporary classic feel thanks to the combination of Shaker-inspired style, wood veneers and durable marble-effect surfaces. We all feel ready and refreshed for the next chapter together with enough space for us to develop our interests and hobbies too.