The noise level of an extractor is a key consideration for many, especially those with open-plan spaces. Lisa Hibberd explores the technology behind some of the latest models with maximum noise levels of around 60dB – equivalent to the sound of normal conversation.
"Over the last 20 years, the importance of effective extraction for daily life in the kitchen has been gaining traction, especially in the area of noise levels," reports Sean Drumm, UK MD of Falmec. "In real terms, poor extraction is the foremost offender for sound levels in the kitchen after a cheap kettle – and we all know what a noisy kettle sounds like! Many premium brands have therefore seen the necessity to introduce more Quiet System products into their portfolios, such as the Falmec NRS Noise Reduction System. We are now generally living, eating, gathering and entertaining in the one main all-purpose room. That means when all the appliances are working, the decibel levels really begin to rise. If you're entertaining, you want to be able to talk to your guests in a quiet, convivial atmosphere. That's why all manufacturers are determined to get noise levels down. For Falmec, this has been a priority for the past 25 years."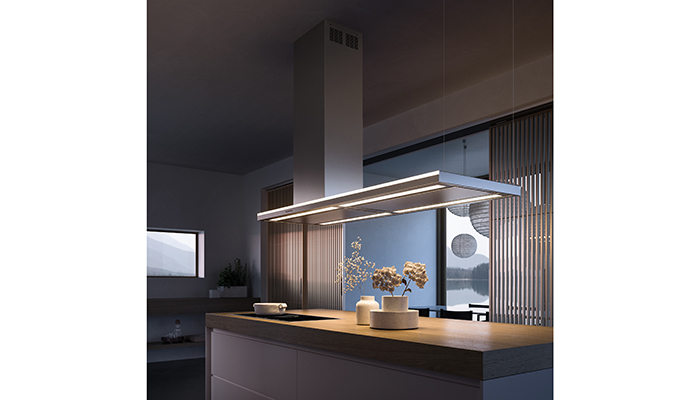 He continues: "To best illustrate this to customers, we advise our retailers to put a working model on display and let people actually hear the difference in the showroom. At Falmec, we have had tangible success with retailers who upgrade the extraction in their showroom to one of the quietest models, such as the new Lumen Island 175 NRS, attached. With a quick demonstration, the consumer can experience the difference between a standard hood and a quiet one at first hand in order to make a considered choice on the spot. There's no sales talk involved because the noise levels will speak for themselves!"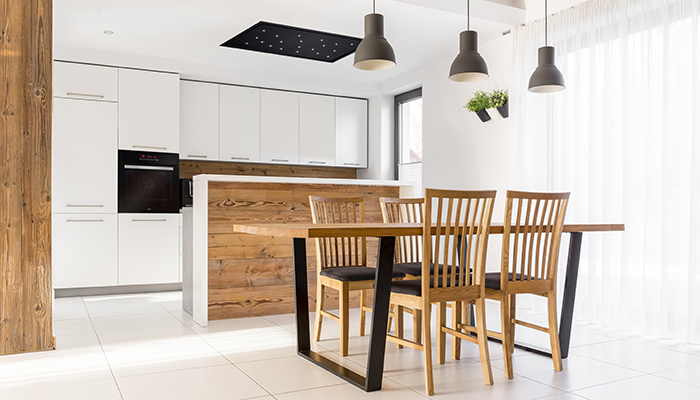 With 58 Quiet Mark-certified cooker hoods, Belgian extraction and induction specialist Novy's silent efficiency is renowned. In Episode 21 of The Quiet Mark Podcast, Henk Huisseune, innovation director was asked whether it was possible to create extractor fans that were both powerful and quiet. "Yes! In fact our target, at Novy, is to make goods which are as quiet as human conversation at 60dB or lower. The first thing that you want in a cooker hood is for the extraction efficiency to be high enough to do the job well. From there we start trying to make it as silent as possible, without compromising on the extraction efficiency, usually starting with the aerodynamics of the hood, using proper insulation materials and selecting a stable and silent blower, which is the core of the hood. Taking all these things into account, with the technical choices we make and the design optimisations that we do, we can make hoods which are as quiet as possible."
Quiet Mark, the independent global certification programme associated with The Noise Abatement society, tests not only decibels, but also tonalities and sound frequencies, and certifies only the quietest and most pleasant sounding 10% to 20% of products, in any category, on the market. They have certified a selection of cooker hoods and extractor hobs from leading manufacturers including Belling, Miele and Novy.
Owain Harrison, country manager for Novy, adds: "The ongoing trend for open-plan kitchens and diners has meant that there has long been a need for quieter appliances, particularly cooker hoods and downdraft extractors for shared-use spaces. Combining this with the trend for hybrid working since the pandemic, means that many more consumers are choosing to work flexibly between the office and their own dwellings. Whether cooking, entertaining or working from home, they do not want to be living in a noisy environment. In 1973, Novy patented perimeter extraction, a game-changing technological advancement that is now industry-wide, where air is withdrawn through a vent around the edge of the hood's base. The airflow accelerates when entering the constricted space and then slows down when inside the hood. The result is that extraction is more effective, and most of all, much quieter. Most hoods and ceiling hoods in Novy's product portfolio feature perimeter extraction to this day."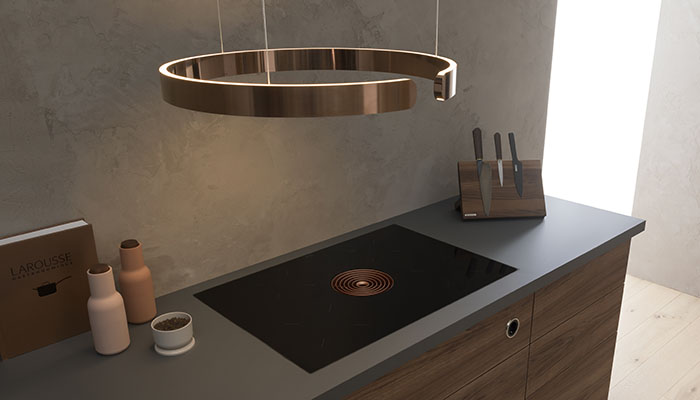 "Noise is without doubt a practical concern in open-plan kitchen living spaces, as there is no opportunity to physically separate the cooking and living areas and therefore form a sound barrier," says Willi Bruckbauer, founder of BORA. A downward extractor is likely to be significantly quieter than a head-height model, while being extremely effective at removing cooking odours at their source. In fact, a BORA appliance will only make around the same level of noise that a steak makes when cooking, so it won't disturb any other activities taking place in the room."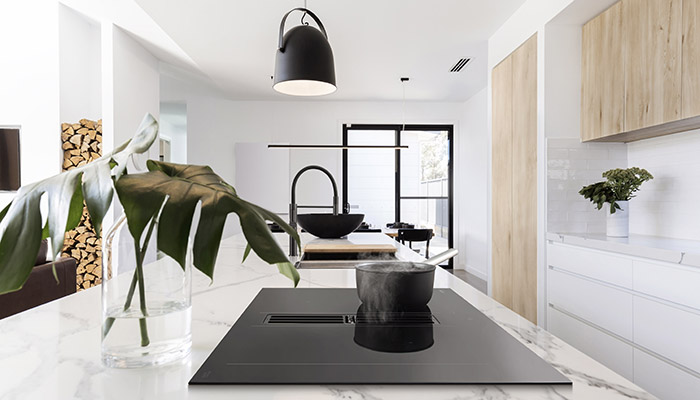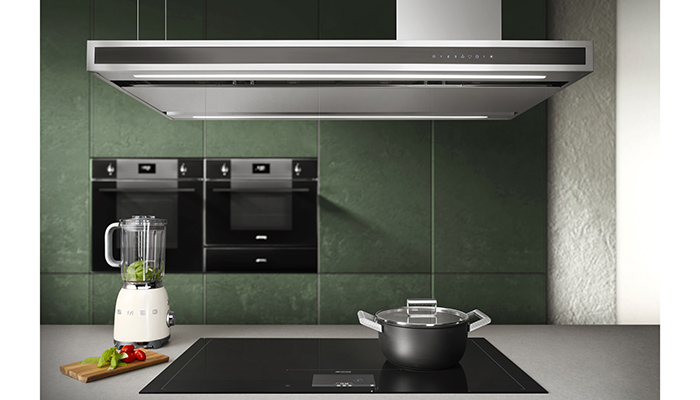 "Consumers are more aware than ever that noisy environments can lead to increased stress, poor concentration and irritability," suggests Jo Sargent, sales and marketing director at Franke UK. "They want to find ways to improve their emotional wellbeing and recognise that quieter appliances, including cooker hoods, can help create a more peaceful home environment conducive to working, socialising and relaxing without noisy distractions. This is why decibel ratings and noise reducing technology is increasingly important when it comes to consumer purchasing decisions. When it comes to cooker hoods, limiting the noise they produce is important, but equally it's about improving the sound they produce so that it's more pleasant and easy to live with. Recognising this, we've redesigned the shape of the blower in our cooker hoods to ensure less internal turbulences and vortices in the internal air flow. This improves sound quality by limiting the noise threshold of the hood by up to -6db and optimising the sound produced by reducing the disturbance caused by high frequencies. The Sound Pro Blowers now feature across the majority of our hoods including the Avant Silence wall and ceiling hoods."