This incredible project won the Installed Project of the Year award at KBBFocus Awards & Celebration 2022 – we talk to designer Jono Peck of Falmouth-based Now Kitchens to hear about the lengths the company went to, in order to achieve the show-stopping result.
Q: What type of property was it in and who was the project for?
A: Our clients had originally bought this house as a holiday home. After retiring they decided to relocate to Cornwall, refurbishing it to make it their ultimate retreat, accommodating them as a couple as well as their large extended family that would be visiting regularly. They also wanted to host large dinner parties, which would be catered either by private chefs or by the wife who is a keen home chef. As part of a major home renovation, they decided to move the kitchen into part of the existing lounge taking advantage of stunning views and creating an open-plan kitchen/dining room.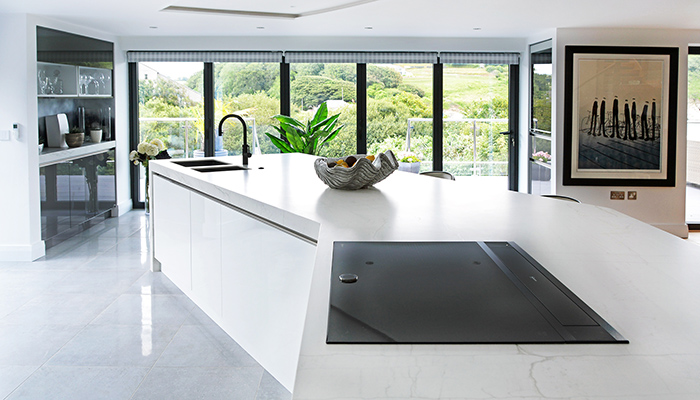 Q: What was the brief from the client for this project?
A: The couple's brief was to create a showcase kitchen which would entertain up to 12 guests through a combination of a large dining table and island seating. They wanted the style to be modern, bright, and welcoming with the layout split into zones for cooking, prep, seating and entertaining. Additionally, the kitchen should be hardwearing and ergonomic.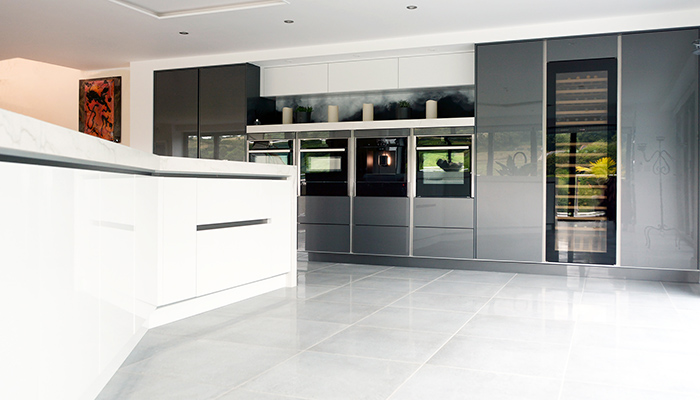 Layout was key – the kitchen needed to feel part of the immense open-plan space. It should feel substantial, but not overwhelming or cluttered while allowing freedom of movement through the kitchen to bifold doors into the adjoining patio or lounge area. Given that there were large bifold doors taking up the majority of two walls and the open plan nature of the space, only one wall was available for installation of kitchen units. This was a significant constraint on where a worktop could be included in the design, but the client required plenty of worktop space to enable prep for dinner for up to 12 people. An island need to be positioned to maximise spectacular sea views for the owners while prepping food, as well as their guests. The homeowner was clear that the kitchen should allow guests to be able to socialise with whoever might be doing the cooking, while leaving the working area clear. And while it was not being used for entertaining, there should be a TV situated so the chef could see it, but where it could be hidden away when not in use. Finally, they wanted the kitchen to have smouldering 'wow factor', that would delight their guests!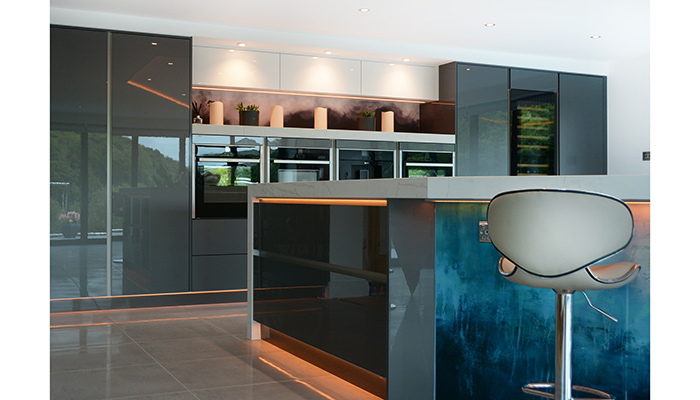 Q: How did you go about meeting the brief?
A: To ensure the kitchen met the brief, it is divided ergonomically into three zones: a chef's area houses all cooking and cooling appliances near the hob while two tall larders with internal drawers supply ample food storage; a hosting zone includes a drinks cabinet near the breakfast bar seating for ease of access for guests; the media centre is concealed behind a black-glass fronted tambour cabinet positioned perfectly for the 'chef'. Before fitting the kitchen, the team built bespoke plastered bulkheads to frame these three separate furniture arrangements, further adding to the sleek, seamless styling. This built-in look ensured that the finished kitchen achieved a complete transformation of the space, from what was once a lounge area to an incredible, statement fitted kitchen.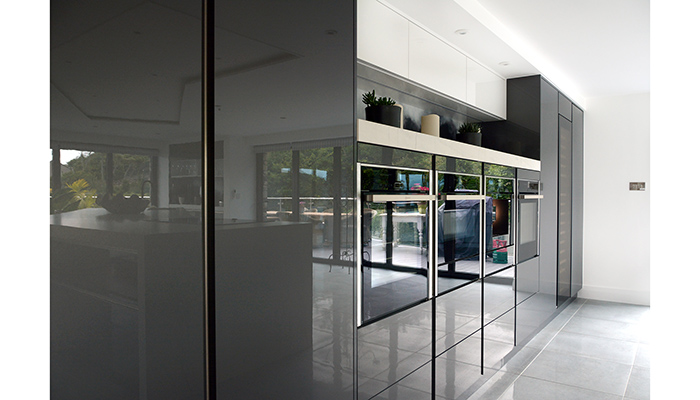 Q: What type/brand of cabinetry did you choose and what made it the perfect choice?
A: A Masterclass Kitchens true handleless design was chosen for its elegant, modern style – Lumina gloss Graphite with Scots Grey. A simple palette of graphite and white gloss with a titanium handlerail provides minimalist glamour and bounces light around the space. This sleek, contemporary feel is emphasised by extra-wide drawers that face the dining area. Stunning pale Neolith worktops with a subtle vein reflect the monochromatic palette, with its beautifully tactile finish adding another dimension to the kitchen design, while offering one of the hardest-wearing worktop materials available.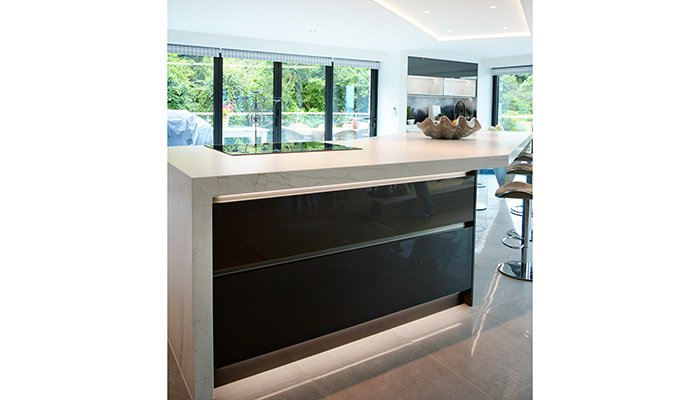 Q: What were the particular challenges that you faced and what were your solutions to overcome them?
A: A Neolith worktop was chosen specifically for its scratch and heat-resistant properties, and with a porosity of less than 0.08 percent it is an extremely hygienic product, resistant to bacteria. In addition, as Neolith is 100% natural and 100% recyclable it is an environmentally conscious choice. However, due to its density it can be challenging to work with, and as such the island was an incredibly complex piece of stone masonry with attention to detail key. During cutting, the owner of Duke Stone (the worktop fabricator) realised that veins in the two top panels did not run together. Therefore, he scrapped the first set of tops and commissioned them to be recut so that the subtle grey vein matched across the joint. An intricate structure was manufactured in situ by our fitters to support the worktop. Overall, 18 pieces of Neolith were cut to create the kitchen worktops, all of which required veining to match. In particular the tapering 80mm thick downstand on one end of the island was incredibly challenging, but due to the expertise of the fabricators, now forms one of the standout elements of this fabulous kitchen.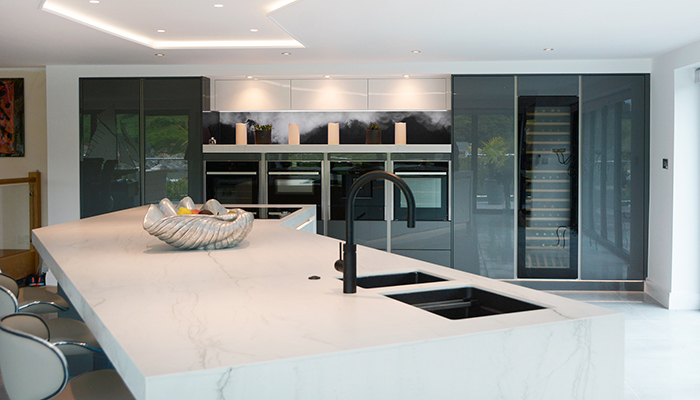 As the space was previously a lounge there were no existing services. Careful pre-planning alongside builders, plumbers and electricians was required to ensure everything was in place before the kitchen fit began. We provided accurate plans to specify the services required so that a new infrastructure could be installed in advance – plumbing and waste; additional electrical submain and consumer unit approx. 30m from a basement supply; power appliances, sockets, media centre, and 10m of electric blinds. An intricate LED LUTRON lighting scheme highlights seven different zones, operated by ROBUS app-based control, providing both practical lighting and mood-lighting. The latter is on a range of preset modes available at the touch of a button, to reflect anything from a low background warm white glow, to 'New Year's Eve'!
Q: What is your favourite part of the finished project?
A: The impressive finishing touch, and one that really sets the kitchen apart as being completely unique, is over 5sq m of bespoke glass art. The plan had always been to incorporate a final detail that elevated the kitchen into something truly spectacular. We waited until the kitchen had been installed so we could finalise the concepts for panelling on the island, so we could fully understand the impact it would have on the completed project. After weeks researching materials and finishes the client agreed on my proposal of spectacular glass panelling, which showcases original artwork by artisan glass company Red Dog Glass Design – a sumptuous turquoise coastal painting provides a dramatic contrast to the monochrome kitchen, while a subtle matt glass frames the shelving areas above the ovens and drinks cabinet and blends with the overall colour scheme, with an image chosen as a nod to the statuesque pines of the adjacent coastline. While the glass was an expensive addition, it is truly unique, and professionally digitised to perfectly fill the spaces in this kitchen. It really cannot be replicated and I think it truly fulfils the design brief of a delivering a 'Wow' kitchen.