Fresh from opening the 65th Kutchenhaus showroom in the UK, head of marketing Paul Lee talks to Nicola Hanley about his goals for the year ahead and his plans for international expansion.
Over the last year, kitchen retailer Kutchenhaus has opened 20 showrooms in the UK and head of marketing Paul Lee has plans to open another 20 over the next 12 months. "We performed very well in our financial year ending December 2022 and sales were up 40% on the previous year, so we surpassed our target," he says. "The focus this year is to open another 20 new showrooms in the UK, taking us towards 90 by the end of this financial year."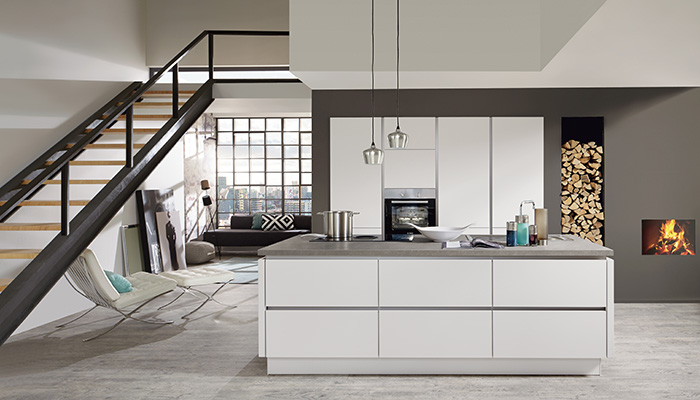 Owned by German kitchen manufacturer Nobilia, Kutchenhaus was established in the UK in 2007, but it was only about four years ago that the business became franchise focused. Of its 65 showrooms, 64 are franchisees, with the York studio run centrally by Kutchenhaus. Growth has been swift, but Lee, who joined the company 12 months ago from Crown Paints, won't be drawn on how many showrooms Kutchenhaus ultimately aims to open across the UK. "To use a football analogy, we really are looking to the next game," he says. "I'm not making wild predictions on where we're going to be in X number of years – let's not get ahead of ourselves. It has been a challenging market for various reasons across the last few years. Last year was great and we've got similar ambitions for this year and to grow sales by an extra 25 to 30%. Having said that, we do see the UK as one of the largest kitchen markets in Europe and an excellent opportunity to progress the Kutchenhaus brand here."
In 2022 Kutchenhaus exhibited at KBB Birmingham for the first time, sharing a stand with Nobilia. Feedback, says Lee, was incredibly positive and plans are already in place for a return to the show in 2024, so it would be fair to assume that Kutchenhaus will continue in its quest to attract new franchisees for some years to come.
But what makes Kutchenhaus such an attractive proposition to potential franchisees? "One of the reasons we're successful is there's no upfront franchise fee and year one running costs are approximately £100,000, which is considerably less than some of our competitors," says Lee. There are four regional managers as well as two recently appointed trainers who offer ongoing support and advice, from helping to find a good location, providing free showroom installation, to building brand awareness and helping to attract customers. "Plus, franchisees benefit from great co-operation with our strong head office team," he adds.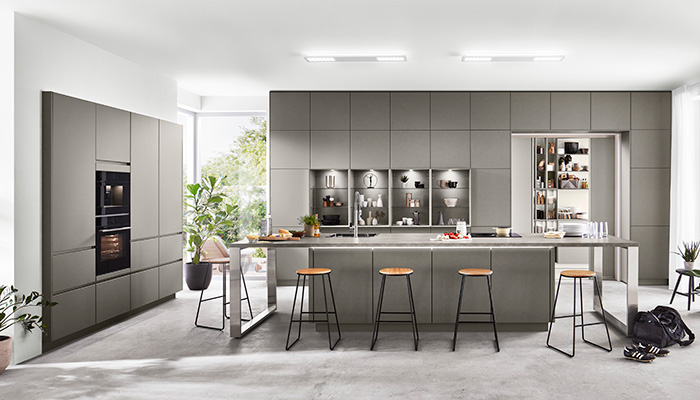 Kutchenhaus' German heritage is a further USP, says Lee, along with the quality of the products and competitive delivery times. "The lead time is approximately six weeks from showrooms ordering kitchen furniture through to delivery to our customers." While many in the industry have struggled with supply issues in recent years, Kutchenhaus hasn't really been affected. "Our parent company is Nobilia so there have been minimal supply issues. We're working with Europe's number one kitchen manufacturer, which is a big point of difference for us," Lee continues.
Another thing that sets Kutchenhaus apart, he believes, is its customer satisfaction levels. "Our current score on Trustpilot is 4.9 out of 5 and I think that's a major strength. It's one of the top scores in the kitchen industry. It's something the business has been focused on because customers rely a lot on the reviews of previous customers. So in the future it'll feature more and more in our marketing communications for our customers."
It's not just the UK market that Kutchenhaus has set its sights on – international expansion is a key priority, too. Last year the company opened a showroom in Miami, which marked its entry into the US market, as well as one in Portugal. There are also three Kutchenhaus showrooms in Australia. And are there plans to open in any other countries? Not currently, Lee says. "Our two key focuses are showroom expansion in both the UK and the US, along with developing our brand in Australia and Portugal."