With consumers opting for blended living solutions for a cohesive design throughout the home, Nicola Hanley talks to five manufacturers who are looking beyond the kitchen to help retailers become one-stop shops.
The way we live and work in our homes has changed faster over the last few years than ever before. With working from home and open- and broken-plan living now commonplace, homeowners are demanding more from their interiors and increasingly looking for whole house solutions.
"The trend for fusion living has grown in recent years, as consumers look to create holistic designs across shared spaces. Social media platforms have been a popular place for people to showcase entire house updates, highlighting the demand for seamless, organised rooms that flow on every level," says Tony McCarthy, commercial director at Crown Imperial. Looking to help retailers capitalise on the trend, Crown Imperial now offers a variety of furniture for kitchens, bedrooms, living and workspaces. "It's all available through a central design palette to ensure a harmonious style throughout the home," continues McCarthy.
For French manufacturer Schmidt, offering a whole home solution has been a no brainer. In addition to its kitchens, it also provides furniture for dressing rooms, bedrooms, bathrooms, studies, dining and living rooms as well as hallways. "The whole house solution has become increasingly more attractive to consumers as they now expect more from their inside spaces," says Tamara Heller, marketing operations manager for Schmidt UK. "They want their homes to work hard for them, whether this means creating a multifunctional kitchen-diner that can be used for home working or a master bedroom-cum dressing area.
"We see other rooms now as an extension of kitchen trends in terms of colour, pattern and print and it makes sense to invest in products and solutions from one manufacturer who can offer a desirable one-stop shop."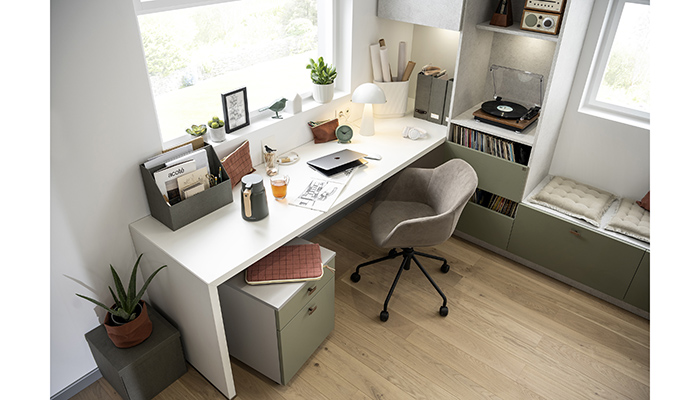 The company is also keen to help retailers offer consumers personalised interiors through its Home Design by Schmidt. "Our designs are created to make the most of every inch too, with every millimetre used in the most efficient way. This ensures our retailers are able to offer customers the most aspirational and inventive solutions for their home, whatever their needs and desires," continues Schmidt UK's Heller.
Keen to help designers create holistic schemes, Scavolini was another early advocate of whole house solutions. "Making sure a house works as a whole is always more visually appealing, hence the demand for a cohesive feel throughout the home," notes CEO Fabiana Scavolini. The Italian company has extended several of its kitchen collections to include furniture for bedrooms and living rooms and has also applied this idea to bathroom furniture, too. "This means that it doesn't matter if homeowners renovate the kitchen first and the bathroom six months later, because there will always be a strong visual connection between the spaces."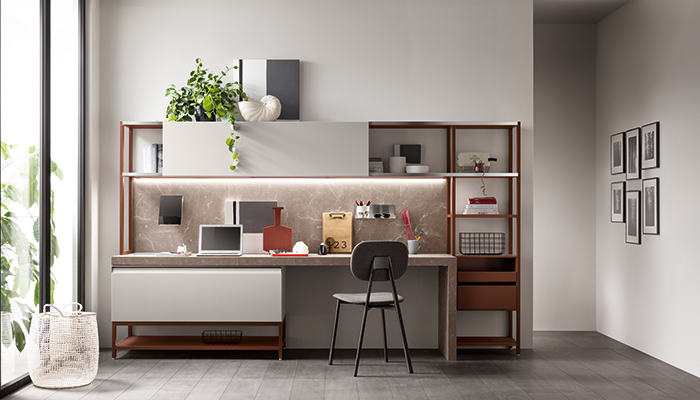 Mereway Kitchens has also extended its offering to provide furniture for other rooms in the house. "We have seen an increased appetite for a streamlined, clutter-free look throughout the home. Matching a new kitchen to other rooms, including entertainment rooms, home offices, utility rooms and bedrooms creates a cohesive, seamless and on-trend look. Versatility is key," says managing director Mark Mills. "We not only manufacture kitchens but home office solutions, bedrooms and home entertainment solutions so we can ensure our retailers have everything they need to meet the demand."
For Ashleigh Hanwell, senior designer at PWS, the pandemic has helped drive the trend for whole house solutions, particularly home office products. "Since Covid, there has been a recognised demand and increased ability to work from home and that has definitely contributed to the growth of home office furniture," says Hanwell.
For those not fortunate enough to have a dedicated study or home office, integrating work stations into kitchens, living areas and bedrooms has been essential. However, doing so in a stylish way that doesn't impact family life has proved challenging. Last year PWS extended its bedroom and office furniture collections to meet this requirement, with popular ranges including Mornington Beaded and Hunton now available in its office and bedroom offerings. "We have an in-house design team that can plan displays for showrooms and also a customer designer that can visualise any plans," Hanwell says.