Under stairs spaces are ideal for bespoke larder cupboards, wine cabinets and even home offices – Sally Smith asks the experts what the design challenges are and finds out how to make the most of this tricky area.
Designing an under stairs space is not just about creating clever storage solutions for customers, but unlocking the hidden potential of this awkwardly shaped space to make this area an integral part of the home.
"It's not just a case of making the most of a space – it's ensuring it remains relevant to the client," Will Lyne, MD of Christopher Peters points out. "There are practical things to consider too as under stairs storage is often the location for services, so a designer needs to navigate round fuse boxes, electric and gas meters and sometimes conceal underfloor heating controls whilst making sure they all remain accessible and that the space still functions for storage," he adds.
"As a rule of thumb, a staircase rises at 42° and that will be the starting point for any piece of cabinetry design. The challenge is to then design furniture that is usually lower than head height, and at a depth that will be the same or less than the staircase. If not fully enclosed, then we always recommend a curved cabinet end to maintain flow in the room and to provide a softer look," explains Simon Taylor, MD at Simon Taylor Furniture.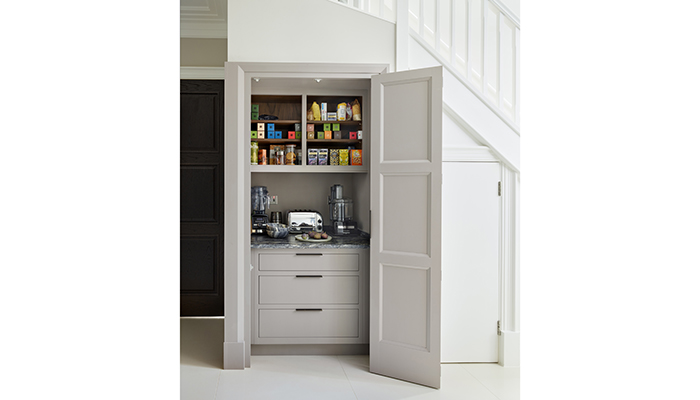 It's definitely worth taking time at the start of any project to find out the client's long-term plans for the space, says Richard Moore, design director, at Martin Moore. "Under stairs spaces can be challenging to convert because they are often quite awkward shapes and sizes, with difficult-to-reach nooks and crannies, which can make it difficult to take advantage of every inch of space. Deep drawers are always a practical storage solution but it's always a good idea to incorporate sockets in any design giving the client plenty of flexibility in the future as larger spaces can work particularly well as informal breakfast stations."
When designing under stairs doors and drawers it's key to make sure that they aren't restricted and can open fully without narrowing the hallway too much. Simon Collyns, marketing & retail sales director at Symphony Group, has some design ideas. "It's best to avoid tall wall units, which may clash with the height and angle of the stairs," he says. "We recommend that the space is fully opened up so it is seamlessly integrated into the room it shares the space with. If the staircase is in a hallway, it works really well to have the under stair space used as a boot room, with a storage seat and coat hooks. In a kitchen, using the under stair cupboard for a pantry or laundry cupboard with stacked appliances will maximise the available space."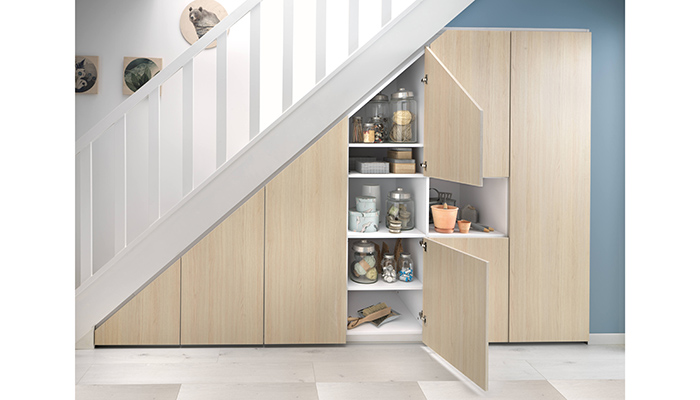 Lighting is an important requirement when designing for any under stairs space, whether it's for storage or a study area, and it's a vital specification that needs to be agreed with the client to avoid creating a dark gloomy space. Charlie Jones at Schmidt Wimbledon encourages designers to be creative and work closely with the client. "The most important consideration is to decide what the customer wants to store there before planning the units. Under stairs storage is extremely versatile, in a hallway is the ideal place for coats, and shoes, or as extra utility space for ironing boards and vacuum cleaners. Or the space can have open and closed shelving, as well as pullout drawers and hanging space – there really is no limit."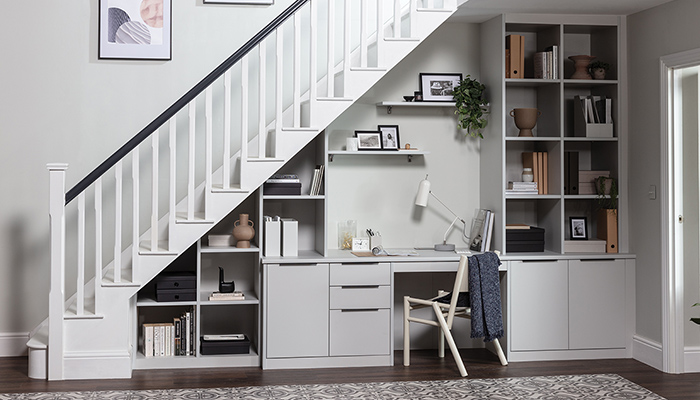 Rachal Hutcheson, Sharps' national retail manager, explains there are alternative options other than just storage. "Opting for a fitted home office under the stairs can be an attractive yet practical use of the space, providing everything from a desk to ample storage for files and folders. Bespoke, made-to-measure furniture will ensure the environment is ideal for both work and personal needs; whether that be open shelves for quick and easy access, or stylish cupboards and drawers to keep office paraphernalia hidden away."
Designing for an under stairs space has to be an integral part of the overall planning of the house interior. Simon Bodsworth, MD at Daval Furniture, advises: "Think outside the box and ultimately find a solution that is both practical and aesthetically pleasing to the eye. Continuing the theme of kitchen furniture into the living room, or the adjoining hallway will help maximise the space customers have. A practical under stairs storage system is an innovative way to optimise a dormant area and gives the customer greater storage capacity outside of the kitchen."