Homeowners wishing to personalise their bathroom space and transform it into a sanctuary can't get enough of botanical walls – and nor can retailers in their showrooms, says Emma Hedges.
Leafy palms, delicate fronds, lush vegetation, vibrant jungle themes – whatever spin you want to put on it, consumers still can't get enough of botanical bathroom walls. As a trend, it's been around for while now – to the extent that you might have thought it would be on the retreat. So why are homeowners still transfixed?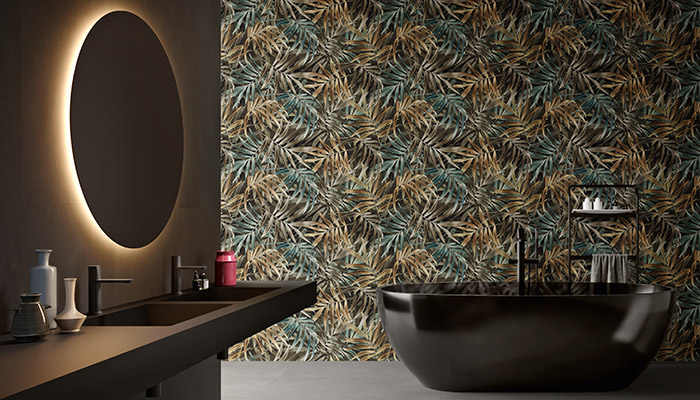 "Botanical bathroom walls are inspired by nature and enable you to bring the outside in. Adding elements of greenery, from tropical plants to leaf motifs, can instantly enhance a bathing space," says Richard Skeoch, director of tile retailer Hyperion Tiles. "The ability to get creative with a variety of patterns, including wall murals, has captured the consumer imagination. We've also found that a botanical wall creates a visual statement that will appeal to customers who visit your showroom."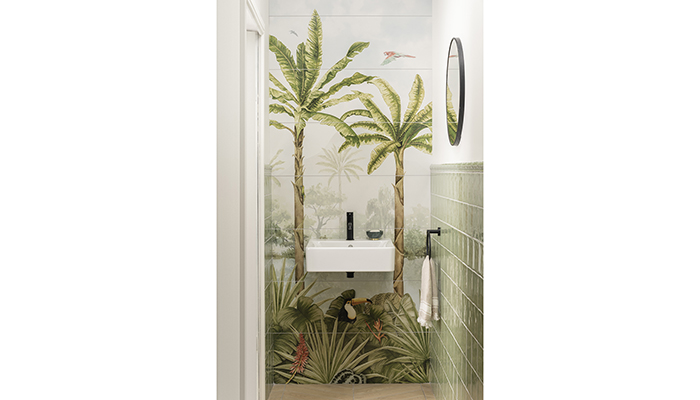 "Consumers are looking for a change when it comes to bathroom décor," agrees Showerwall product manager Steph Harris. "Bold botanical prints are currently a part of this change due to their uniqueness and ability to transform a space."
There's no doubt that a stunning feature wall can bring an instant sense of individuality to a bathroom scheme, but Harris thinks there may be more to it than that. "In a post-pandemic era, we've all had to drastically adjust to new ways of working and living," she says. "These changes have spilled over into the way people think about designing their homes. This means interior design is no longer just about aesthetic appeal. While this will always be at the core, individuals are now also concerned with their feelings towards what they want to achieve in their houses. In the case of the bathroom, people want to create a sanctuary that they can relax in and escape to."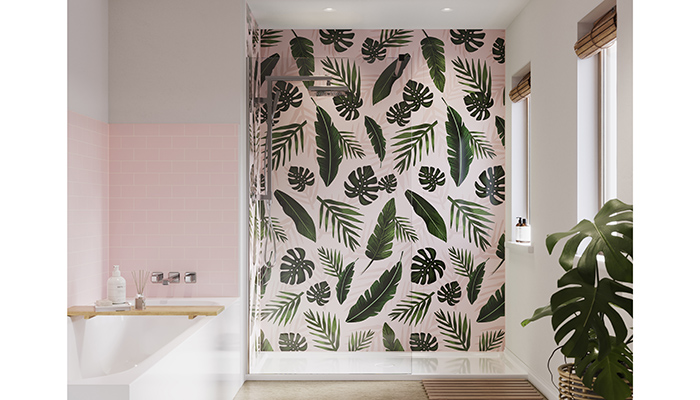 At the Cevisama tile fair in Valencia this year tile manufacturers were expanding on the botanicial theme with striking décors enabling homeowners to create feature walls that work particularly well in bathrooms.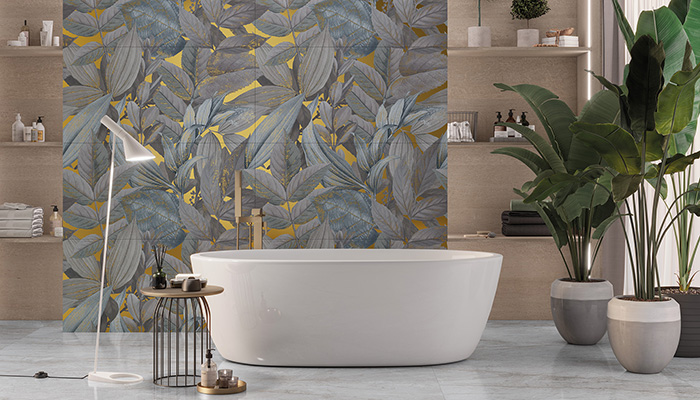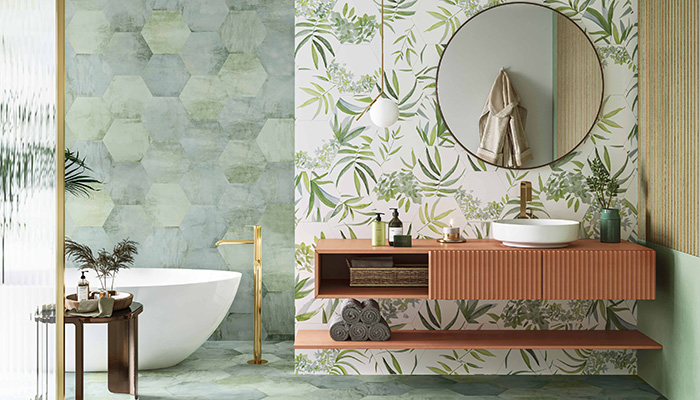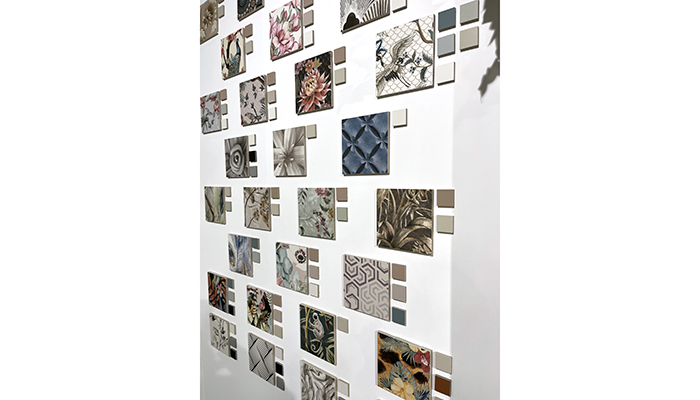 Many of the stands at Cevisama demonstrated that the trend for patterned tiles is starting to verge on a decorative 'wallpaper' look, but a key element was that they all made for dramatic displays – a fact that hasn't been lost on many retailers.
"These wall designs add a unique touch to a showroom display as the prints are created to stand out," says Showerwall's Steph Harris. "We offer retailers the chance to showcase our wall panels using our handy display stands. Our designs include a range of acrylic panels which have been inspired by the beauty of nature, all of which feature leafy greens for a soothing backdrop for basins, baths, and showers."
Retailers also have the opportunity to work with Showerwall for an in-situ full shower enclosure or bath display using full-size panels, allowing customers to get a clearer idea of how their chosen panels will look in their bathroom.
Colchester-based retailer G&M Plumbing & Heating has installed a Showerwall display in its newly revamped showroom and sales director Chris Barnes says he and his team are delighted with feedback from customers. "It's a new display that went up about four weeks ago, but it's created an instant wow factor in the showroom," he says. "In fact, we've sold two whole orders as per the display, and as we speak we're putting up another one like it."