Homeowners can't get enough of the marble look, and it's a vital ingredient when designing a luxurious boutique-style bathroom – Sally Smith explores the latest options, from real marble, to porcelain tiles and stunning acrylic shower panels.
Marble, or marble look-alike surfaces, now rank among one of the biggest 'must haves' for customers looking for a spa-inspired luxury bathroom. While real marble will always create an air of sophistication, fortunately for designers, advances in technology mean that alternatives now look more like marble than ever before, and in some instances they can be a more practical choice.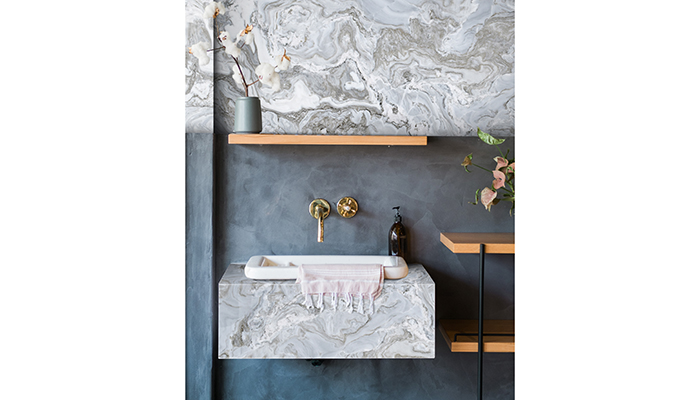 "We categorise our natural materials so anything in the soft marble or decorative marble area should be considered carefully," Oliver Webb, director at Cullifords explains. "Due to the nature of polished marble, it is slippery when wet so we wouldn't advise polished marble on the floor. Walls can certainly be polished to reflect light, but on other surfaces we would recommend honed – this is more slip resistant and also hides etching. We do have clients who put anything they want in their bathrooms, such as onyx or black marbles, but it is down to them making an informed choice."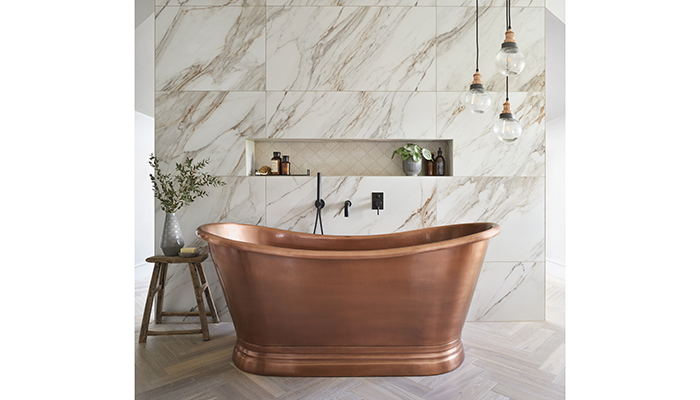 Erin White, designer from Ripples Towcester showroom, adds: "Marble has long been associated with luxury and clients like the fact they can create a boutique hotel-inspired look at home. However, we do encourage clients to stay away from using harsh products such as bleach, when cleaning natural stones like marble as it can destroy the finish of the stone. We would always recommend pH-neutral cleaners to remove mold and mildew."
There is an expanding selection of marble look-alike surfaces on the market, with the distinct veining and colours of a natural product that will achieve the luxury finish demanded from a discerning customer. But as White points out: "It needs to not only look like marble but feel like it as well, because the first thing a client will want to do is touch and feel the tiles they've chosen for their bathroom."
"Today's porcelain surfaces are technically brilliant combining the authentic look and feel of natural marble with the durability, easy installation and affordability of porcelain tiles," explains Rebecca Cherrington, head of projects at Lapicida. "Porcelains are particularly well-suited to wet environments as they don't need sealing, can be cleaned with domestic products and epoxy grouts can be used which prevents shrinking, discolouring and cracking. Although designers need to bear in mind that when porcelain tiles are cut there will be a raw cut edge visible so using a marble to edge skirtings or wall edges is the ideal surface to use to hide them."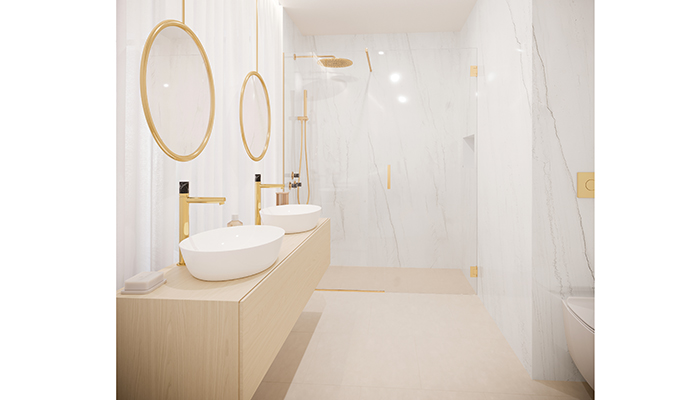 From a practical viewpoint marble has its drawbacks, particularly when used in the spaces such as the bathroom. It is permeable, so will require sealing to keep it water resistant.
Simon Boocock, MD at CRL Stone, adds: "Marble is a material that, unless sealed at regular intervals, absorbs liquid, causing staining. The alternative quartz and ceramic surfaces in marble-inspired styles offer a highly practical alternative to the real thing. As these are non-porous materials no sealing is required, they are scratch and stain resistant and won't let in water. Cleaning and maintaining the natural lustre of the surface is easy – simply use a soft cloth dipped in warm soapy water."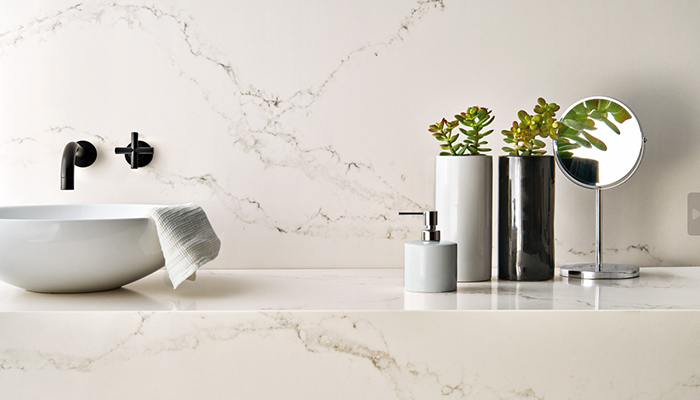 Marble look-alike surfaces made from quartz and porcelain require very little maintenance and as a result, engineered stone has become an increasingly popular alternative to marble.
"The veining and patterns found in our designs go from the elegantly understated through to rich, bold and striking tones, so designers can easily achieve a marble lux feel in the bathroom with a Caesarstone surface," says Mor Krisher, head of product design at Caesarstone. "Along with its inherent durability and non-porousness, it is stain-resistant, and much easier to keep bacteria-free. It's worth pointing out to customers to wipe away any liquid spills and splashes as they occur and keep your surface dry to avoid a patina from forming."
Vicki Richmond, marketing director at CDUK, adds: "Our marble-effect surfaces can be shaped, allowing designers to craft intricate designs and elegant curves that would be harder to achieve with marble without incurring unnecessary waste. The non-porous properties and seamless joints of Corian make it a surface which is impenetrable to bacteria and fungi, and eliminates the need for grout. A selection of our surfaces contain up to 20 percent of pre-consumer recycled content. Once the life cycle of a surface is complete we repurpose it into new products."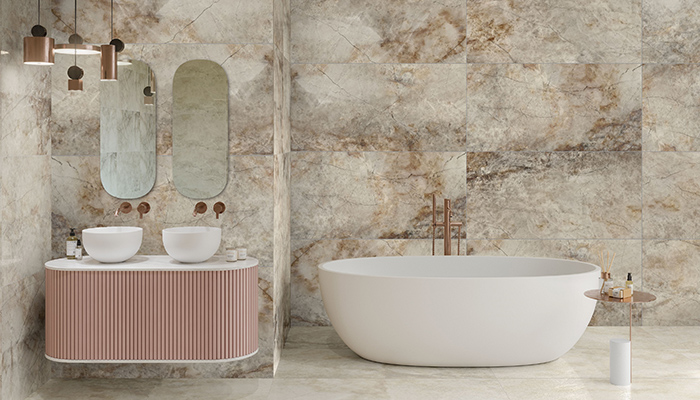 Over recent years the advancement of digital print technology have meant suppliers have been able to produce ever more intricate veining and colourful marble-esque surfaces.
"Over the past five years there has been a massive explosion in the use and availability of marble-effect tiles. Until recently, this has mostly been limited to classic white and veined marble such as Carrarra, Statuario and Calacatta," says Peter Vann, MD of Ceramique Internationale. "This has also brought colour to the forefront, introducing stones such as Onyx, Arabesque, Saint Laurent, Breccia, Bardiglio, Sodalite, Jade and Fiori Di Bosco to the market, so consumers have a much broader range of products and effects to choose from. Anti-slip reactive glaze technology has become more widely available for marble-effect porcelain tiles. It provides a greater level of safety that cannot be achieved with real marble, especially in wet environments such as bathrooms."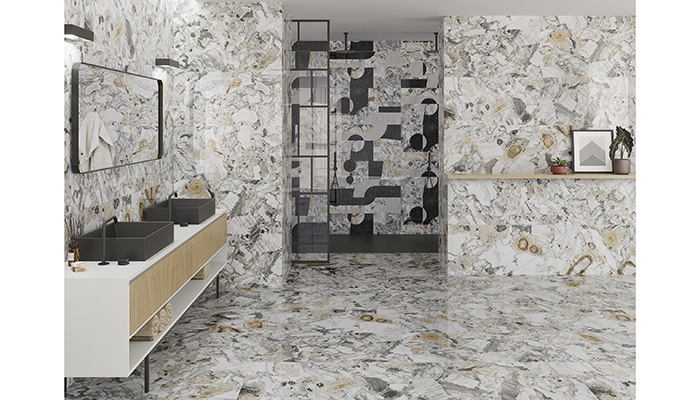 Clara Vicedo, architect and consultant for ASCER, the Spanish tile manufacturers' association, adds: "Porcelain is made entirely from natural materials – its manufacturing process means that large sheets can be made in minimal thicknesses while the product remains both very strong and also lightweight. The tiles are highly resistant to dirt and are easy to clean and if it is stained with dirt or grease, cleaning agents such as a diluted detergent solution may be used."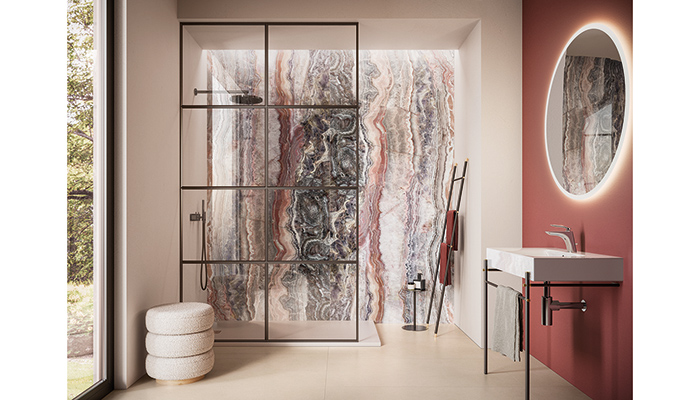 "Porcelain offers a practical alternative to real marble in the bathroom," says Ben Bryden, sales & marketing director at RAK Ceramics. "With a wealth of marble-inspired porcelain tiles to choose from, the elegant and luxurious look of marble can be enjoyed, with peace of mind that the surface is less likely to chip or stain and is easy to maintain. Advanced manufacturing techniques mean we can offer customers large-format slabs and tiles to cover extensive areas in the bathroom for a seamless look."
Wall panels that create the look and feel of marble, are also becoming a viable replacement for traditional tiled walls. "Our marble-esque surfaces are designed to be used in wet environments. Showerwall panels are a waterproof system and have been specifically designed to withstand exposure to water," says Steph Harris, product manager for Showerwall. "They are hard-wearing, hygienic, and easy to clean, with a simple wipe down. The material used in our Laminate panels is Exterior Grade MDF for optimum moisture resistance, which makes it suitable for use in areas of frequent prolonged exposure to running water, including wet and humid areas such as bathrooms."