Sophisticated and super stylish, Matt Black fixtures and fittings have revolutionised the bathroom – Sally Smith takes a look at the latest launches and finds out from the experts about the best ways of integrating this industrial-inspired look.
With customers' confidence in their interior design choices reaching new heights, the demand for Matt Black brassware in the bathroom has seen a meteoric rise in recent years. This new 'neutral' adds an edgy and opulent accent to any bathroom scheme from a simple monochrome look, to something more maximalist.
"Black is a colour that has always played a huge role in the world of design, be it fashion, art or interior design," explains Patrick Speck, leader, Lixil global design, EMENA and Grohe UK. "Despite its boldness, it is a neutral shade that is versatile and easy to combine with more vibrant colours to balance them out. Matt Black brassware has all the ingredients to transcend short-term trends and to become a timeless classic. Designers can make a big change with small details like black taps or shower solutions matched with bathroom accessories."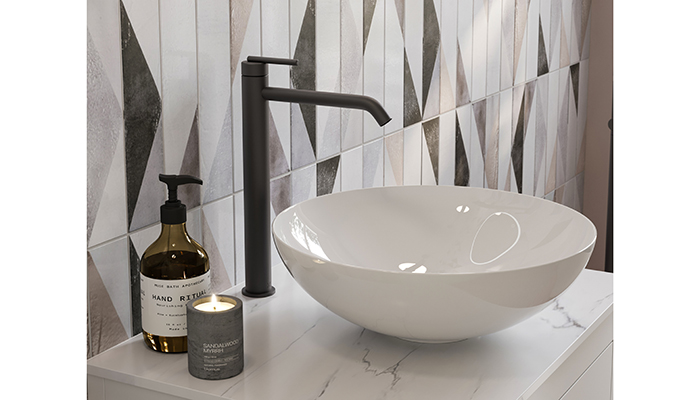 Richard Ticehurst, brand expert at Crosswater, has definitely seen a significant rise in demand. "We've seen Matt Black brassware and accessories become one of the top finishes favoured by interior designers and homeowners alike," he says. "Matt Black is extremely versatile and complements a variety of colour schemes, materials, and interior styles, offering a sleek and contemporary look."
He adds: "In bathrooms where lighter colours dominate and the instinct is to go bright, Matt Black is the ideal shade for brassware and accessories providing an instant style that balances the space as well as offering eye-catching interest, encompassing both trend-led and timeless design."
Matt Black taps and shower fixtures are the ideal solution for customers wanting to move away from chrome brassware and add a point of difference to their scheme. Sarah Evans, head of product marketing for Hansgrohe UK, says: "Incorporating Matt Black brassware can give a new level of luxury and designer-feel to the bathroom and this has undoubtedly contributed to its continued popularity. Due to this sustained increase in the demand for Matt Black brassware we have expanded many of our product ranges to come in this finish as standard. This includes our Logis tap range, now available as standard in a sleek Matt Black finish and it's a great choice to create a fresh look."
Giving customers a wide variety of brassware finishes to choose from also allows for greater design options and creativity for designers within the bathroom setting. Lena Wilhelm, product manager for taps & fittings at Villeroy & Boch, says: "Historically, the tap options available to customers have been very limited to mainly chrome so it is no surprise that the black trend has stood the test of time. The adaptability of the Matt Black finish is one of the key reasons why we offer it across almost all our taps and accessories. It's classy and chic and can be used as a neutral or to make a focal point. One of its key attributes is that black flatters any high-quality material and emphasises shapes, surfaces and textures."
Matt Black brassware offers exceptional versatility, making it particularly suitable for contemporary looks. Designers can create striking contrasts in a bathroom by pairing Matt Black fixtures with the classic white elements. Stefan Gesing, CEO of Dornbracht AG & Co KG, has seen a change in consumers' perceptions and use of black in their homes. "There has always been a slight wariness about using black in interiors but a bathroom offers the perfect space to be brave and use bold, deep colours. Monochromatic design schemes will always be a popular choice and Scandinavian-inspired design has made the use of black as an accent colour really popular. The boldest schemes will be those where the Matt Black touches really stand out."
Richard Eaton, brassware product manager at Bathrooms to Love by PJH, has also seen a continued uplift in sales. "Matt Black options have been good sellers for a while now and this trend is still strong, as the demand for industrial-inspired and monochrome design themes continues. The bold and striking effect of tactile Matt Black finishes with crisp white ceramics creates striking bathroom schemes and gives rise to desirable clean contemporary looks."
Ben Bryden, sales & marketing director at RAK Ceramics UK, says: "Matt Black brassware is very easy to match with a range of colour palettes and gives the bathroom a real lift, making this a great option for retrofit projects. Combining Matt Black brassware with a black washbasin and white sanitaryware elsewhere will create a striking monochrome look."
The designers at JTP have seen their customers becoming more adventurous with their design choices. "Matt Black brassware is an easy way to add elements of personality to a bathroom," says Jeevan Seth, founder & director of JTP. "The clean lines and dark finish creates a minimalist and visually appealing look that will complement various interior design styles. We would always recommend coordinating any Matt Black fixtures with other bathroom elements, such as the vanity, mirror frame or lighting. And if customers are not ready for a full bathroom makeover, designers can start by introducing Matt Black accents."