While this year's Cevisama – the most important event in the tile manufacturing community's calendar – had to be cancelled due to the pandemic, the Spanish tile industry has still been launching an array of exciting new ranges. Here the tile manufacturers' association Tile of Spain outlines the seven key trends kitchen and bathroom designers need to know about this year.
1. Crème caramel
For a luxurious look, marble-effects are hard to beat. They're bold and full of character, but also highly distinctive. This year's colours – reminiscent of a creamy dessert – are mouth-watering in their appeal. Think of caramel, honey and cream. With a richer colour and more exaggerated patterns than found in nature, these porcelain slabs can be used to breathtaking effect, their golden hues offering both opulence and warmth.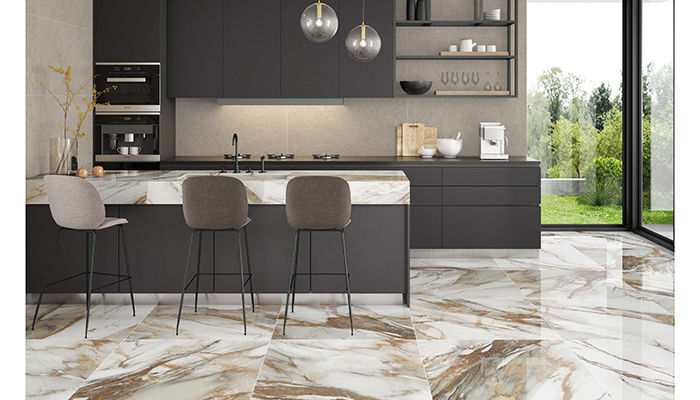 2. Full circle
Geometric designs are perennial favourites, adding panache to any interior. This year it's the circle – a motif that works well whether it's a 3D wall panel or a mosaic surface. The geometry of the circle is also frequently seen in traditional hydraulic-style tiles as it lends itself to a repeating pattern. Tiles with circular designs have a practical purpose, too, providing visual relief to a square or rectangular room.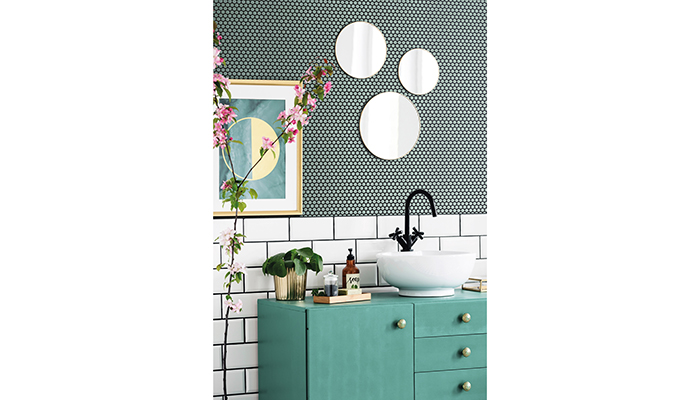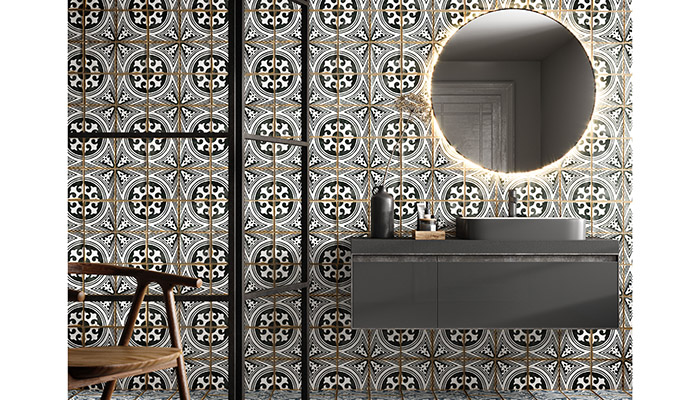 3. Traditions in texture
Spanish manufacturers are skilled in seeking inspiration from the past yet producing a surface that has a fresh modern feel. Tiles with relief patterns are a must-have aesthetic, blending contemporary colours with a heritage vibe to create sumptuous surfaces. Textured finishes suit all types of formats from subway bricks to hexagonal decors and can be combined with smooth formats to great effect.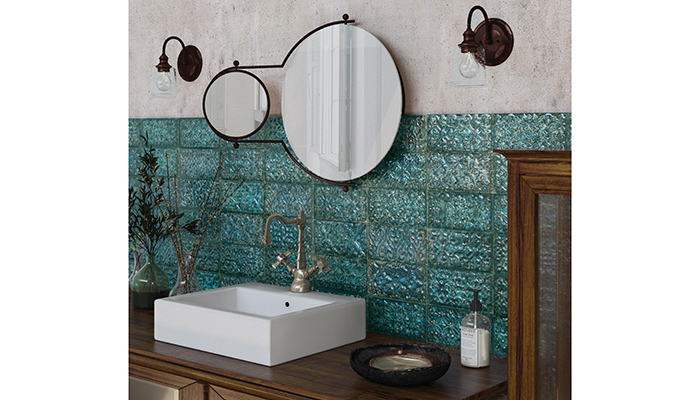 4. Polished to perfection
High-shine surfaces are enjoying a comeback. A glossy finish offers instant glamour and a luxe feel that can elevate an overall design. Sleek and contemporary or ornate and traditional, polished porcelain can replicate marble or semi-precious stone, or feature a single saturated colour.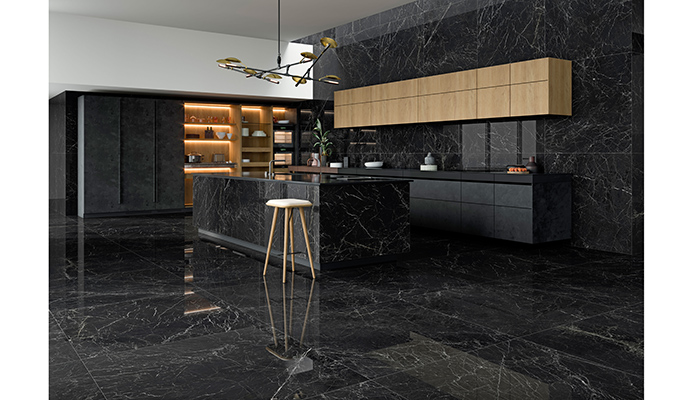 5. Pattern placement
Spanish producers are adept at creating tile collections that allow for a variety of laying arrangements, facilitating innovative designs. Different effects can be achieved with multiple colours, or just two or three. A pattern can fill an entire wall or just part of it. Some of the most successful tile combinations use a 'less is more' approach, mixing decors with plain field tiles, to provide an intriguing focal point without being overwhelming.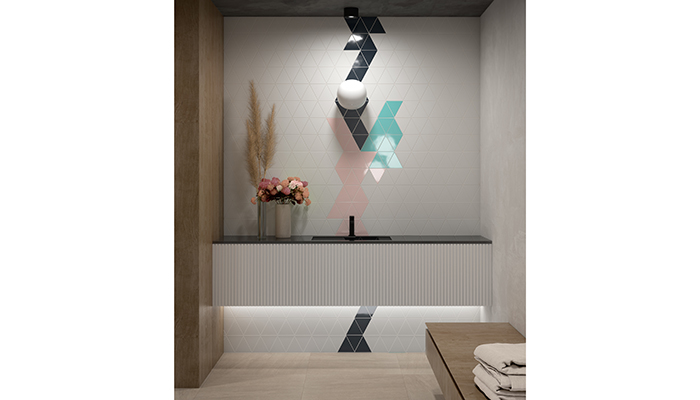 6. Monochrome mix
Trends for all-white and all-black surfaces come and go, but designs using varying shades of either are timeless. Dramatic mixes of black and white are suitable for most spaces and Spanish manufacturers are drawing inspiration from various sources – bold geometrics, ornate upholstery and classic marbles to name just a few.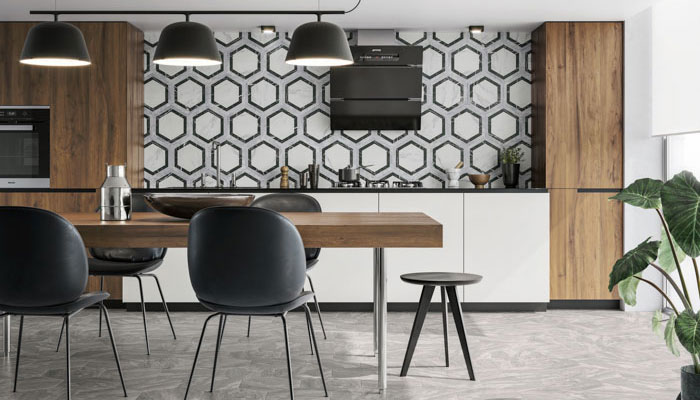 7. Ways with Grey
Grey is a popular neutral, boosted by Pantone's promotion of Ultimate Gray as Colour of the Year. Yet to the Spanish tile manufacturers, grey has always been an essential and exciting shade in their palette. Its importance is clear by the extensive choice of imaginative decors in this hue from each and every brand. From bold geometrics to faded cement effects, grey is far from being just a background colour that you combine with other colours; it is a colour that is chic, calming and contemporary in its own right.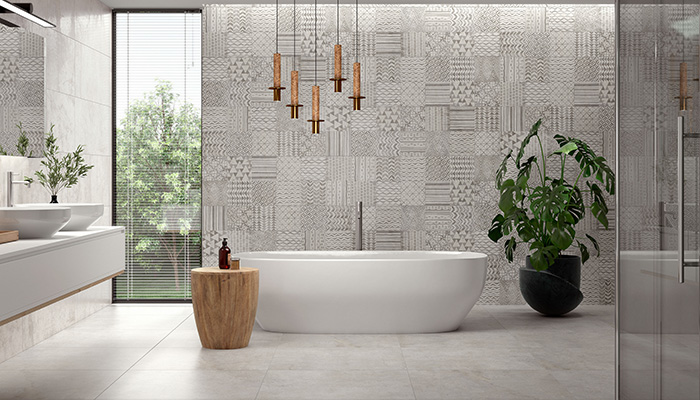 Next year's Cevisama is scheduled to go ahead as a physical event in Valencia from 7th to 11th February 2022.