As Smeg relaunches its Symphony range cookers, Laura Jones and John Davies talk to Amelia Thorpe about co-ordination, depth of product and what the brand can offer kitchen studios.
"As more people leave London to live in the countryside as one of the impacts of the pandemic, we are seeing an increase in sales of range cookers, which tend to suit kitchens with more space," says John Davies, head of marketing at Smeg. Sales of Smeg's traditional Victoria range cookers "have flown" this year, with an increase of 20% on the previous year.
Which makes the launch of its overhauled Symphony range cooker collection especially timely. First introduced some 14 years ago, out go the old mirrored fronts: now the 110cm- and 90cm-width models feature contemporary Eclipse black glass and stainless steel fronts, as well as new full-length handles and towel rails, plus black enamel tops and all-new touch displays. Designed to sit well alongside Smeg's Classic collection of built-in products, the new Symphony is the solution, says product manager cooking and built in, Laura Jones, to those who want a range cooker "to blend with a chic contemporary Shaker-style kitchen". "Now we've got a really strong offering for someone wanting that kind of look," she says.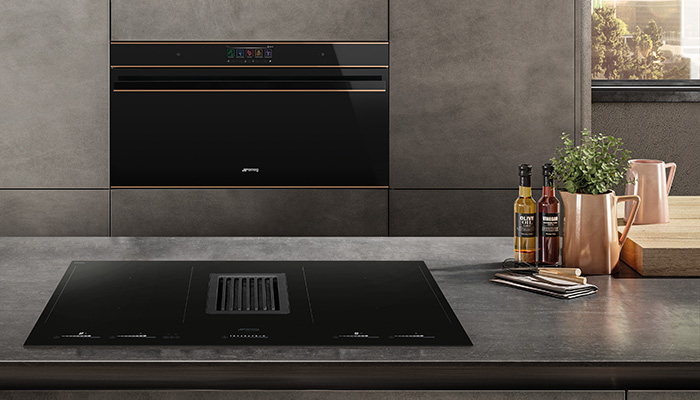 In terms of price point, Symphony sits alongside Smeg's well-known Victoria collection, both forming the core of the offer. Higher-spec offerings are the colourful Portofino and professional-style Opera range cookers, while Concert forms the entry level. In total, there are some 60 range cooker models. "In market turnover terms, about 50% of consumers will buy a built-in oven, 50% a freestanding cooker, but we sell way more range cookers than built-in," says Jones. "We are actually number two [in the UK] in range cookers for the 90cm sector."
Jones says that Smeg is experiencing an increase in sales across its MDA, not just in range cookers, fuelled by the upgrade-my-home effects of the pandemic. "We are at least 20% up on where we were last year," she says. Availability of stock, however, has been a challenge. "Probably for the first three months of this year, we've really struggled to get the products in the country, because our factories in Italy are experiencing unprecedented demand, not just from the UK but from other European subsidiaries as well." Since the end of March, supply has improved – and in May, Smeg had its best-ever month of range cooker sales, she notes.
Founded in 1948 in Guastalla, Reggio Emilia in northern Italy, Smeg (which stands for Smalterie Metallurgiche Emiliane Guastalla) is today run by third-generation family member, CEO Vittorio Bertazzoni. This year, the company has also launched Eclipse glass induction hobs, SDA in its Slate Grey colourway, its first-ever range of cookware, and more 90cm built-in ovens. "Smeg offers kitchen studios such a depth of product," says Jones. "I don't know another brand that can offer a range cooker that matches a coffee machine or a 45cm microwave oven or a wine cooler, with consistent design features."
In April, as part of its efforts to become an increasingly serious player in the kitchen studio sector, Smeg launched its Premio Partner package to support its 'best in class' retailers, signing up about 30 retailers in the first six weeks. "We want kitchen designers to be given design choice [when it comes to appliances]," says Davies. It's not just the depth of the offer, he says, but the co-ordination possibilities that matter too. "People are definitely knitting together a range cooker alongside built-in products more than they have before, because they want that streamlined look."