Manufacturers are coming up with increasingly ingenius ways to support consumers in their efforts to lead more sustainabile lives – we round up the latest showering products featuring water-saving technology to arrive on the market.
1. Hansgrohe's Pulsify Planet edition hand shower
Designed with a holistic approach to product innovation in mind, the Pulsify Planet edition three-function hand shower is said to offer the Hansgrohe showering experience you'd expect, but reduces water flow to less than 6 litres of water per minute. Incorporating circular economy principles, the handle is made of recycled plastic, using a unique process for extracting raw material, developed by Hansgrohe. The hand shower is also manufactured completely chrome free with recyclable raw materials.

2. Grohe's Everstream water-recycling shower
Available to customers for Spring 2024, the Grohe Everstream water-recycling shower has been designed to create the showering experience users expect but consuming as little fresh water as possible – and using far less energy. The Everstream system uses a quarter of the water and a third of the energy typically required by traditional showers, translating into a cost-saving of up to 65% a year for a four-person household, and up to 70% fewer CO2 emissions, depending on individual shower habits. The shower system is currently being field-tested and a training programme for installers is expected to start in the second half of 2023. In addition, Grohe is also aiming to have all of its concealed showers water-recycling-ready by 2030.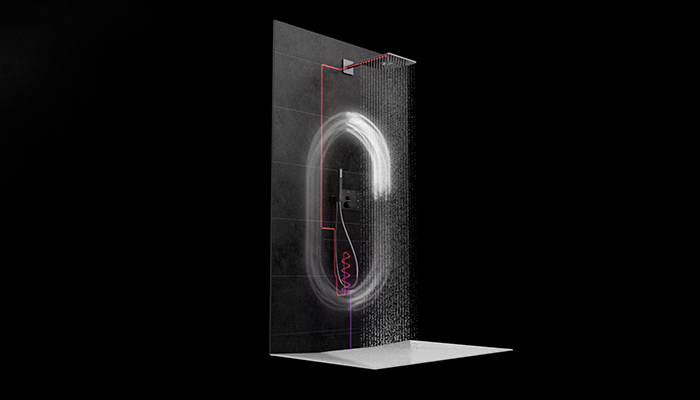 3. Dornbracht's FlowReduce water-saving shower products
Dornbracht has launched FlowReduce, a consolidated range of its water-saving shower products that are said to help consumers reduce their water consumption by up to 54% while maintaining their daily shower routines. FlowReduce includes rain showers, overhead showers, body sprays, hand showers and shower systems, all of which are now available with a lower flow rate. The company says that FlowReduce maintains an optimum shower experience despite a lower flow rate. The nozzles are no smaller in diameter than the brand's existing offering, with no added air so that the flow of water remains powerful and plentiful for all showering functions.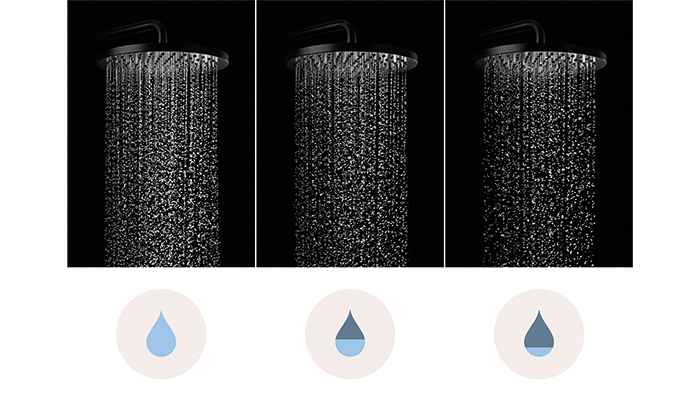 4. Triton Showers' Envi electric shower solution
Unveiled at the InstallerSHOW in Birmingham in June, the Envi electric shower features a control panel that enables users to remotely adjust water temperature, set a timer, and easily monitor water and energy usage. The control panel, which is available in Black, Copper and Silver Effect, accommodates up to 6 user profiles and features an eco-mode, making it simple for users to reduce water and energy usage by showering for a minute less. It also offers thermostatic functionality for temperature stability. The electric shower unit, Tri-Hub, can be located up to 3m away from the control panel – making it suitable for installation in a surrounding loft space or an airing cupboard.

5. Aqualisa's Quartz Touch Smart Shower
Aqualisa's smart shower integrates with Wi-Fi and existing smart home systems so the shower can be controlled remotely using Amazon Alexa or 'Hey Google' voice activation. With the easy-to-use Aqualisa app, every member of the household can create a personalised showering profile, setting their preferred temperature, water flow and shower duration. Thanks to intelligent SmartValve technology, the maximum temperature can be set to ensure safe showering for the whole family. Selecting 'Eco mode' in the SmartValve decreases water flow by up to 33%, helping to reduce water consumption and save money, too. The smart app can also be used to track how long each family member takes in the shower – and how much water they use. You can even fix the maximum duration of the shower, helping to limit the amount of water in advance.

6. AXOR's Conscious Showers
AXOR Conscious Showers have been designed to ensure water is used sparingly, while still delivering on performance. The range boasts a generous showerhead with a powerful water spray and is available in a wide range of high-quality surface finishes with a minimal design to suit a range of aesthetics. In the EcoSmart+ variant, the AXOR Conscious Shower reduces the flow rate to less than 6 litres per minute without compromising on user experience, which the brand says gives an unbeatable shower while reducing water usage.

7. Roca's Smart Shower
The Smart Shower from Roca uses smart technology to personalise each showering experience. It includes user memory in order to customise the shower experience for each user in every moment, and installs and stores up to 3 different user profiles with personalised temperature control, flow rate and water outlet parameters. Users can download the app and monitor water and energy consumption to run the shower more efficiently from their mobile phone, while in addition a child safety mode enables them to set up temperature, flow and outlets for a child's shower.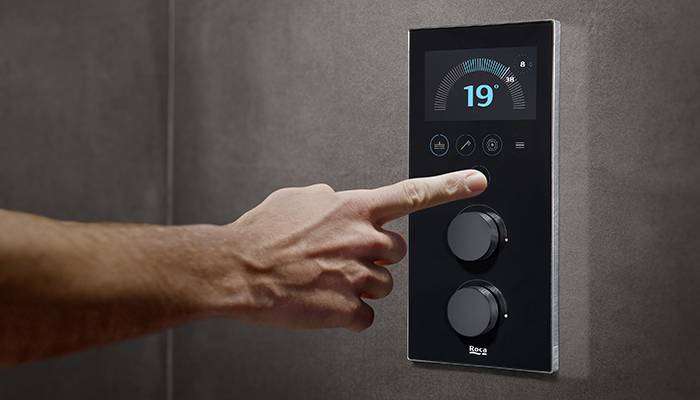 8. Kelda's BubbleSpa shower
BubbleSpa technology enables Kelda to reduce mass water flow by as much as 50%, reducing energy and carbon emissions by around the same. The BubbleSpa features a powerful fan located in the showerhead that turns water into droplets filled with air, that are around 20mm in diameter to create its unique 'bubble' rain spray pattern, which mimics a gentle finger tapping motion and provides a relaxing showering experience. The showers require a minimum water pressure of 1.5 bar (2.0 for the Mixer Shower System), a hot and cold-water supply and an electrical connection to the shower point. All showers come with a 2-year guarantee.