Scandinavian kitchen design is known for its pared-back contemporary aesthetic, open shelving and uncluttered feel. Sally Smith talks to the experts to find out how to embody Scandi style.
White handleless cabinetry, mixed with natural finishes and hard-working storage with few eye-level cabinets and carefully considered open shelving are among the key elements of a classic Scandinavian scheme that designers can use to create a Scandi look for their clients.
"Scandinavian design continues to grow in popularity and as it does so, people are realising that Scandinavian design isn't just one aesthetic. There are many design aesthetics that incorporate Scandinavian design and it is perhaps most visible in the kitchen, where the Scandinavian paradigm of functionality and form are essential," explains Rhiannon Phenis, head of design at Sola Kitchens, which is renowned for its Scandi-style bespoke creations.
"The Swedish lifestyle concept of 'lagom' is set to join our design vocabulary. Translating to 'not too much, not too little', it's all about seeking the right balance at home, with clean and fuss-free living. Surfaces should be clutter-free, so designers should conceal everything from cables to cooker hoods. Hobs with integrated extraction are deservedly popular as they eliminate the need for overhead extraction," Phenis adds.
Well-planned storage is a crucial element of the design for a Scandi scheme, to achieve a simple and practical design that feels uncluttered.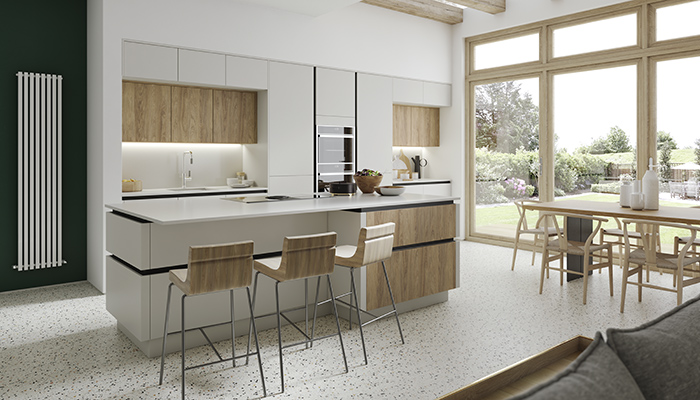 Cassie Jones, brand manager at Masterclass Kitchens, agrees. "The Scandi look is minimalist and non-fussy, so consider clever storage solutions that hide away clutter. Cupboards that allow clients to open them first thing in the morning for breakfast and close them to hide the clutter once they've finished is ideal. Sliding cabinets also offer the perfect opportunity to keep essentials behind closed doors and help keep a modern look to the design," she says.
A calming neutral colour scheme often white, alongside natural finishes and textures will add those key elements found in any Scandinavian kitchen design.
George Glasier, Pluck co-founder, says: "Scandi kitchen design is about simplicity and practicality, these rooms are intended to to be serene, light and peaceful spaces, with natural palettes – woods, whites, neutral hues, think cashmere, linen and soft beiges, maybe some earthy colours too. In keeping with the pared back palette, the layout should also be uncluttered, but this does not mean you can't have open shelves or favourite objects on display, but a cacophony of purely decorative objects is at odds with Scandi aesthetic."
Nevertheless, designers need to be careful not to take it to an extreme with a neutral and simple scheme.
Elizabeth Sherwin, creative director at Naked Kitchens, says: "While simplicity and minimalism are essential in Scandinavian kitchens and interiors, it's important not to create something that feels sterile and cold. There is a careful balance between creating a simple space that also feels warm and inviting. So adding character into the room is hugely important and designers should take the time to explain this to their clients and suggest incorporating natural elements such as wood into the design, whether this be through the flooring, cabinetry or worktops, these elements will really help to create that typical Scandi look in a kitchen. For added depth, consider a brushed limed-grain oak finish, which will add texture and an irresistible warmth to the space."
Ashleigh Hanwell, senior designer at Second Nature, explains: "Scandi design focuses on soft neutrals like greys, whites, cream and browns as it promotes calm and positivity. Go contemporary and opt for white cabinetry for a clean aesthetic, or go for a darker taupe colour and keep the walls white. Either way, this will create a bright and airy atmosphere. For the smaller details, introduce warmth through bronze hardware and a textured tile splashback, or decide on a monochrome look with Matt Black detailing for a modern Scandi style."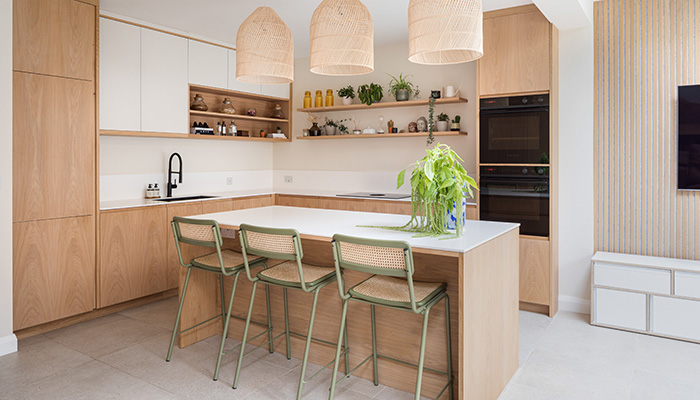 Zoe Holland, head of brand & creative at Sustainable Kitchens adds: "It is great to see playful Scandinavian kitchens on the rise, with designs playing with pops of colour through artwork and decor and people really adding their personality to their Scandinavian Kitchen. Pairing whites and neutrals with the warmth of wood creates the perfect Scandinavian feel in any room. Keeping the design minimal is key, creating a place for everything to be tucked away neatly. That creates a blank backdrop to begin adding textures through accessories and furnishings bringing depth and character."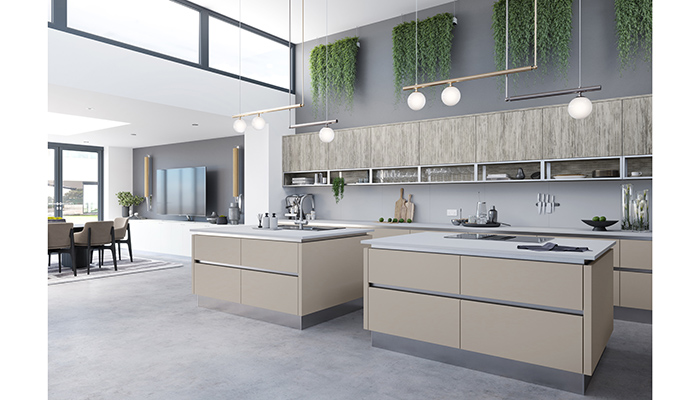 The Scandi kitchen look is an enduring trend, largely due to its understated style, inviting warm wood tones and organised feel.
"Scandi inspired interiors also remain popular as consumers continue to create open-plan living spaces and in recent years have embraced bringing the feeling of the outside in," adds Tony McCarthy, commercial director at Crown Imperial.