With large and flush-fitting shower trays with eco credentials on the increase, Sally Smith takes a look at a selection of the latest high-grade products that are guaranteed to complement any bathroom scheme.
With energy costs on the increase and saving water a high priority, it's no wonder consumers are looking to invest in their shower spaces, rather than have a bath dominate the bathroom space. As a result, sales of larger, rectangular, flush-to-floor shower trays with anti-slip surfaces are on the up.
The new Superplan Zero shower tray from Kaldewei offers great versatility for a consumer looking to commit more space for a shower as it comes in 50 different dimensions from 700 to 1800mm. "The shower tray has extremely narrow edges allowing you to tile directly up to the shower edge creating almost invisible joints,and the waste is placed close to the wall, which caters for those wishing to avoid a central or corner drain. It's made from 100% recyclable, sustainable steel enamel and with its extensive 30-year guarantee is an ideal solution when future-proofing a home," explains Adam Teal, head of UK sales, Kaldewei.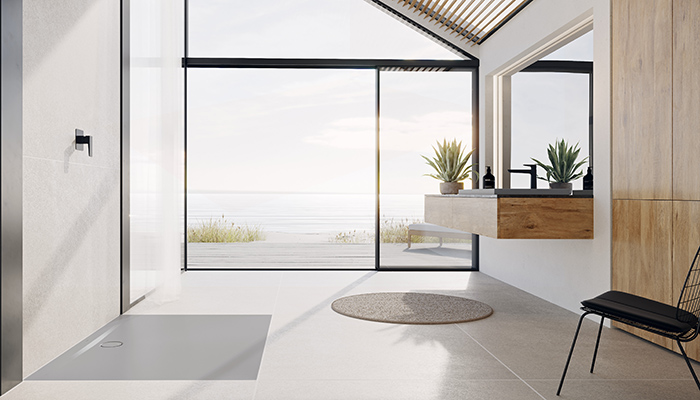 Consumers are thinking about the longer term when it comes to bathroom planning and want to invest in a shower tray that is safe for all the generations to use. David Osborne, CEO of Roman, has seen continued growth of larger rectangular shower trays in the last five years. "Large hinged doors and sliding door shower enclosures are becoming increasingly popular too as they help maximise showering space. High grade anti-slip solid surface shower trays – essentially you can't move your foot without lifting it when showering – have always been specified by hotels and high-end retailers for a long time, but we've seen the mainstream market expecting the same standard."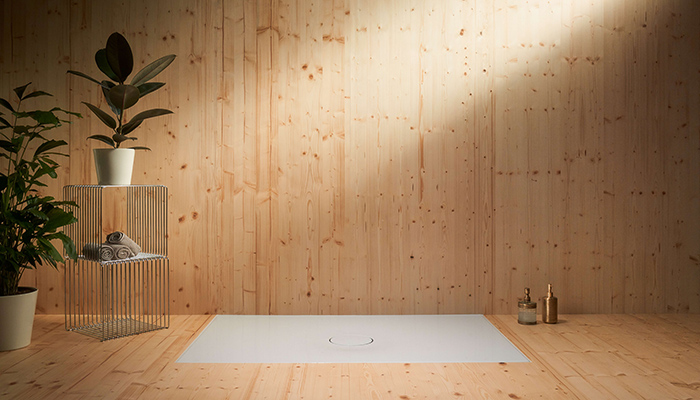 JT's latest consumer trend analysis from 'Pinterest Predicts 2023' reveals a huge increase in searches for shower-related bathroom inspiration; top searches are for 'amazing shower walk-ins', 'doorless shower ideas', and 'shower routine aesthetics'. "This echoes our thoughts," says John Schofield, sales & marketing director at JT, "that showers are a huge opportunity for the bathroom industry and will stand as a key sales driver. We're also seeing more customers opting for anti-slip soft cushioned floored shower trays. Our latest format shower trays have the anti-slip properties built into the acrylic skin enhancing the life cycle of the tray."
Suppliers have seen a shift in demand away from the standard white shower tray and have responded by offering an increasing range of colour options. According to Juan Luna, Acquabella design manager: "The commitment to daring designs is a sign of the importance of the shower space when decorating our homes. We've also seen a significant interest in shower trays for extra-flat trays that can be installed flush to floor, making the space more accessible to all people and their conditions. While colorful shower trays are becoming increasingly popular, clear, natural color palettes will prevail due to the search of spa-like bathrooms."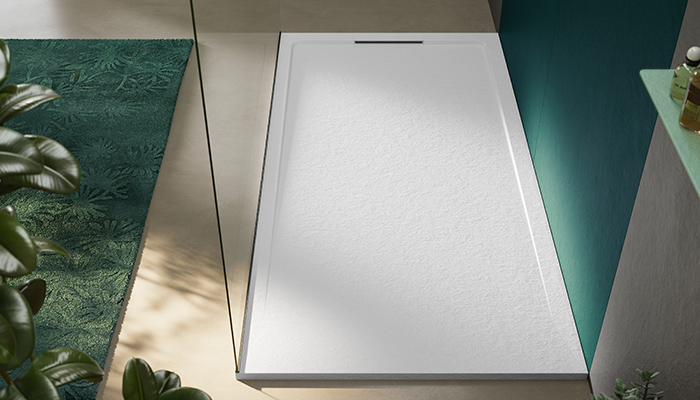 Emma Mottram, brand marketing manager at Laufen, has also seen this change in consumer behaviour. "Recently we have seen consumers take a more considered approach when choosing a shower tray, looking for designs that match their sanitaryware or brassware. Our latest shower tray launches include Matt Black and Concrete with new grate covers that are available in three designs and five colours: White, Light Grey, Anthracite, Matt Concrete and Black to meet retailers' requirements," she explains.
The desire to create a luxurious wetroom bathroom is also driving the sales of the larger rectangular shaped showers trays in all sectors of the market. Ben Bryden, sales & marketing director at RAK Ceramics, says: "We've seen an increase in sales of the low-level shower trays. Wet and dry areas of the bathroom can be clearly defined to create an accessible shower space. It's the ideal opportunity for retailers to introduce higher grade shower trays such as 'RAKSOLID', a composite surface that is smooth underfoot, highly durable and anti-slip."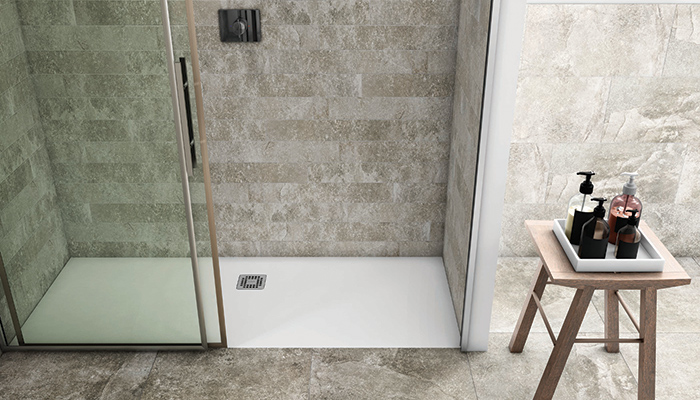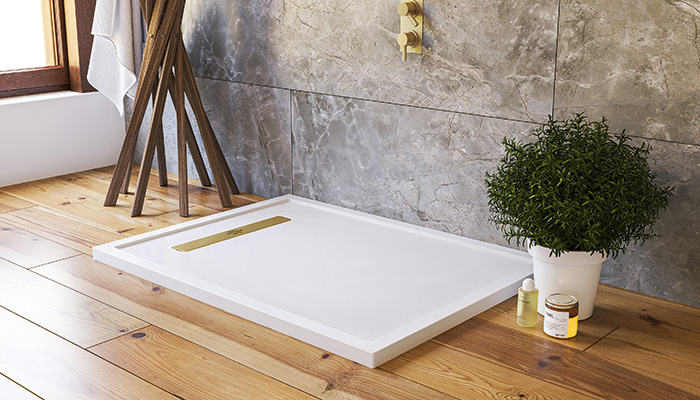 And as with any product, sustainability and the impact on the environment is a key consideration for consumers when buying shower trays. Duravit has recently developed a mineral material DuroCast Nature which has been used to create Sustano – the brand's first recyclable shower tray. Martin Carroll, MD Duravit UK, explains: "Polyurethane is mixed with marble powder and sealed with a gelcoat surface, this makes the material robust, UV-resistant, easy to clean, and the matt surface maximises the anti-slip properties. How the shower tray can be recycled is a key USP for customers; these shower trays can be returned to us or a local recycling centre and can be made into new shower trays, or processed further for industrial purposes."