More and more products are being made from recyclable materials so eco-conscious homeowners can increase the sustainable credentials of their bathroom projects – Lisa Hibberd takes a look at how manufacturers are rising to the circularity challenge.
"Moving away from a linear economy into a circular economy is a viable solution to a sustainable future," says Paul Bailey, leader, product management, Lixil EMENA and Grohe UK. "Utilising materials and manufacturing processes that allow for every component of a product to be recycled down and reused is one of the best ways to increase the sustainable credentials of a bathroom project. Materials such as steel that are endlessly recyclable help to improve circularity during building and renovations, reducing waste in the future. At Grohe, we've been working towards circularity for a number of years and are proud to offer our Cradle to Cradle Certified Gold Level range. We've manufactured and re-designed four of our best-selling products to have the potential to be re-used endlessly, offering a whole new take on the concept of recycling."
As well as taking fewer baths to limit their water consumption, consumers are looking to sustainable materials for baths and shower trays, avoiding fibreglass and acrylic and opting for cast-iron, steel or resin instead. "Our baths, shower trays and washbasins are made from natural materials, with no plastic and can be completely recycled," explains Sven Rensinghoff of Bette. "They are also extremely easy to clean, with minimum resources required. Bette uses significant quantities of carbon-neutral, green steel in its manufacturing: over 55,000 products have been made using green steel since 2021, with no extra cost to customers."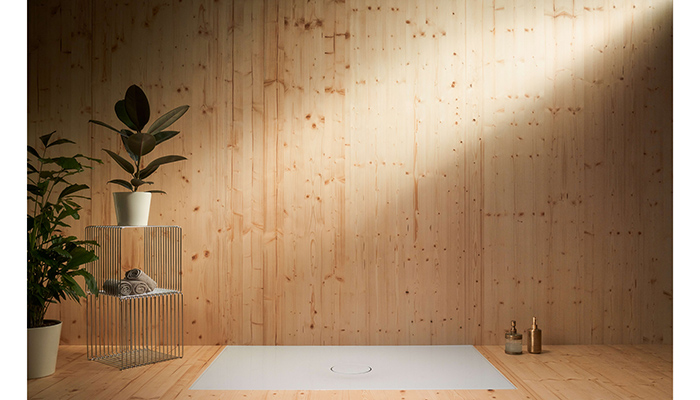 David Osborne, chief executive officer of Roman, agrees that using recycled materials is a key focus. "All the aluminium used in our production is 100% recycled before we use it and at the end of life it is extremely easy to recycle and re-use back at its original value. Likewise, our solid surface moulding and fabrication plants use material which is predominantly natural stone which can once again be reground back to its original value and be re-used. We embed circular economy principles throughout our supply chain, which is entirely focused upon very high levels of recycling before and after the life of a product. The brass we use for our hardware such as shower enclosure handles is 100% of recycled material before we use it without compromising on strength or functionality. We are also working very closely with our suppliers of glass for our products and expect to be close to 100% recycled content by 2023."
Fabiana Scavolini, CEO of Scavolini, recommends that the importance of choosing recycle materials should extend to furniture, too. "Designers should always select good-quality bathroom furniture that is made to last, and consider what its construction. For the carcases of our furniture we use only raw ecological panels made from 100% recycled wood. Not only does the material offer excellent durability and stability, it also has the lowest emissions of formaldehyde. Then at the end of the furniture's life, can you recycle it? Our bathroom furniture has a product circularity of 96%."
Manufacturing techniques that use less energy and generate less waste are also a focus for many manufacturers, and Cosentino's dedicated approach is a prime example when it comes to bathroom surfaces. "We're always innovating to ensure that our renowned surface brands, Silestone and Dekton, are offering the most sustainable solution for consumers looking for a premium worktop," says Laura Davie-Rush, marketing manager at Cosentino UK. "What sets our Dekton brand apart from competitors, even more than its superior technical qualities, is Cosentino's commitment to a circular economic model. This deep-rooted and extensive dedication to aid a worldwide problem has resulted in Dekton being a carbon neutral product for its entire life cycle. This means that from the extraction of the raw material, through to the emissions from its production cycle, to the end of the product's life, all emissions have been offset. Not only that, various Dekton colours are also made with recycled materials from its own manufacturing process."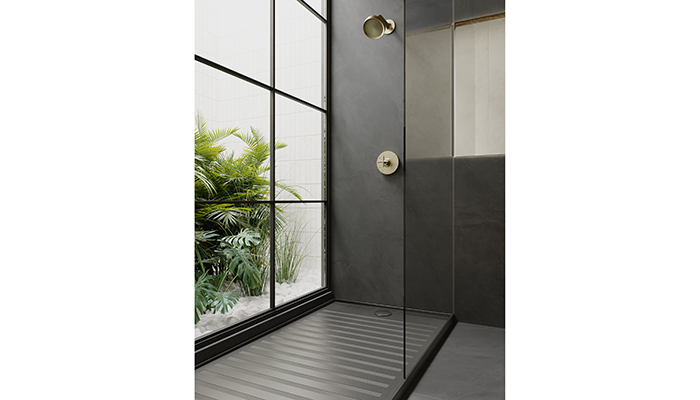 So how can clients be confident that products made from recyclable materials still offer the high quality and durability necessary for busy bathroom life? Sarah Evans, head of product marketing at Hansgrohe UK, suggests that choosing good quality fixtures and fittings with a longer life cycle is fundamental to sustainability and avoiding waste. "For example, all Hansgrohe and AXOR products are tested with water or air to get as close to the bathroom experience as possible before leaving the factory. We also 'over-test' to ensure robustness of all our showers and taps. In the UK, three bar working pressure tends to be the average but hansgrohe products are all tested to sixteen bar as standard. What's more, to keep our FinishPlus finishes looking pristine even with daily use, we have invested in a refined PVD process that is resistant to external factors and durable enough to offer decades of protection against wear and tear."