With 4-in-1 taps with boiling and filtered water proving both energy saving and convenient, Sally Smith talks to manufacturers to find out more about the real benefits to customers.
A 4-in-1 tap is a multi-tasker with hot and cold flows, chilled, filtered drinking water and boiling water all from a single spout, with no kettle, no filter jug, and no mini tap required, and ultimately a game changer in the kitchen.
"At the top of the market, practicality and luxury go hand in hand so I would urge kitchen retailers to emphasise how user-friendly and efficient a premium 4-in-1 hot water tap can be," says Paul Illingworth, design manager at Abode. "A filtered water option will help customers save money on bottled water, reduce their energy usage while doing their bit for the planet. We are strong believers that 'the fortune is in the follow-up' so don't be shy about asking for an email address so that you can reach out by sending a digital copy of the brochure."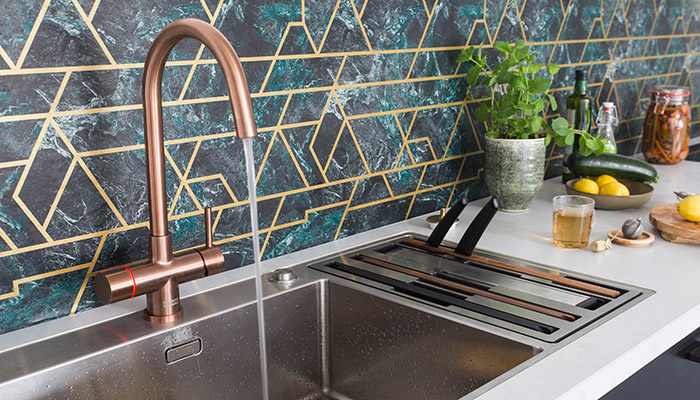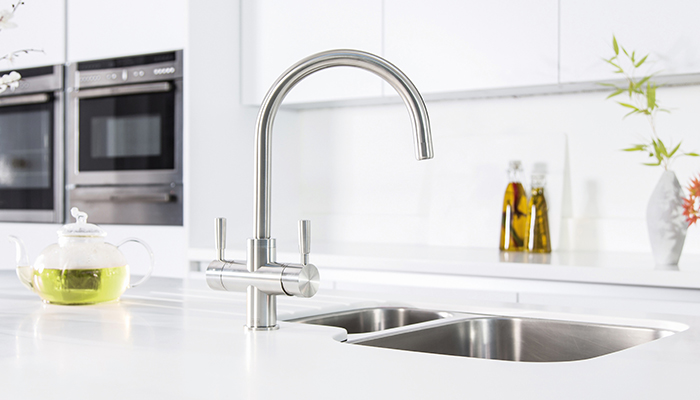 Jo Sargent, sales & marketing director at Franke UK, adds: "For customers already in the zone of investing in a premium instant boiling water tap, it's relatively easy for a retailer to upsell from a manual 4-in-1 model to one with electronic functionality, with minimised hand contact as the key USP. Retailers should also highlight that these models are just as straightforward to install and maintain as models with manual controls." Sargent continues: "We provide an annual MOT for 4-in-1 taps that is proving popular with customers. It's a full tap service by a Franke technician to check on installation, water pressure and flow rate from the tap and tank."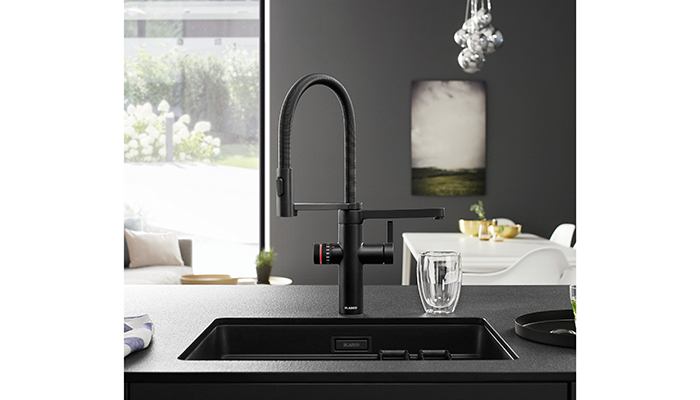 There are plenty of new and improved features in the latest 4-in-1 taps that are worth discussing with potential customers. Tamsin Mills, brand communications manager at Blanco, explains: "With the trend for black fixtures, fittings and surfaces in kitchens growing ever stronger, we have launched the EVOL-S PRO in Black Matt and Satin Gold that has more product enhancements than previous models with modernised tap design, increased functionality and new colour options. The water tanks are quicker and easier to install and the multi-stage filter system reduces the heavy metal and chlorine content in water as well as limescale."
To try and secure a sale retailers ideally need to demonstrate the 4-in-1 tap. Anne Kaarlela, marketing communications & customer service manager at InSinkErator, Europe, has some ideas. "The easiest way to encourage consumers to trade up is to offer them a hot drink straight from the tap, or a glass of cold filtered water, and start the conversation in the showroom. And don't forget to use our counter displays, POS material and specification sheets that are available in both digital and print formats."
Wödår's MD, Michael Sammon, adds: "The main benefit of a 4-in-1 over a 3-in-1 tap or traditional tap, is the fingertip access to instant filtered drinking and hot water along with functional hot and cold water, all from one tap. Zenith Global reported that plain water sales broke records in 2022 amounting to almost 3 billion, demonstrating how more and more people are looking for healthy and convenient hydration."
In-depth product training for retailers plays a key role in helping to increase awareness of this product category to customers. Qettle UK is keen to welcome retailers to its UK factory, says director Alexandra Rowe, adding: "It's so important that retailers fully understand the product and we aid this by providing a comprehensive suite of support including excellent trade terms, incentives for sales teams and working display deals as well as online training, content for social media, websites and marketing, too."
It may take time to convince some potential customers to commit to the sale. Stephen Johnson, MD at Quooker UK, advises: "While there is an undeniable upfront cost to purchasing a boiling water tap, the benefits and savings that come with it are completely worth it in the long-term. It's worth pointing out that installing a 4-in-1 tap will definitely save customers water as the tap delivers the exact amount of water you need, whether it is for a large pot of pasta or for a single cup of tea. We like to work with each dealer to build bespoke displays that work for them, investing in co-branded material that suits the individual space. rather than providing one fixed display for all the retailers."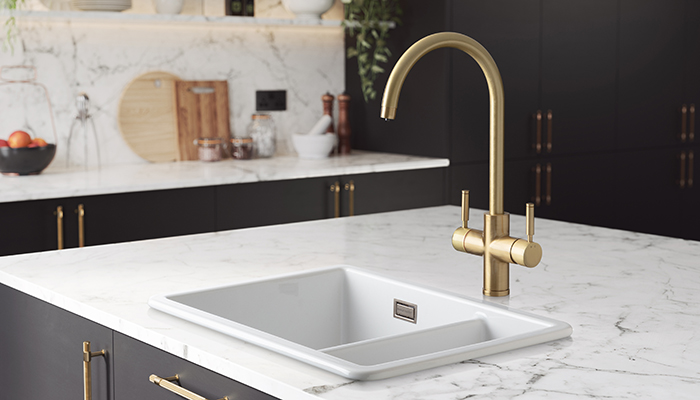 James Cunningham, sales director at Rangemaster, points out that "although the demand for hot water taps in the UK continues to grow it's crucial that retailers pass on the USPs to customers to secure a sale. For example the PROBOIL.2X next-generation boiler measures 22 x 22 x 28cm – perfectly sized for an under-sink cupboard – with a generous 2.1-litre capacity, and the GEO Intense has a complete refill time of just seven minutes – providing around 65 cups of hot water per hour."
A multi-generational household will definitely see benefits from investing in a 4-in-1 tap. Dave Mayer, commercial director for Reginox UK, sayys: "A 4-in-1 tap can help consumers with mobility issues as they no longer need to use heavy kettles and the mixer lever can be pulled forward or back for hot and cold water while a one tap sensor releases filtered water and a touch-and-hold button frees the boiling water."